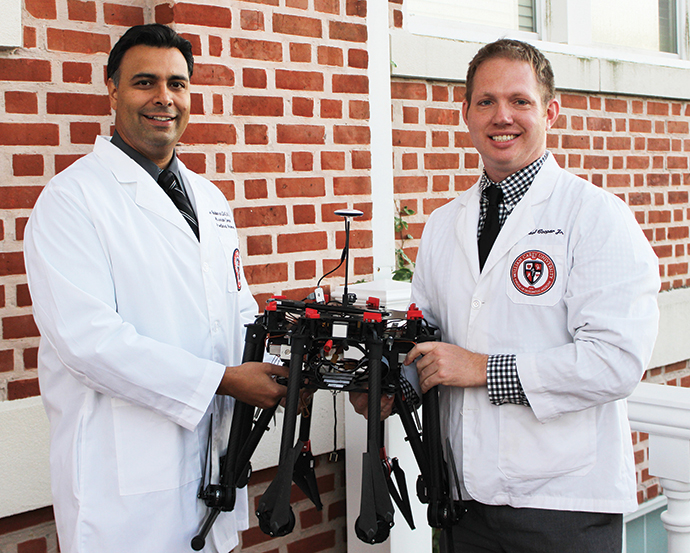 Imagine a natural disaster, say a hurricane named Katrina. Then suppose there's a woman suffering a heart attack with no chance of emergency workers reaching her any time soon because of damage from the hurricane.
Lost cause?
Not necessarily, according to faculty at the William Carey University College of Osteopathic Medicine in Hattiesburg. An associate dean and a medical student at the college have created a drone capable of carrying an advanced 20-pound tele-medical kit and delivering it to such a person.
And it's just one of the ways in which Mississippi has embraced the technology of unmanned aerial systems (UAS), or drones.
The state's direct spending on UAS technology will rise from $14 million in 2015 to $64 million in 2025, according to a report prepared by the Association for Unmanned Vehicle Systems International (AUVSI). Total economic impact for the state will increase from $27 million in 2015 to $120 million in 2025.
Drones are creating a buzz throughout Mississippi.
Most recently, Insitu, a wholly owned subsidiary of The Boeing Company, opened a facility at Mississippi State University (MSU) in Starkville. This facility is a partnership between Insitu and the Federal Aviation Administration's Center for Unmanned Aerial Systems at MSU.
Insitu supports the MSU Center for UAS with a combination of engineering, software development and business development/customer service functions.
Leading the MSU Center for UAS is the Alliance for System Safety of UAS through Research Excellence, better known as ASSURE, which is a team of top UAS universities from three countries and more than 100 government and industry partners. While ASSURE leads the MSU Center for UAS, ASSURE is managed by MSU.
Yet another MSU link to UAS is the decision by The Boeing Company to relocate its stitched resin infused technology efforts at the university's Raspet Flight Research Laboratory. Raspet will facilitate and promote research in the field of aerospace composite structures leveraging resin infusion and stitching technology.
Hinds Community College in Raymond offers training in piloting unmanned aerial vehicles, and both Hinds and the Pearl River Community College in Poplarville have partnered with the Camp Shelby Joint Forces Training Center outside Hattiesburg to offer a UAS program.
The U.S. Naval Research Laboratory at Stennis is involved in unmanned systems — both unmanned underwater vehicles (UUVs) and unmanned aerial vehicles. The laboratory has worked with Leidos in Long Beach, with respect to unmanned surface vehicles (USVs).
The lab also creates, tests, validates and transitions oceanographic models using environmental data from a variety of sources — including in situ sensors (sensors in place), remote sensing (satellites) and unmanned systems (aerial, surface and underwater).
The tele-medicine drone prototype at the College of Osteopathic Medicine is the brainchild of Italo Subbarao, senior associate dean and chief operating officer, and Guy Paul Cooper, a medical student.
Strides toward improving crop yields, boosting production and increasing profits for farmers are under way at MSU's Geosystems Research Institute, Mississippi Agriculture and Forestry Experiment Station where scientists are using UAS to collect data for farmers.
In Columbus, Stark Aerospace, early in 2016, showed off its latest technology for the Army at a symposium in Huntsville, Ala. Stark displayed its ArrowLite small UAS system, a drone with an endurance of 2 hours and 45 minutes which can be assembled and launched from a rucksack in 90 seconds. The ArrowLite is currently in use by US forces.
Stark also presented its Panther tilt rotor, runway independent VTOL UAS. With a 26-foot wingspan, the VTOL UAS is electric powered with an auxiliary generator for extended (10-hour) endurance.
Northrop Grumman in Moss Point is manufacturing the first Republic of Korea Global Hawk aircraft, a UAS. Korea is a key U.S. partner in ensuring peace and stability in East Asia, Northrop Grumman reports the Global Hawk, which can fly for more than 30 hours at altitudes up to 60,000 feet, is well suited to monitor and deter regional threats in support of Korea's defense forces.
For several years now, Aurora Flight Sciences Corp. has operated a manufacturing plant at the Golden Triangle Regional Airport in Columbus.
Aurora Flight Sciences of Mississippi fabricates and performs final assembly of composite aero structures for defense and commercial aerospace customers, including Aurora's Orion Medium Altitude-Long Endurance Unmanned Aerial Vehicle. The plant is made up of three buildings and a combined 120,000 square feet of manufacturing and production capacity.
The tele-medicine drone prototype at the College of Osteopathic Medicine is the brainchild of Italo Subbarao, senior associate dean and chief operating officer, and Guy Paul Cooper, a medical student. Called the Healthcare Integrated Rescue Operation (HiRO), the project uses a modified DJI S1000+drone. The two have been conducting demonstrations of the prototype and building additional modular kits. A cardiac kit is in the testing stage, and Subbarao and Cooper are planning Ebola and trauma kits.
"The purpose of the project is to get timely life-saving medications, vaccines and equipment to victims in a disaster area or in a remote location through the use of GPS," says Subbarao. "Embedded inside of the kit is a smartphone, which enables a live video chat between the injured party and the physician."
One hypothetical situation envisioned by Subbarao involves a hiker on a rural path with limited access to emergency medicine. When the hiker is injured or faces another situation such as a heart attack, he dials 911. The HiRO drone is dispatched and is able to deliver the medical kit, which is customized to the hiker's emergency. When the hiker opens the medical kit he is greeted by a live video broadcast directing him on how to use the medicine or equipment.
"The drone can be enabled with advanced features, including a sensor that can detect hazardous chemicals. It could fly over an area and then sound an alarm that could tell firemen or emergency medical personnel not to enter," Subbarao says.
Adds Cooper, "HiRO can overcome obstacles such as traffic and hazardous materials, but it also has the ability to give emergency responders a quick survey of a crisis scene and a way to provide treatment."
"Although the project is still in the quality control testing stages, we believe it can transform health care delivery around the world," Subbarao says.
Subbarao hopes to eventually deploy a fleet of the HiRO drones throughout the state and nation and particularly to rural, underserved areas.
Mississippi is leaving nothing up in the air when it comes to embracing unmanned aerial systems.