Make no mistake: The Center for Manufacturing Excellence (CME)at the University of Mississippi was founded in June 2008 for some very specific reasons having to do with two big names: Nissan and Toyota.
Nissan broke the ice with its 2000 decision to locate the first-ever OEM major assembly plant in Canton, near Jackson. Toyota had just announced it was coming to Blue Springs (near Tupelo) in 2007. The waves of OEM and supplier investment needed waves of talent. That drove then-Gov. Haley Barbour and other state leaders to conceive of a unique model: An institution that marries the best of business school with the best of hands-on advanced manufacturing training.
"While manufacturing had been a part of the historical fabric for some time, there was a concerted effort to grow the resources, people, partners and companies we'd need," says Ryan Miller, associate director for external operations at the Haley Barbour Center for Manufacturing Excellence (renamed after the former governor in 2012). "Nissan and Toyota were significant projects, and I'd daresay people outside the state at the time were saying, 'Mississippi shouldn't be winning projects like that.' Governor Barbour, our former Chancellor Robert Khayat and Toyota executives came up with a creative concept. That's where the CME came in — educating and equipping students to be leaders in all forms of manufacturing, not just automotive."
"It is a unique program that provides an opportunity for students in accountancy, business and engineering to learn and work together in an area of national need: manufacturing," said Executive Director Matthew J. O'Keefe when he came over from Missouri S&T to take the post in 2018. The first class to earn their minors in manufacturing via the CME numbered 27 individuals in 2010. Next year's incoming class has reached 60, with more than one-third of them women.
"You'd be hard pressed to find a sector we have not had a class in, or interns or co-ops," says Miller. Most recently, that's included a surge of activity in aerospace, involving companies such as the longstanding GE Aviation plant in Batesville and the newly installed Relativity, which will use 3-D printing and about 190 employees to build rockets at Stennis Space Center on the Gulf Coast. "We run the gamut, which is great for our students."
Eddie Carr knows a thing or two about running the gamut: In a span of 18 months, the veteran senior manufacturing manager now serving as the CME's extension service instructor paid a visit to more than 45 manufacturers in every corner of the state. He asked them what they'd like the CME to teach, and which emerging technologies they should be using to teach them. And he developed partnerships with the potential for on-site classes at the manufacturing sites themselves.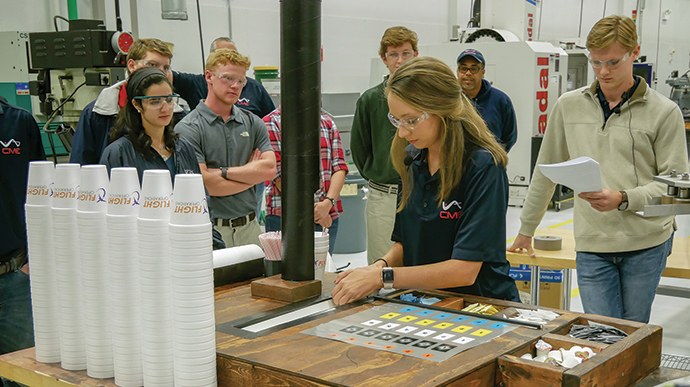 In 2018 that meant intensive problem-solving courses at GE Aviation and Parker Hannifin in Batesville and BorgWarner in Water Valley. In August 2019 it involved visits to Viking Range in Greenwood, Ingalls Shipbuilding in Pascagoula and VIP Cinema Seating in New Albany. Altogether, classes have been held at 10 different industries, giving accounting and engineering students alike invaluable firsthand insights into shop floor processes and challenges.
Carr says before he came to Ole Miss, his recruiting for industry took him all over the mid-South, searching for talent at a large number of major universities. "The graduates from Mississippi schools were very talented," he says. The CME adds extra punch. "The graduates I saw coming out when I was in industry were not afforded the opportunity to do classwork in experiential learning," he says. Co-ops and internships existed, but training in Six Sigma and lean manufacturing processes was not necessarily taught at the university level. And there aren't many land-grant research universities with 12,000-sq.-ft. plants that can demo the latest in metalworking, 3-D printing, new collaborative robots and other emerging technologies.
Miller says that was the genius of Haley Barbour and his colleagues: Not to duplicate the tech skills development at the 18 community colleges across the state, but to complement and fill in gaps in a value-added, holistic approach to the manufacturing sector overall. Carr says he saw the value of the CME's problem-solving approach on the first training class he ran at GE Aviation, as he watched student groups assimilate and worked on processes that were very complex.
"They had no fear," he says, a phenomenon he saw replicated whether the plant made hoses, small automotive parts or composite components for jet engines. "It was pleasantly surprising to me how well this mix of students applied this process regardless of what kind of product they were working on. Every industry we've visited, it's been a win-win. The return the industry got was a lot of free help, if you will, in solving some problems that were recurring that they had not heretofore been able to solve."
The relationship with Viking Range has evolved to where, if CME isn't on the Viking campus, Viking staff might very well be on the Ole Miss campus, recruiting more talent to Greenwood. But Miller points out the employer outreach sometimes needs to go to another level too. Case in point: Nissan leaders a couple of years ago rallied major university leaders together because they needed more engineers. Miller and colleagues listened, and implored Nissan to be involved in the classroom, not just at job fairs.
"We said, 'The more often our students see you in your company colors, the more they'll see themselves in your company colors,' " Miller says. "They've made multiple trips to our facility over the past two years to engage our students in the classroom, and it's starting to pay dividends. Two young ladies now in their co-op program are blowing the doors off the plant with their abilities."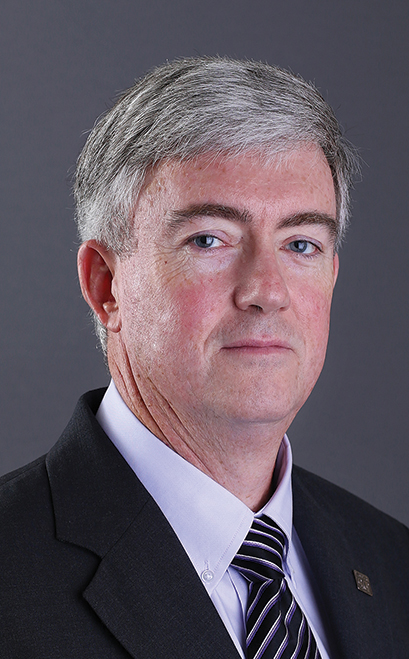 ---
"It is a unique program that provides an opportunity for students in accountancy, business and engineering to learn and work together in an area of national need: manufacturing."
---
Toyota's stops by the CME have increased too, he says. "Gone are the days of 'build it and they will come,' " he says. The range of partners, which also includes the Baddour Center, a nonprofit employing the developmentally disabled in Senatobia, figure out how best to package coffee condiment kits for inclusion on FedEx planes. Carr had worked with Baddour years ago during his time in industry. "I talked to Dr. O'Keefe about the CME supporting the center with project and engineering help. He said, 'It's not if we'll help them, but how we'll help them.' This past spring we did six additional projects with them, with six different teams of students."
Count that as just one more way CME and Ole Miss are breaking students out of old molds — call it additive learning, or 3-D education. It's worked so well that the university is opening up the CME to all majors from its former limitation to business, accounting and engineering majors.
"Across the board in higher education, there's a trend being unveiled now that the siloed approach to learning is not as effective in preparing young people for life outside of school," says Miller. "You have to learn in a more simultaneous fashion, and one that shows the implications of one for the other. The real world is not siloed — you're engaging with these things in a simultaneous fashion."
Tyler Biggs, the CME's admissions and marketing specialist, says students coming to the CME already rank in the top 5% of high school students nationally. The unique versatility they acquire as a result of their work with industry partners just makes them that much more valuable when they exit the program.
"There's also a trend to see how we can bring in subject matters that on the surface look like they have nothing to do with one another," Miller says, in much the same way that novel treatments often come from therapies never designed for that purpose. "The CME localized at the university has been a catalyst for that process. The students have been the champions. Their success speaks to that."