Months into his first year as Mississippi's governor when the global COVID-19 pandemic threw a wrench into the gears of commerce. Even as the economy slowed and businesses hit pause on new investments, Reeves was undaunted, staying focused on his primary goal of creating a business climate that will create quality jobs for Mississippians.
His bold approach seems to be paying off. Not only did the state create 5,000 new jobs in 2020, but momentum is continuing to build in Mississippi in 2021.
In the following interview, Governor Reeves discusses his first year of serving in the state's highest office, navigating the pandemic, strengthening the workforce and attracting new business.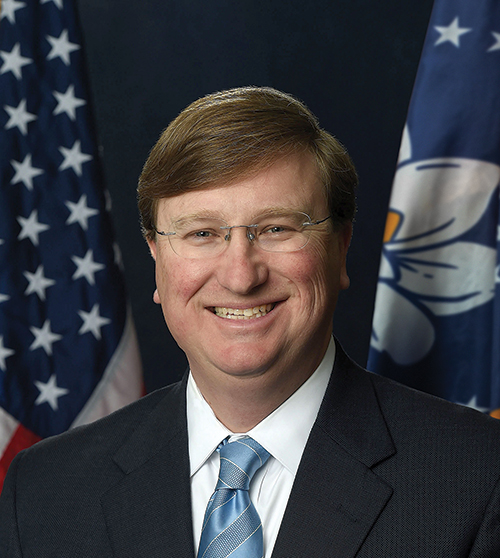 You were sworn in just months before the start of the pandemic, how would you say Mississippi fared compared to others across the country?
Governor Tate Reeves: In terms of economic development and announcements, Mississippi did not slow down. Our team helped foster $1.63 billion in new investment in 2020, which was a 45% increase over the previous year. We created more than 5,000 new jobs! For small businesses, we helped them keep their doors open and encouraged Mississippians to support Main Street in a responsible way. While 2020 was a challenge, I'm proud of how our people navigated the year.
What are some the biggest lessons you took from the last year?
Reeves: Mississippians are resilient. We've experienced our share of natural disasters from Hurricane Katrina to tornadoes to flooding from the Mississippi River. This pandemic brought out the same strength in our people. Neighbors continued to check on neighbors. People made sure to stop by their locally owned shop or restaurant — if only at the takeout window — and support their community. If you locate your company here, you're going to be part of a community, and I'm proud of that.
How would you describe the state's business climate today?
Reeves: We're open for business. Our team is even more aggressive than last year in terms of recruiting and bringing in projects. When you call our business recruitment team, you're going to find responsive individuals on the other end of the phone who are eager to meet your needs and bring jobs here. Our advantages remain constant. We have reliable, affordable energy, a permitting system that can help you quickly go from site selection to groundbreaking and a responsive workforce training system.
You've had a focus on education from the beginning. How are expanded programs like computer science helping to deepen the state's talent pool? What else is on the horizon?
Reeves: I'm proud of my record on education. We've seen tremendous gains in reading and math skills among our students compared to their peers in other states. That's because of the hard work of our educators, parents and students along with reforms we implemented. If you raise the bar, Mississippi children will surpass expectations. We've seen strong performance and job placement from coding academies around the state and expanding computer science is simply another step in our efforts to strengthen our education system. We're always evaluating new ideas to create a flexible, prepared workforce for the future.
---
"When you look at Mississippi, we're a state with low real estate and energy costs; we have the infrastructure to get your products to market; we have streamlined regulations and hardworking people. We offer an environment that will help companies meet the needs of their customers and provide opportunities for growth."
---
In August, you launched the ReSkill Mississippi Initiative to help the state's displaced workforce. Within a month more than 2,000 Mississippians had already enrolled. Tell us how you're using programs like this to help people get back to work?
Reeves: Programs like ReSkill Mississippi are an example of how responsive we are to the needs of employers. A scalable, trained workforce is a priority because I know when a company opens its doors, it needs employees who are ready to go on Day One. We are constantly talking with employers and educators to make our workforce training programs the best in the nation.
Mississippi is one of a growing number of states opting out of future unemployment funds from the federal government. What message do you want to send to businesses and workers in the state?
Reeves: Mississippi is ready to get back to work. Whether you're a restaurant or a large distribution center, you've got to meet the demands of your customers — those orders aren't slowing down. I've heard from numerous employers across the state, and they're all saying the same thing — they want more workers! I look forward to Mississippians returning to the workforce to keep our economy going strong.
What's the biggest misconception people have about your state and how do you intend to combat those misconceptions with potential newcomers to the state?
Reeves: I think those outside the state are simply unaware of all Mississippi has to offer. We test rocket engines on the Gulf Coast. We're home to several U.S. Department of Defense research programs, including a U.S. Army supercomputer in Vicksburg. It's a message we're working to spread. I'll tell you, once people visit our state and experience our hospitality — especially our food — they fall in love. They want to return again and again.
As a lifelong Mississippian, how would you say the state's brand identity has changed since you took office?
Reeves: Mississippi is a pro-business state, and that hasn't changed. We are working to improve our tax structure because I believe you know how to invest your money better than government. We are always looking for ways to strengthen one of the best workforce training programs in the nation. We are a strong manufacturing state, and we have a good research foundation at our universities that companies can lean on.
You've proposed phasing out the state's income tax, tell us about your goals for the state's tax policy. What do you aim to accomplish by making these changes?
Reeves: I firmly believe each individual or CEO, not the government, knows best how to invest and spend his or her money. To grow our economy, I believe a flatter, simpler tax policy that lets you keep more of your money is the best way to grow our economy. That's why I supported phasing out the franchise tax and income tax as lieutenant governor. It's why I support eliminating the income tax as governor.
What are you doing to foster foreign trade in the state?
Reeves: Mississippi has had tremendous success attracting foreign investment. We're proud to be the home of Nissan and Toyota. Yokohama Tire and Continental Tire have found success here. I want to build on that good work. I've met with representatives from our key international markets. We're looking to open a European office soon. We simply need to spread the message of the business-friendly climate we have in Mississippi.
Why should any business executive seeking an expansion or relocation in North America consider Mississippi?
Reeves: When you look at Mississippi, we're a state with low real estate and energy costs, we have the infrastructure to get your products to market, we have streamlined regulations and hardworking people. We offer an environment that will help companies meet the needs of their customers and provide opportunities for growth. We have a proven track record in advanced manufacturing, energy, aerospace and automotive sectors. We want to be a partner that helps you succeed.