Plastics and plastics-dependent companies combine to employ 380,000 people in Mississippi. Behind every one of those companies is a story of innovation that's led to growth in the state.
Take Bill Seemann, founder of Seemann Plastics, Seemann Fiberglass and then Seemann Composites, for example. In that simple sequence of name changes you have the history of the plastics industry over the past 50 years. And thanks to a $2.1 million, 35-job expansion in Gulfport announced in September 2020 by Seemann Composites, you have the future, too.
"The Seemann Composites team would like to thank Gov. Tate Reeves, the Mississippi Development Authority and the Harrison County Development Commission for assisting in this important expansion of our facility," said Seemann Composites President Sid Charbonnet. "We are grateful for their support as we continue to grow our workforce and capabilities here in South Mississippi."
The expansion — the company's sixth — accommodates a new contract to produce composite components for the U.S. Navy, and involves the construction of a 16,000-sq.-ft. addition onto the company's existing 160,000-sq.-ft. facility. Seemann Composites has developed its own vacuum-infusion technology known as Seemann Composites Resin Infusion Molding Process, or SCRIMP, which today is used in applications around the globe.
The process came from decades of R&D as Bill Seemann and his staff built fiberglass boats and distributed composite materials throughout the Gulf Coast region. After starting out with a small boat repair firm named Leda Boat Works in the early 1960s, Seemann's flair for invention led to building Olympic Fin Racing Dinghies and to patenting a composite material called C-Flex that dominated racing yacht sailing circuits around the world, says a company history.
The company today primarily focuses on production components for Department of Defense and commercial platforms, and has fabricated and delivered thousands of advanced composite structures and products (of all sizes and levels of complexity) to all branches of the U.S. military, many major defense and commercial customers. And it maintains R&D capabilities in order to stay ahead of the game from its perch on 15 acres in Gulfport.
Good idea: The American Composites Manufacturers Association, whose Certified Composites Technician (CCT) program is the industry's gold standard for comprehensive composites manufacturing training, says in its most recent industry update that the composites end-product market is expected to reach $113.2 billion by 2022.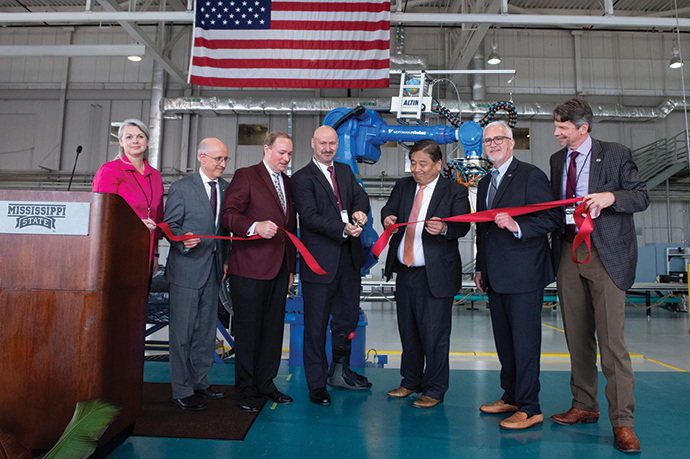 "Seemann Composites Inc.'s success is largely accredited to the dedication and talent of its workforce," says the company. The plastics talent base along the Mississippi Gulf Coast is well known thanks to the legacy of the University of Southern Mississippi and the Mississippi Polymer Institute (MPI) in Hattiesburg. The MPI — created from within USM's Department of Polymer Science in 1993 — has worked with nearly 600 clients in the state and nearly 260 from outside the state, helping to train 4,162 workers and helping companies create or retain 914 other jobs.
A decade ago it outgrew its place of origin and moved to a $28 million complex called The Accelerator that offered more than 60,000 sq. ft. of resources and talent "to support ventures in composites, polymers, formulation science, biotechnology, sustainable chemistry, alternative energy and other high-tech industries." The Accelerator's ecosystem has since expanded too, evolving into the University of Southern Mississippi Innovation and Commercialization Park (The Innovation Park), whose assets even include a low-ropes and dual zipline challenge course at Lake Sehoy designed for teams wanting to enhance morale, leadership and communication. The area is also home to Petal High School, known for a unique plastics and composites education program.
It's that ecosystem that has made a good home for companies such as Hybrid Plastics, which makes a nanostructured chemical called POSS® — or Polyhedral Oligomeric Silsesquioxane — that bridges the gap between ceramic and organic materials and is used by a variety of industries. "As an entrepreneur, Mississippi is extremely attractive," said Hybrid Plastics President and CEO Joe Lichtenhan in a recently filmed testimonial, "one reason being