O
ne week in January 2022 told you all you need to know about the attractiveness of Mississippi for logistics, distribution and e-commerce fulfillment operations.
On January 13 at the Hattiesburg-Laurel Regional Airport, FedEx Corporation announced it would locate a new 217,000-sq.-ft. distribution facility at the I-59 Supply Chain Park that will create 200 new jobs. A release from Cooperative Energy — the utility partner behind the park along with one of its 11 electric distribution co-ops Dixie Electric — noted that the new $20 million FedEx facility will be the largest at the park, joining operations there from Ashley Furniture, NoTrax and Flowers Bakery.
Cooperative Energy's economic development team helped rename and rebrand the industrial park in April 2020 to better represent the competitive assets of the area, the utility said. "In 2019, the Hattiesburg-Laurel Regional Airport Authority applied for and received a Mississippi Development Authority (MDA) Site Development grant for grubbing, grassing and erosion control of the property, and repaving the access road," the utility said. "Additional matching funds from both Forrest and Jones Counties supplemented the MDA grant, as well as a Cooperative Competes grant from Cooperative Energy and Dixie Electric."
That amounted to half a million dollars of proactive site development to go along with other economic development efforts the utilities have been pursuing in the region alongside the Area Development Partnership and the Jones County Economic Development Authority.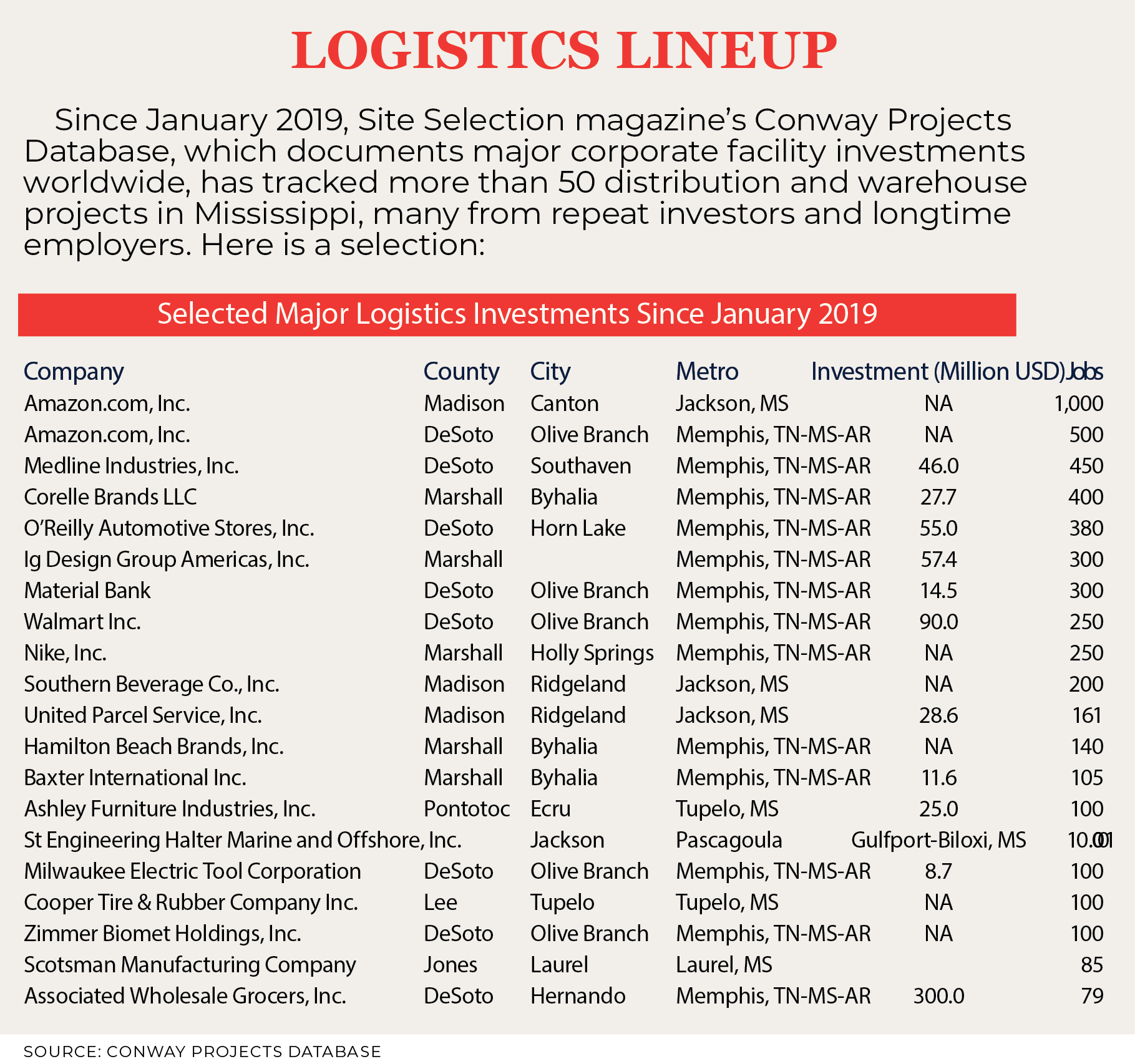 One week later, on January 20, a project more than four times the size of FedEx's landed in FedEx's home region of Greater Memphis. Walmart announced plans to site a 1-million-sq.-ft.-plus fulfillment center — its first in Mississippi — in Olive Branch, a longstanding logistics hub just across the state line along U.S. Highway 78. Set to open quickly in spring 2022, the facility is creating 250 jobs.
"Walmart is proud to welcome its newest fulfillment center to the city of Olive Branch as we continue to grow our national supply chain network and e-commerce capabilities in the mid-South," said Steve Miller, senior vice president of supply chain operations, Walmart U.S., noting the direct-to-customer operation would store millions of items.
Unlike distribution centers, which are focused on receiving, storing and distributing product to Walmart stores, fulfillment centers are focused on storing millions of items that are picked, packed and shipped directly to customers as soon as next day. The facility is part of a broader initiative to add more capacity into Walmart's supply chain. In Q3 of FY22, Walmart U.S. e-commerce sales grew by 8%, and have grown by 87% over the past two years," the retailer said.
"This significant investment by Walmart — in both a new fulfillment center and in DeSoto County's workforce — is important to the overall economy of the region and the entire state," said Mississippi Governor Tate Reeves. "Hundreds of new employees at the Olive Branch fulfillment center will strengthen the local tax base, building stronger communities throughout the region that will benefit generations of Mississippians to come."
Some Walmart figures illustrate Mississippi's importance to Walmart already: In Tennessee, the retailer has 150 stores and three distribution centers. In Mississippi, its total store count is 42% lower at 86, but it operates three distribution centers there too.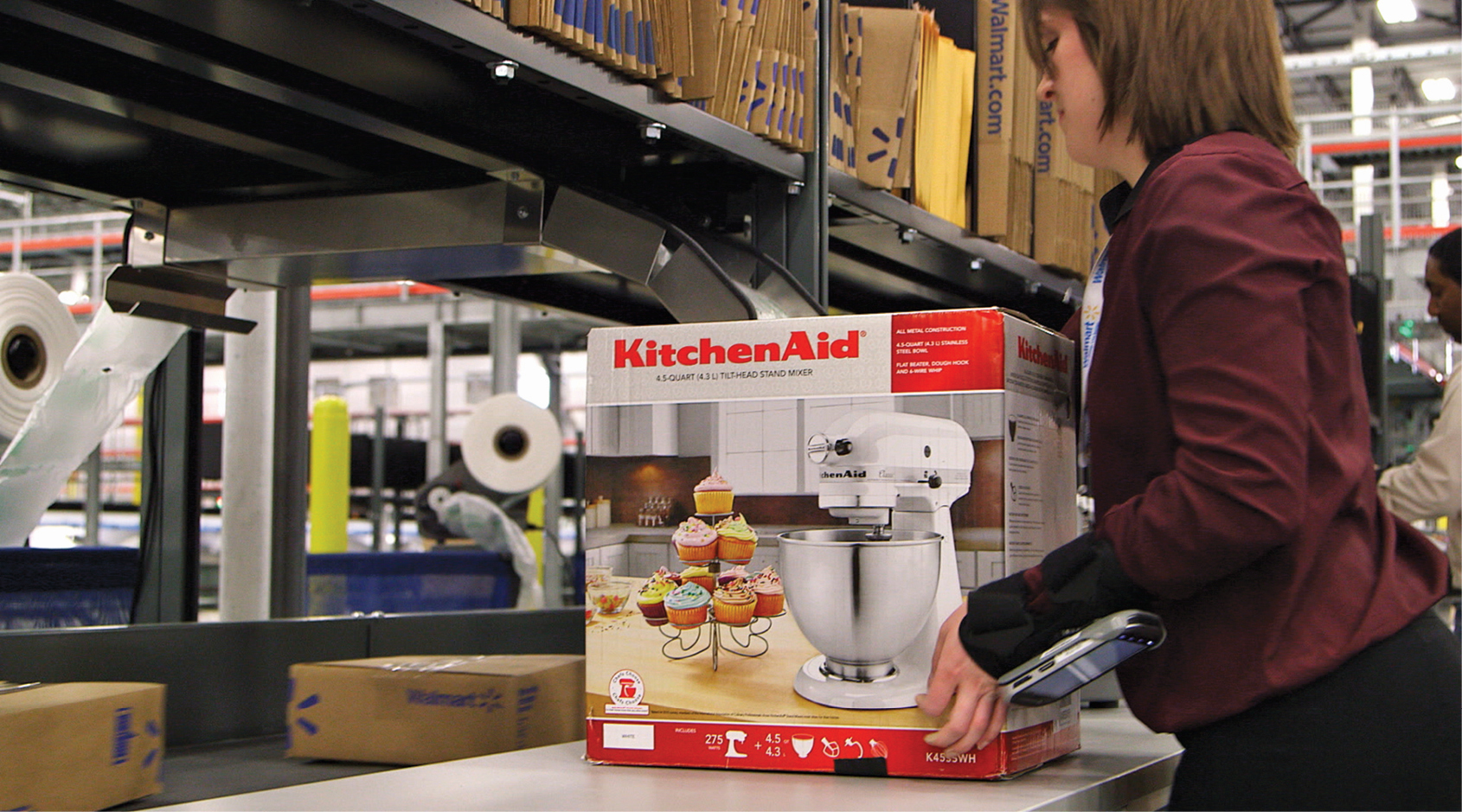 'Right Items to the Right Customer at the Right Time'
Asked for a walk-through of the company's site selection process and what helped make Mississippi's business case, a Walmart spokesperson says, "Like many companies, we consider a number of factors when reviewing sites for supply chain facilities including location, customer demand, land availability, proximity to talent, etc. We focus on strategically locating our fulfillment and distribution centers to pair most effectively with our 5,000 stores and clubs. These supply chain nodes collectively get the right items to the right customer at the right time. 
"By locating a fulfillment center in Olive Branch we're able to provide customers in the surrounding region with more availability and faster shipping on millions of items while continuing to provide more employment opportunities throughout the state."
Competing for workers is more difficult than ever, especially in the logistics and distribution field. What is Walmart doing to increase the attractiveness of the job, and how is the company approaching recruiting and training today?
"We know that offering competitive pay is essential in order to build a network for the future," says the spokesperson. "The average wage for supply chain associates is $20.37 per hour. Walmart also proudly provides advancement opportunities through Live Better U and Supply Chain Academies, where associates are trained in new skills, providing additional paths to advancement. Through Live Better U, Walmart associates can earn college degrees or learn trade skills without the burden of debt, as Walmart pays 100% of college tuition and books. Live Better U participants are typically promoted at twice the rate of other associates.
"Additionally, we offer Walmart Supply Chain Academies, which pay associates to learn through immersive teaching that combines technology, classroom training and ongoing coaching in role," she says. "Today, Walmart operates six Supply Chain Academies and is growing. In FY2021, we trained approximately 95,000 associates via the Walmart Academy, including virtual and in-person trainings. More than 80% of Walmart Academy graduates are retained for an additional year. For recruiting, we typically host special hiring events to attract the best and brightest candidates at our supply chain locations, as needed."
Asked what innovations in workforce training and facility and network design the company is introducing to maintain maximum flexibility and effectiveness, she says investments have been occurring across the supply chain. "We've been investing in associate pay, creating career advancing opportunities through Live Better U and Supply Chain academies, building new facilities, renovating existing facilities and more. We've also been investing in automation and training our associates in tech-enabled jobs. For example, we previously announced high-tech improvements in Colton, California, in our consolidation network and Shafter, California, in our grocery network. And last year, we announced our partnership with Symbotic to implement their high-tech automation system in our regional distribution network."
Incentives Fulfill Needs
Among other notable logistics operations landing in Mississippi, Olive Branch in March also welcomed a $4.4 million, 25-job operation from Noble Supply and Logistics, which provides worldwide supply and logistics services to the U.S. military; federal, state and local governments; and commercial clients. The company will occupy 67,000 sq. ft. of a 250,000-sq.-ft. facility in Scannell Logistics Park. The MDA certified Noble for the Advantage Jobs Rebate Program, which is designated for eligible businesses that create new jobs exceeding the average annual wage of the state or county in which the company locates or expands. The Tennessee Valley Authority also is assisting with the project.
In April, Southern Pipe and Supply announced it is expanding and consolidating its Meridian distribution operations into one location at a former Lowe's distribution center that will house its central distribution center. The project represents a corporate investment of more than $25 million and will create 20 jobs while retaining 275. The company got its start over 80 years ago in Meridian, and today is one of the industry's largest privately held, independent wholesalers in the Southeast, with 121 locations in seven states.
The FY2021 Mississippi Incentives Report from the MDA documented how incentives such as the Industry Incentive Financing Revolving Fund, Mississippi Ace Fund and the Development Infrastructure Program (DIP) have supported new logistics projects from companies such as New Age Logistics, as well as Amazon and Medline Industries in DeSoto County.
The report also documented specialty paper products company IG Design Group Americas' new distribution operations at a Panattoni Development Co. site in Marshall County, where the company's giftwrap products distribution operation received an initial $49 million, 35 job investment in July 2020, followed by the phase-2 investment of $57.4 million and 300 new jobs later that year. Marshall County also has welcomed an $11 million, 75-job distribution site from communications software and technology company Quadient.