W

ith its sleek, glass facades and Lego-like design, it would look right at home on the grounds of an elite, major university. But, in truth, the sprawling, new building known as "Communiversity" graces the campus East Mississippi Community College (EMCC), described by its president as "a small, rural" school in the town of Scooba in Mississippi's Golden Triangle. Built at a cost of $42 million, and also known as the Center for Manufacturing Technology Excellence 2.0, it serves as a bold symbol of the region's commitment to advanced manufacturing.
Major manufacturers that have landed in the Golden Triangle, the loosely defined economic region driven by the trio of Starkville, Columbus and West Point, include Yokohama Tire, Paccar, Steel Dynamics, Airbus, Aurora Flight Sciences and International Paper, according to Dr. Scott Alsobrooks, EMCC's president. Their influence has driven a post-NAFTA renewal of regional manufacturing that's been likened to a renaissance. The handsome, new facility in Scooba is all about sustaining that surge, Alsobrooks says.
"We've got to keep the talent pipeline going," he explains. "It's up to us to heighten awareness and to bring in state-of-the-art training programs and to get more young people into advanced manufacturing and its auxiliary fields that are needed to run advanced manufacturing plants. And that extends," he says, "into IoT and those professions."
The Appalachian Regional Commission, which invested $10.7 million toward Communiversity, led a coalition of supporters that included the state legislature and the eastern counties of Clay, Lowndes and Oktibbeha. Opened in the summer of 2019, the 135,000-sq.-ft. facility features laboratory space, a robotics lab, 21 high-bay training stations for advanced machining technology, incubation bays for startups and meeting and administration space. Composites research performed in conjunction with nearby Mississippi State University has led to a training arrangement with Aurora, a division of Boeing, one of EMCC's growing list of workforce development partners.
As a potentially lucrative career with multiple pathways to entry, advanced manufacturing, says Alsobrooks, continues to "fly under the radar" among potential workers, a tendency that EMCC is addressing head on. Communiversity's museum-like "Imagination Center" is open to the public and features displays from Aurora and other regional manufacturers.
"Young people," he says, "still don't know of the fabulous careers that are available in advanced manufacturing. We can bring them in and not only show them the educational facilities, but also show them the products that are built. The Imagination Center can open their minds and help them to imagine career possibilities in manufacturing in our area, and maybe get them to choose some of these really cool degree programs and short-term training programs we have that help prepare them to go into the world of manufacturing. It's really the hot thing in jobs."
Innovations such as these have landed EMCC on the Aspen Institute's list of Top 150 Community Colleges in the nation five times since 2015. Alsobrooks says that 75% of EMCC's student population of about 3,500 qualifies for and receives financial aid.
"Some of our students come from poverty," he acknowledges. "And our goal is to help them out of that low end, low skill, low wage or no job situation. Help them into a situation where they can support a family. That's what we're all about. Trying to move them in that direction. Move them up and elevate them."
Keeping the Goods Flowing
Just below the state line with Tennessee, a cluster of counties in northern Mississippi rests within the gravitational pull of Memphis and its massive logistics hub. The concomitant growth of distribution centers leveraging Mississippi's lower operating costs is generating tremendous demand in the region for workers with the training to keep those increasingly high-tech facilities up and running.
"We're the distribution capital of the United States," says Dwayne Casey, associate vice president for workforce solutions and career and technical education at Northwest Mississippi Community College, which has locations in Senatobia, Oxford and DeSoto County. "The biggest skillsets these companies are looking for," he says, "are those of industrial maintenance technicians."
---
"You come out of our program, and you can do very, very well."
— Dwayne Casey, Northwest Mississippi Community College
---
Winchester Ammunition, William-Sonoma and Helen of Troy are among the major brands with logistics operations in DeSoto County. The DeSoto campus's Industrial Electronic Engineering and Technology program, a hybrid apprenticeship model, is designed to serve the needs of employers such as those, and to jump start careers in northern Mississippi.
"It's a two-year associates degree," Casey says. "First semester, they are with us seven hours a day, Monday through Friday. If they have good grades and good attendance, they interview with our employer partners, and then for the next three semesters they go to school Monday, Wednesday, Friday and intern with the company on Tuesdays and Thursdays."
The companies guarantee interns 16 hours a week in an industrial maintenance position and pay them at least $16 an hour. It is, says Casey, "the best possible setup, and it's worked very well for our employers and for our students. We have some great equipment and instructors," he says, "but you can't possibly teach them everything in the classroom alone." The school, he says, has plans to offer a similar program in industrial automation. It also is adding programs in trucking and diesel technology.
"Right now," he says, "we have students coming out of our electronic engineering program making $30 an hour to start. That's very good money here in northern Mississippi. These jobs are in high demand. You come out of our program," says Casey, "and you can do very, very well."
Enviva Partnership
In the spring of 2022, Mississippi Gulf Coast Community College's George County Center, some 40 miles north of Pascagoula, launched a workforce development program with Maryland-based Enviva, which recently opened its second of three planned biomass pellet facilities in Mississippi. The $140 million plant in Lucedale is producing some 750,000 metric tons of wood pellets a year. The pellets are taken by rail to the Port of Pascagoula, from which they are shipped around the world as a renewable energy source.
The new program, offered in partnership with Accelerate MS, the state's lead office for workforce development strategy and coordination, provides training to current and prospective Enviva employees. Running 18 weeks, it is designed to enhance safety awareness and preparedness, strengthen on-the-job skills, and to promote continuous improvement and advancement.
"Through this workforce training initiative, these students will be prepared for a career in their hometown with an outstanding company," says MGCCC president Mary S. Graham.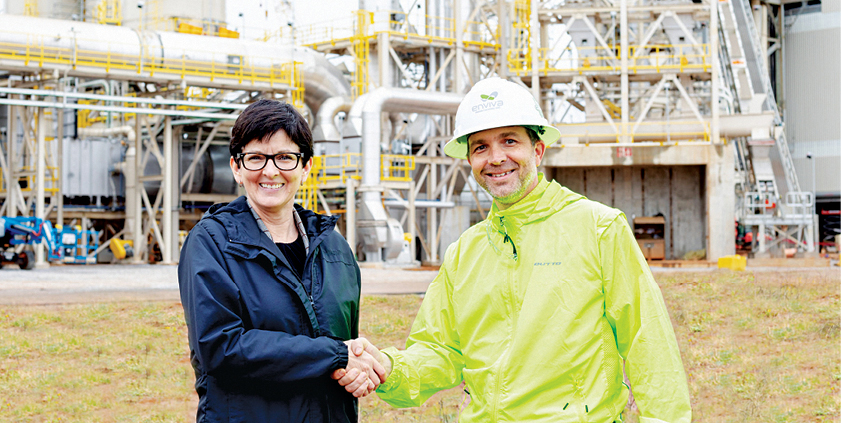 Enviva partners on workforce training with Mississippi Gulf Coast Community College's George County Center.
Photo courtesy of Mississippi Gulf Coast Community College
Enviva associates at the company's new Lucedale plant can receive paid time off to attend training classes twice a week at the George County campus. Areas of instruction include critical plant continuity functions including transmitter operations, hydraulics and pneumatics, chain belt tension and alignment and preventative maintenance project training. Participants emerge from the program with certificates of completion.
"Successful workforce development happens when we build and nurture collaborative partnerships between Mississippi employers and community colleges, like MGCCC, that so ably serve our state," said Ryan Miller, Executive Director of Accelerate MS. "Employee centered investment is a hallmark of great companies, and I'm appreciative that Enviva has shown such a strong commitment to its employees and to George County as a whole."