W
hen it comes to the aerospace industry, it's all systems go in Mississippi," said Governor Tate Reeves. "That's because our state offers a prime location for innovative research, well-trained workers, and innovative technology development." 
One of the state's greatest assets to this industry is NASA'S largest rocket testing facility, Stennis Space Center in Hancock County. Rocket Lab, a leader in launch and space systems, is the latest company to locate operations there. 
The company's Archimedes Test Complex, which opened in November 2022, is a 1-million-sq.-ft. facility dedicated to testing engines for Rocket Lab's Neutron reusable rocket. The next-generation launch vehicle is designed for constellation deployment, cargo resupply and interplanetary missions. Through future developments, the company aims to include human spaceflight capabilities. 
Rocket Lab also launches Electron, the second most frequently flown U.S. rocket. Since its first orbital launch in January 2018, the company says the Electron launch vehicle has delivered 150 satellites to orbit for private and public-sector organizations, enabling operations in national security, scientific research, space debris mitigation, Earth observation, climate monitoring and communications. 
"The strong support from NASA and Mississippi to bring Neutron to the state made Stennis an easy decision over other potential sites," said Shaun D'Mello, Rocket Lab's vice president, launch systems, in September 2022. "Stennis Space Center's legacy in aerospace and skilled workforce will be both a boost to Neutron's development and help grow Mississippi's already robust aerospace test capabilities, securing a future for the state in innovative technology and aerospace."
Where 3D-Printed Rocket Engines Are Tested
Such a future is a good bet if its past is any indication. Stennis Space Center, operated by NASA since 1961, is home to more than 40 onsite agencies, organizations, universities and companies that share operating costs while pursuing individual missions. If their combined employment of more than 5,000 workers were counted as a single entity, Stennis would rank among the top 10 Mississippi companies in size. Stennis is a major economic engine for the Gulf Coast region, with an average direct annual impact of more than $625 million within a 50-mile radius. 
In October 2022, Relativity Space announced plans for a major expansion of its rocket and engine test facilities at Stennis where it will test its Aeon R engines. The company envisions the completed project as one of the largest commercial test facilities in the nation. Relativity Space has created a 3D-printed, expendable Terran 1 rocket and is developing a fully reusable, 3D-printed Terran R rocket to launch payloads up to 44,000 pounds to low-Earth orbit.
Relativity Space says it is using 3D printing and other state-of-the-art techniques, including machine learning and autonomous robotics, to develop rockets with 100 times fewer parts. It already has developed the largest metal 3D printers in the world and anticipates the production process will enable rockets to be created within 60 days.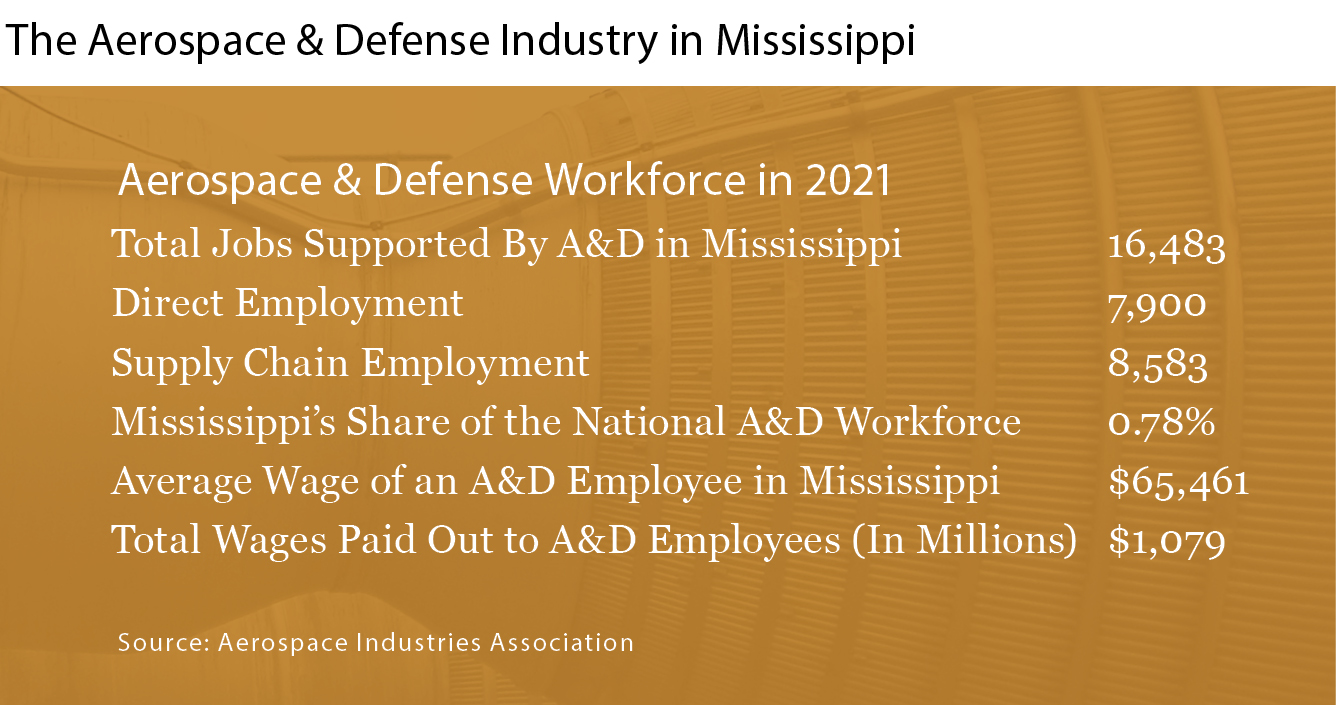 "This expanded partnership is a testament to Stennis expertise and standing as the nation's premier rocket propulsion test site," said Center Director Dr. Rick Gilbrech. "Relativity Space continues to grow as an aerospace company, and Stennis is pleased to support its continued development. Working with them for the past four years, Relativity Space has become a valued member of the Stennis federal city." 
In August 2022, Adranos, a producer of solid rocket motors, opened its rocket motor research and development operations in McHenry, in Stone County. It chose a 640-acre, seven-building complex formerly occupied by General Dynamics. The company cited the location's proximity to Stennis Space Center and its compliance with all Department of Defense safety requirements for munitions handling as primary reasons for choosing the location. 
"There is no limit to what we can do here, and we are going to need great people to help us achieve our lofty goals," said Co-founder and CEO Chris Stoker at the facility's ribbon cutting. "There are great people here that want to come and help us build rockets. It's hard to find something more exciting than that."