A
famous writer once described the Mighty Mississippi as a place that begins in the lobby of a hotel in downtown Memphis and runs all the way to the Gulf of Mexico.
That writer was William Faulkner, a man who understood the river and the state better than anyone else. What Faulkner instinctively knew, and what many others have since learned, is that Mississippi is a place boasting great depth and breadth of character and soul; a highly diverse place where people can travel and come together in fellowship and get to know each other; and, above all, a place born on the water. The Big Muddy has always infused the music, work, travel, culture, worship, food, commerce and lifestyle of Mississippi.
Lately, a lot of new people and companies are coming to learn this, as well. These folks are choosing to meet in Mississippi to experience that vast richness and more.
Case in point is Steel Dynamics Inc., an Indiana-based company that late last year selected Columbus in Lowndes County, Mississippi, for a $2.5 billion capital investment into a new flat-rolled aluminum mill. To say that this deal is a game-changer for Mississippi is an understatement. In a record-setting year for economic development in the Magnolia State, this one stands out as the granddaddy of them all.
More than twice the size of the state's previous record-holder, the SDI project firmly places Mississippi on the map as a leading metals manufacturer in the country. The investment also includes a brand-new biocarbon production complex that will make SDI one of the cleanest metals plants in the world.
In Tupelo in Lee County, records are falling too. "The manufacturing sector experienced remarkable growth this past year, attracting both domestic and international companies," says David Rumbarger, president and CEO of the Community Development Foundation in Tupelo. "Goodyear Tires, West Fraser, and Grammer all announced expansions, with Hush Aerospace recently announcing that they would be locating a new drone manufacturing operation in Lee County. This past year's announcements exceed $132 million in investments and 390 new jobs."

Rumbarger adds that "the finance sector in Tupelo is also booming, providing a strong backbone for the region's economic growth. Cadence Bank, which is headquartered in Tupelo, recently completed a merger acquisition increasing it to a $50 billion bank. The presence of robust financial services has attracted businesses of all sizes, fostering a healthy ecosystem for entrepreneurship and economic development."
These investments are not aberrations from the norm in Mississippi. These days, projects like these and others are the norm. Under the leadership of Gov. Tate Reeves, the Mississippi Development Authority helped bring in a record $6 billion in capital investment last year, and the state is far from done. Many other big deals are being finalized even as this publication goes to press. Other large investments of note include Cold Link Logistics, which just announced on May 22 that it would place a $64 million warehousing and logistics plant in Jones County and create 84 jobs; and Saylor Wheel LLC, which announced May 18 that it would locate a $23.4 million manufacturing operation in Greenwood and create 145 jobs. Saylor makes tire and wheel assemblies for trailers. 
When asked why they choose to invest in the Magnolia State, companies cite these assets:
An efficient regulatory environment.
Strategic logistics capabilities including river, ocean, rail, air and highway modes of transport.
Abundant natural resources like water, timber, fertile soil and clean air statewide.
A highly competitive state that is willing to invest financially in growing industries.
A cost of living that is 20% below the national average.
One of the lowest corporate tax rates in the country at 5%.
Available, affordable, well-trained and hardworking talent.
A plethora of available sites for development.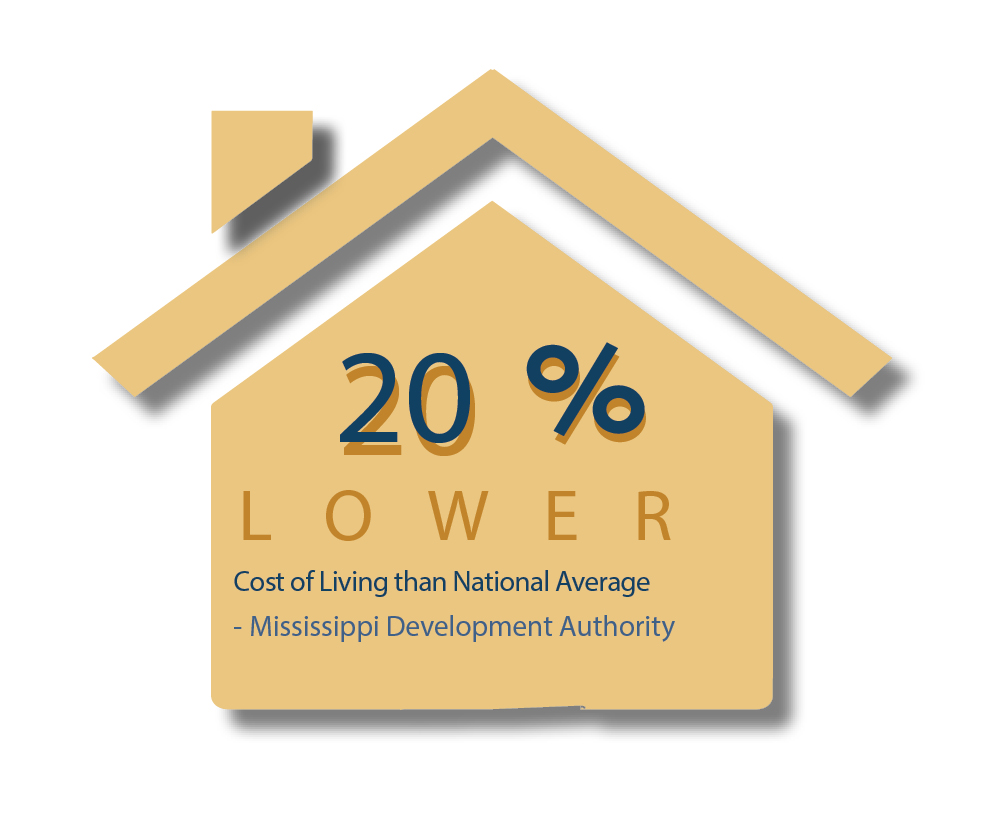 All of this adds up to a state that is shattering records as it gains ground on its Southern competitors. There is a reason global giants like Toyota, Ingalls Shipbuilding, Walmart and Amazon continue to invest billions in the state: The return on that investment is huge.
Others are taking notice. When Area Development named the Top States for Doing Business for 2022, Mississippi ranked 10th overall. In terms of overall cost of doing business, the state ranks No. 7. Mississippi also ranks No. 5 in speed of project permitting; No. 5 in energy availability and costs; No. 8 in incentives; No. 8 in cooperative and responsive state government; and No. 10 in favorable regulatory environment.
The common denominator in all these accolades is the people of Mississippi. Born in the land of the Mighty Mississippi, they are built to thrive in any condition.
As the legendary blues musician Muddy Waters would say, that Mississippi sound, that Delta sound, is born in them and never leaves. To companies looking to gain a competitive edge, that's music to their ears.