T
ake a drive through Mississippi and you'll find miles upon miles of lush forests and fruitful farmland, helping the state harvest a multi-billion-dollar ag industry. 
Over 34,700 farms span the state, feeding billions in wages into residents' pockets. Across 10.4 million acres, crops such as cotton, soybeans, corn, sweet potatoes, rice, wheat and peanuts flourish. 
In 2022, the state's agribusiness industry represented $9.72 billion in value. While No. 1 poultry and No. 2 soybeans continue to lead Mississippi's agriculture, forestry has found its way to the top at No. 3. Each crop experienced impressive yields last year. According to data collected by Mississippi State University's Extension Service, poultry saw a 48% increase, while soybeans rose by 22% and forestry by 15% from 2021 values.
Over 62% of Mississippi's total land area consists of forested acres. Pine, hardwood and a mix of the two rule these vast wooded expanses. 
No matter where your feet hit the ground in Mississippi, there's a good chance that land is a part of a flourishing agricultural industry with no signs of slowing down.
Tender For the 'Sip
Data doesn't lie and proves Mississippi knows a thing or two about poultry production.
In 2022, approximately 715 million broilers were produced from the state's 1,237 broiler farms. Meanwhile, its 234 farms churned out over 1.4 million eggs, equivalent to more than 116,667 12-egg cartons. 
Regardless of how you like your eggs cooked up, Mississippi's style fits the tastes of the nation's top food processers.
Just four months after Tyson Foods Inc. announced the completion of its $90 million expansion in Forest, Mississippi, the company invested $18 million to expand its Walnut Grove hatchery, just 20 minutes north of the site. The investment created 320 new jobs in the process.
The project, which will be built out in phases until its 2024 completion, will add significant chick and egg capacity to the site to support the company's Forest and Carthage locations.

"There's no doubt Tyson Foods has become an integral part of our community's economic success. We look forward to increasing our impact and welcoming new team members in 2023," said Live Operations Manager Mack Walker in a release.
As of 2023, Tyson Foods has an annual impact of $339 million in Mississippi and supports over 3,400 jobs across its locations.
Billion-Dollar Forests
Over 19 million acres of forested areas cascade across the state. A majority, or 77% of forest land, is owned by private non-industrial owners. 
Even with an overabundance of availability, a sustainable approach to harvesting wood is a concept both state officials and companies hold dear. Growth-to-harvest ratios stand at 3:1 for pine and 6:1 for hardwood, keeping replenishment top of mind. 
"These numbers, added to expanded economic development efforts by Governor Tate Reeves, the Mississippi Development Authority, and local groups, have established Mississippi as a go-to state for new and expanding forest products manufacturers," says Mississippi Forestry Association Executive Director Casey Anderson.
It's true: These initiatives have caught the attention of wood manufacturers like ArbaBlox, Steel Dynamics and Hood Industries, to name a few of the companies that have contributed to nearly $875 million in new investment since the start of 2022.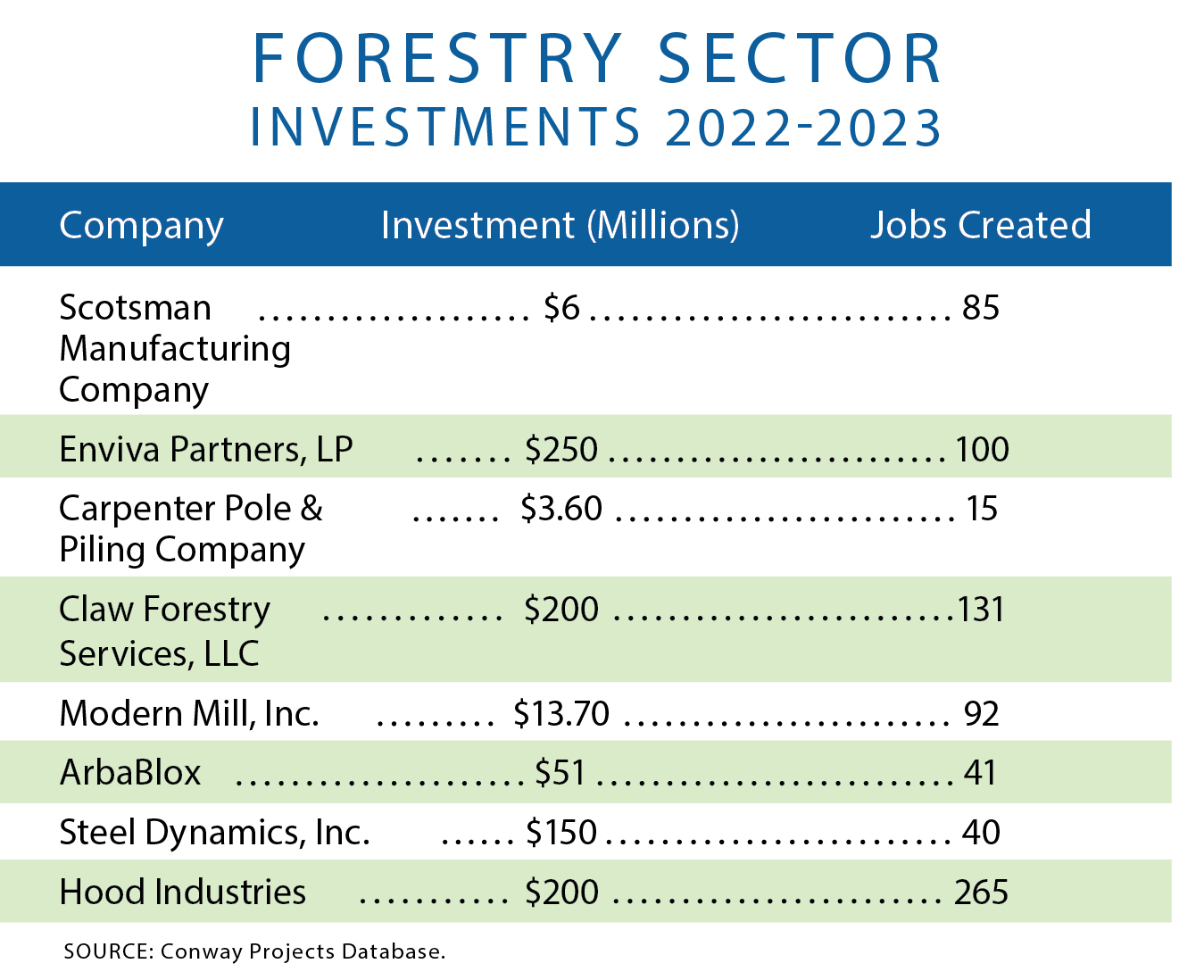 "Tremendous growth" are the two words Anderson used to describe the industry since joining MFA over nine years ago. The state has seen at least $10 million in new investments or expansion projects since 2013, now supporting a $13.1 billion industry and over 62,000 jobs. 
---
Mississippi's top three agricultural commodities rose by billions of dollars in value in 2022.
---
As deforestation conversations swirl the nation on the backs of development efforts often resulting in devastation to millions of forest acres, Mississippi is the first U.S. state to combat this challenge with a reforestation tax credit.
The credit is available to individuals or groups of non-industrial private forest landowners. Owners can create a reforestation plan to submit to the Mississippi Department of Revenue to qualify for up to 50% of reforestation costs. In collaboration with MFA and its partners, the state's legislature have worked to increase the credit's lifetime limit to $75,000.
But incentivizing the industry didn't stop there. In March 2023, the Forestry Facility Grant Program, or Senate Bill 2525, was approved by Governor Tate Reeves after passage through both the state house and senate. 
The program provides a $10 million investment for utility, infrastructure and transportation projects to be distributed by MDA in order to support future industry growth. According to the bill, grants for existing or developing sites will cover the costs of land acquisition, site improvements and installations including power lines, gas lines, water systems, sewage systems, roads and railroads.
"This bill will help us attract new industry to Mississippi by providing funds to be used for utilities, infrastructure, and transportation projects as they relate to new and expanding forest products sites in Mississippi," says Anderson. "Leaders including Governor Tate Reeves, Lieutenant Governor Delbert Hosemann and many senators and representatives understand the value the forest industry provides to Mississippi and are strong advocates of forestry-related economic development. Bills such as this serve as another tool in our toolkit to help attract manufacturers to our state."