A
surge in site preparation designates the Pine Belt as a prime spot to expand. Due to strategic investments, planning and partnerships, state and local leaders have cultivated a booming business climate. 
Through programs such as the Mississippi Development Authority's (MDA) Site Development Grant Program, economic development agencies are able to garner essential site preparation support. With two tiers to the program, Ready Sites and Premier Sites, as well as an additional program, the Site Development Grant – Select Sites program, MDA is able to offer sites of all sizes funding for a diverse set of needs. 
As a significant contributor to the lumber industry, the Pine Belt is already an attractive landscape for expanding companies. Therefore, many locations in the region have been awarded funding from these programs. Armed with a robust catalog of project-ready sites, more and more companies are moving to southeastern Mississippi.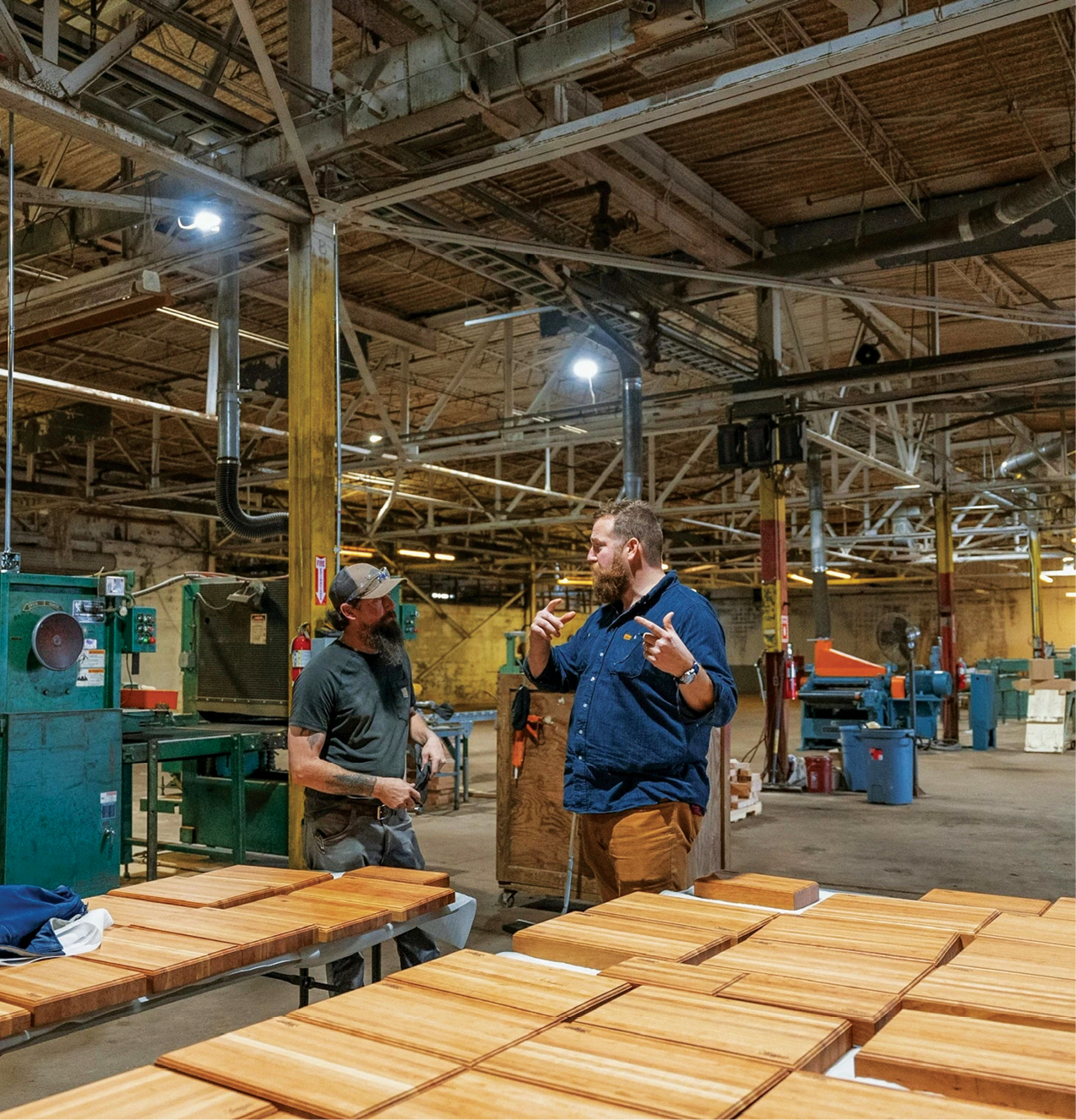 Laurel-based Scotsman Manufacturing Company produces wood countertop and cutting boards at its revitalized factory downtown.
Photo courtesy of Laurel Mercantile Co
Digging into Development 
In February 2022, the I-59 Supply Chain Park, located along I-59 at the Hattiesburg-Laurel Regional Airport, was awarded a $3.4 million grant from the MDA's Select Sites program. This funding allowed the park to make various enhancements such as sanitary sewer system capacity upgrades, grading, building pad preparation and building out intersection modifications to Terminal Drive. With these improvements, officials hope to transform the I-59 Supply Chain Park into a logistics hub for the Gulf South region. 
This goal is close to fruition. In January, FedEx became the I-59 Supply Chain Park's newest tenant. The company plans to build a $20 million, 217,000-sq.-ft. facility and introduce 200 new jobs to the area. 
In Hattiesburg, the University of Southern Mississippi's Innovation and Commercialization Park, The Garden, also received a $3.4 million grant from the Select Sites program. The Area Development Partnership, a non-profit organization dedicated to stimulating economic growth, funneled the grant into clearing, grubbing and grading the property, constructing an access road, and upgrading water and sewer systems. These modifications are set to increase industrial business opportunities. 
"This is a significant second step in the strategic plan for our Innovation and Commercialization Park, and we appreciate the collaborative work by many parties to make this happen," said Dr. Gordon Cannon, vice president for research at the University of Southern Mississippi. "This will provide a permanent location for an advanced light industrial business, which is a key goal for our Technology Garden, and we look forward to continued developments that will make this a great work-live-play community."
The Garden is already home to The Accelerator. The technology-focused business incubator hosts public research ventures, private-sector startup companies, and large national and multinational companies. With more than 60,000 sq. ft. of labs, offices, and amenities, The Accelerator offers a full-service, specialized facility for innovation in composites, polymers, formulation science, biotechnology, sustainable chemistry and alternative energy.
Other investments from the Select Sites Program included $553,600 to the I-59 South Industrial Site in Jones County. The Economic Development Authority of Jones County also received a Premier Sites grant of $250,000 for updated environmental due diligence, extending existing roadways and constructing a temporary railroad crossing at the I-59 South Industrial Site.
These improvements have already attracted a $64 million project from Cold-Link Logistics, a specialist in cold storage warehousing, and Whitestone Transportation.
"Our office has focused on aggressive site development in the last few years," said Ross Tucker, president of the Economic Development Authority. "Having a shovel-ready site was our biggest advantage in closing this deal with Cold-Link Logistics and Whitestone Transportation. These companies practice efficiency and excellence in all areas." 
In May, Cold-Link and Whitestone announced their plan to construct a 200,000-sq.-ft. cold storage warehousing and transportation hub on a 65-acre site at the I-59 Industrial Site that will feature integrated warehousing and transportation services to local and regional food processors and distributors. 
---
"Our office has focused on aggressive site development in the last few years."
— Ross Tucker, President, Economic Development Authority of Jones County
---
The Hometown Difference 
It's not just newcomers expanding in the Pine Belt; local business leaders are keen to stay in the region. Erin and Ben Napier, cofounders of Laurel Mercantile Co. and hosts of HGTV's hit series Home Town, decided to expand their second company, Scotsman Manufacturing Company, in Laurel, as well. The wood countertop and cutting board manufacturers selected a revitalized industrial complex in downtown Laurel for their operations and expect to introduce 85 new jobs to the area. 
"If we are going to be serious about revitalizing small towns, then we have to be serious about creating manufacturing in those small towns," said Jim Rasberry, chairman of Scotsman Manufacturing Company. 
"Manufacturing, a top economic driver for Mississippi, employs tens of thousands of workers in our state. When homegrown companies stay in Mississippi to plant roots and begin creating jobs in our communities, it truly does make a statement to other companies that we are a great place to do business," said Laura Hipp, deputy executive director at the Mississippi Development Authority. 
Hood Industries, a plywood manufacturer, has been established in the Hattiesburg area for 40 years. After a devastating tornado in April 2022 left its facility in Beaumont inoperable, the company was eager to rebuild its operations instead of moving elsewhere. 
"Perry County and Beaumont are both very special to Hood Industries," said Jay Galloway, president of Hood Industries. "Even after we surveyed the damage of last year's tornado, we wanted to rebuild where it all started. We are part of this community, and they are part of us."
With this new $200 million facility, Hood Industries' Beaumont location is set to be "one of the most modern plywood plants in North America" and operate at double the capacity of the previous factory. The new and improved plant will create 265 new jobs and become operational by early 2025.