T
here are three things that Gov. Tate Reeves has made a priority during his administration: elevating the quality and performance of Mississippi's public schools; reducing the tax burden of every Mississippian; and creating better jobs for the people of his state.
Three and a half years into his tenure, Gov. Reeves has made good on all of those promises. A record-setting year for economic development, capped off by landing the largest capital investment project in state history, was his most recent accomplishment, but there's more. In the following interview, we asked him about these big wins and other issues.
In your recent State of the State Address, you described Mississippi as one big small town. What do you mean by that?
GOV. REEVES: Mississippi is filled with natural beauty and helpful people. It feels like one big small town because everybody in Mississippi knows everybody. As recently as last month, we saw that when natural disaster strikes, Mississippians are among the first to rush to the scene, even putting their own safety on the line, in order to help rescue and save others.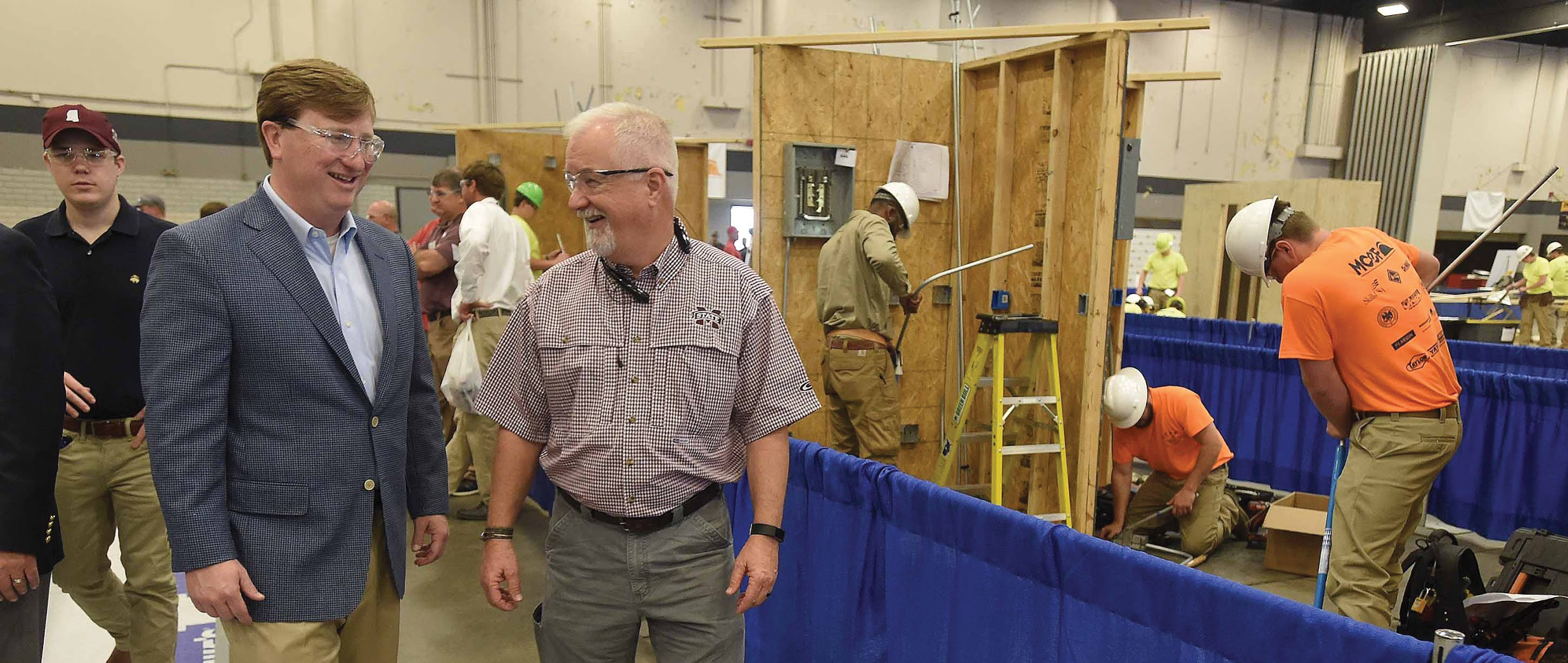 Gov. Tate Reeves frequently travels to meet his constituents and interact with workers at their places of employment.
All photos courtesy of the Governor's Office of Mississippi.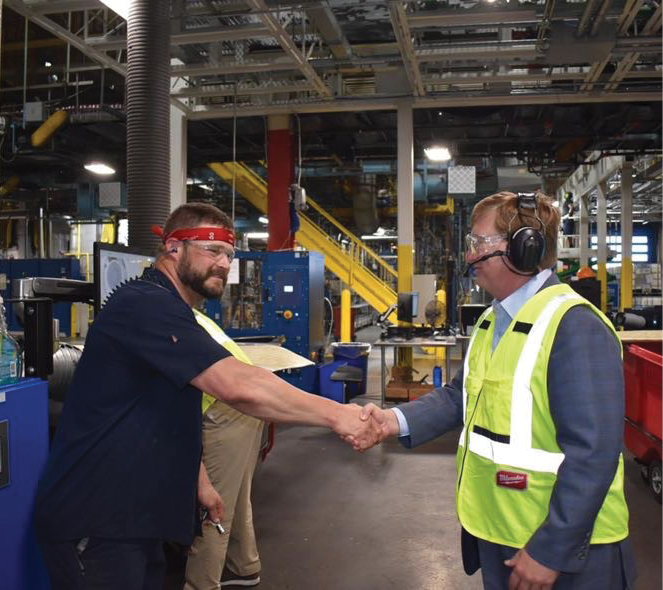 What do you think are your administration's most important accomplishments during your first three-plus years in office?
GOV. REEVES: We have really had so much success. Mississippi right now has a lot of momentum. This is really our time. The two ways we measure success are in the wages of our workers and in the success of our students. Since 2019, personal incomes are up 21% and have risen over $8,000 per person statewide, and we recently reached an all-time low of 3.4% in our unemployment rate. We have gone from the bottom of the nation to the top of the class with what I like to call the Mississippi Miracle — and that is the tremendous and historic improvement in the achievement level of our students. Here is the data: In fourth grade reading and math, we were ranked second worst in the nation when I came into office; and we improved to 21st in 2022. And our 88.9% graduation rate is an all-time high. We used to rank last in graduation rate. Now we rank above the national average. In 2022, Mississippi was ranked the top state in the nation in grade four reading gains for Black students. We were 45th three years ago. We are one of the top states in the nation in education right now. *Since this interview, Mississippi has reached another new all-time low unemployment rate.
Steel Dynamics was the biggest project win in state history, at $2.5 billion. How did Mississippi accomplish that?
GOV. REEVES: First, Steel Dynamics Inc. (SDI) had made a major investment in our state before negotiations on this project started. I was incredibly pleased with the outcome of their search. The reason we won that project in Columbus was because of our people. The executives at SDI knew the quality of our workforce because they already had over 800 Mississippians working for them. We worked diligently with the leadership of SDI to produce a deal that is good for Mississippi taxpayers. They will employ 1,000 people at an average salary of $100,000 a year in the Golden Triangle because of this deal.
---
"My goal is to ultimately eliminate (the personal income tax) so that we can compete with Tennessee, Texas and Florida, three Southern states that have zero personal income tax."
— Mississippi Gov. Tate Reeves
---
You have a stated goal of eliminating the state personal income tax in Mississippi. How do you plan to fulfill this?
GOV. REEVES: There are nine states that have zero personal income tax. Mississippi today has the fifth lowest rate in the USA among the states that do have a personal income tax. We passed the largest tax cut in Mississippi history in 2016. Then we passed an even larger tax cut in 2022. We went from three tax brackets to one tax bracket for every income earner. My goal is to ultimately eliminate it so that we can compete with Tennessee, Texas and Florida, three Southern states that have zero personal income tax.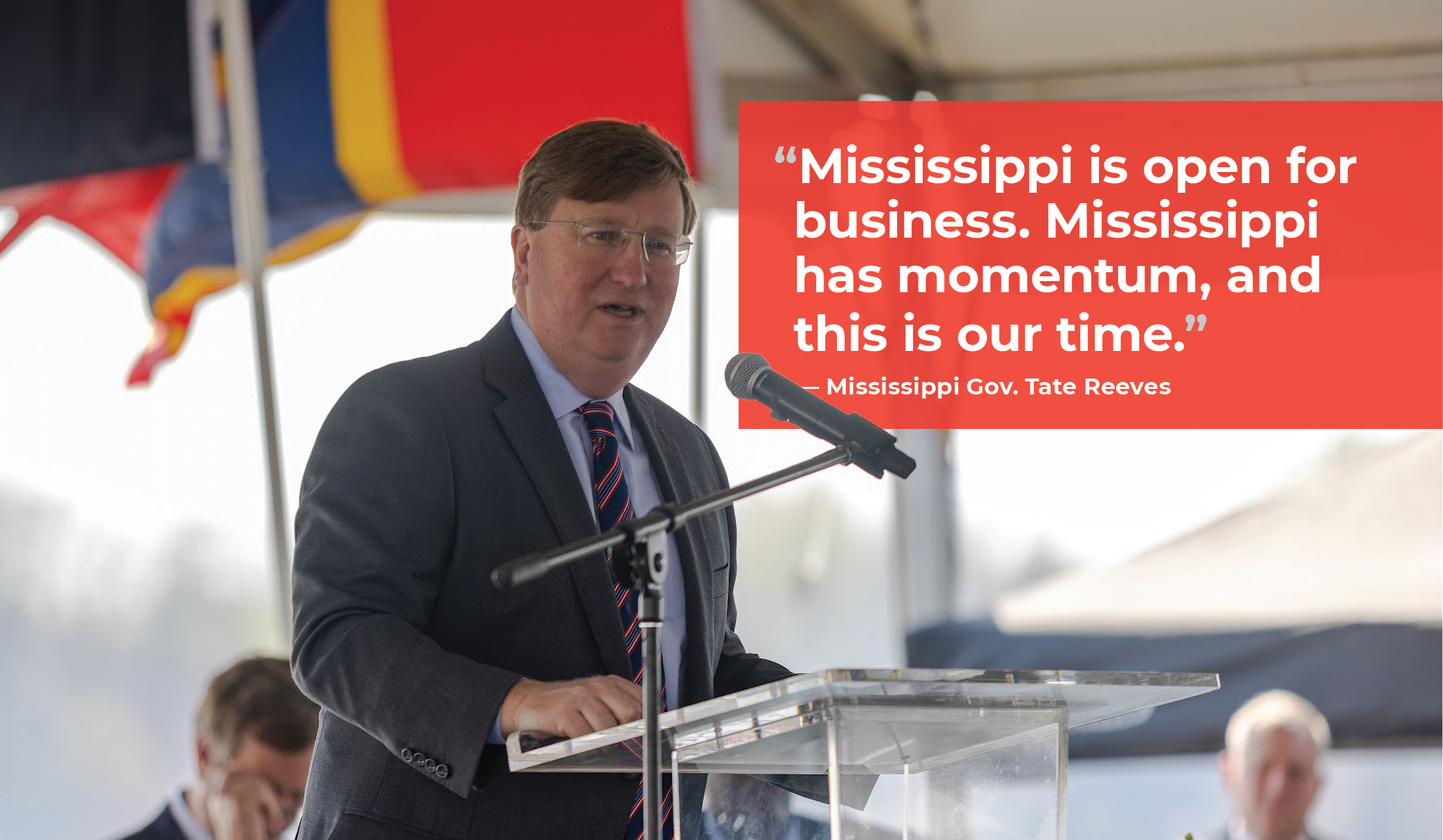 All photos courtesy of the Governor's Office of Mississippi.
---
You said that you want to see Mississippi compete with the likes of Texas, Tennessee and Florida. What will it take to accomplish this goal?
GOV. REEVES: I would suggest that with the significant gains in educational attainment levels in the state, we now have a competitive advantage with those states when it comes to our workforce and our educational system. They have an advantage now with their tax code. We need to reduce and eliminate our personal income tax and we will then see additional economic impact and additional economic growth.
Your state has made major progress on the K-12 educational front, including reaching an all-time high graduation rate. What more needs to be done to get your state where you want it to be in education?
GOV. REEVES: We have implemented conservative reforms with bipartisan support and upheld rigorous standards. Mississippi kids are learning more now than ever before, and people are seeing that. We reward success. We continue to raise the level of expectations. When we do that, Mississippi will rise up and meet them.
You have talked about the need to expand access to childcare resources for working parents. Can you elaborate on that?
GOV. REEVES: In my most recent budget recommendation, I proposed establishing a childcare tax credit in the state. We have many single moms and single dads. Expanding access to childcare resources will help get many of these individuals back in the Mississippi workforce. We lost a lot of them in the post-COVID-19 environment. We will continue to work to ensure that we are supporting our working parents because we need to grow our workforce. It used to be that we had more workers than jobs. That has flipped. Now we have a lot of jobs out looking for people.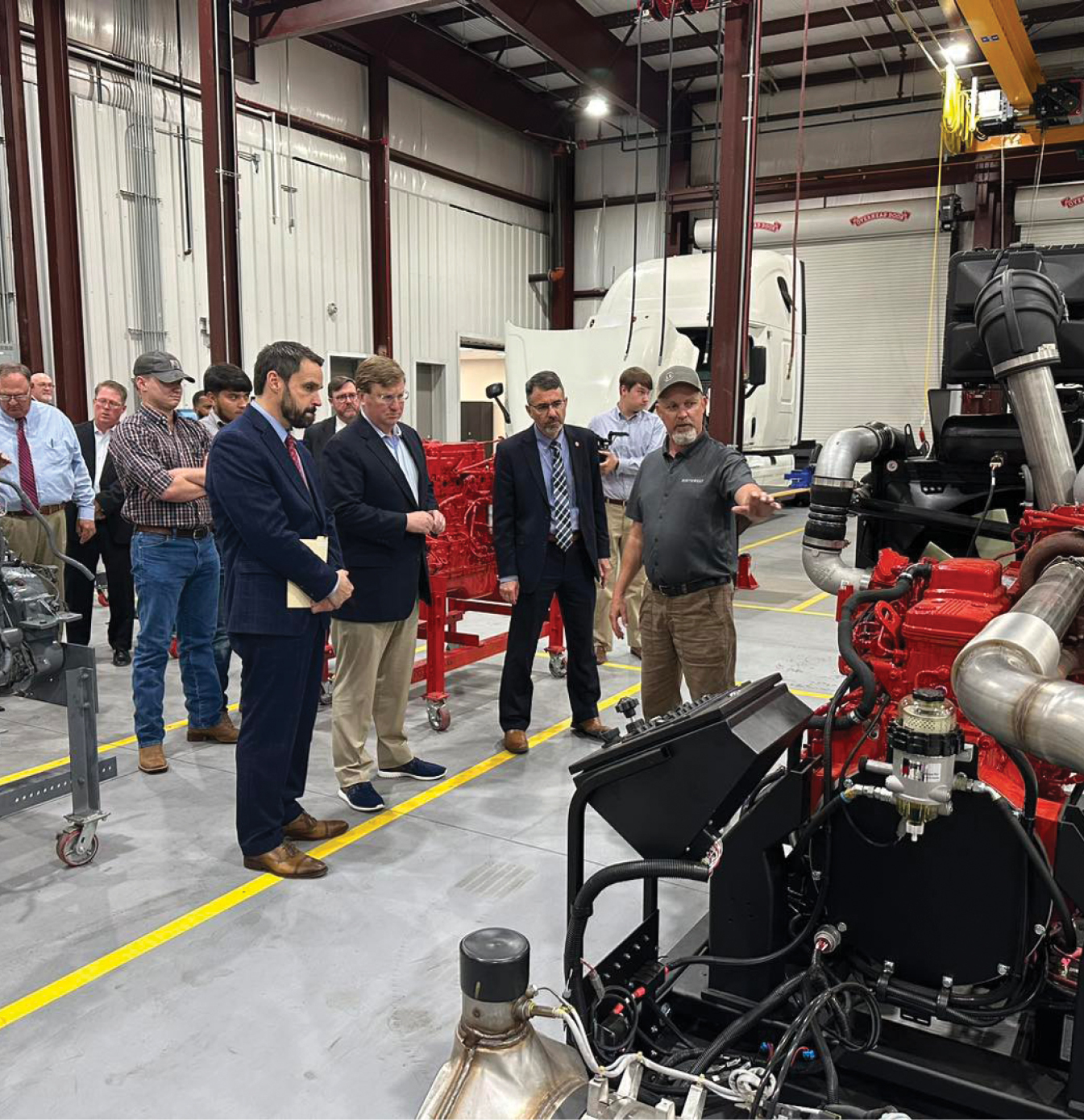 Do you think Mississippi can become a leader in automotive manufacturing in the electric vehicles sector?
GOV. REEVES: Yes. In fact, Mississippi is already a leader in automotive manufacturing — not unique to the EV sector, but with all auto manufacturing. Nissan opened its plant in Canton in 2003. We have since welcomed Toyota, Yokohama and many others. Just last year, Nissan chose Mississippi over other states and announced that they will invest over half a billion dollars to build two all-new, all-electric vehicles here. Over 2,000 employees will be upskilled. Look at the skills that Mississippi workers have today. We are uniquely situated to excel.
What is your sales pitch to executives in other states?
GOV. REEVES: Mississippi is open for business. Mississippi has momentum, and this is our time.