St. Louis' bioscience cluster was ranked the sixth largest in the nation – ahead of Boston, Cleveland and San Diego – by the National Cluster Mapping Project. As home to major life science companies like Monsanto, Express Scripts, and world-renowned research institutions like Washington University in St. Louis and The Donald Danforth Plant Science Center, the city has built one of the strongest bioscience and agtech clusters in the country.
Sheila Sweeney, CEO of St. Louis Economic Development Partnership notes the region's talent assets, infrastructure, central geographic location and innovation districts help drive St. Louis forward. Sweeney says one of her top priorities is to continue to enhance the agriculture and agtech sector and attract new companies to the region focusing on research and technology, plant science, crop yield, drone technology and contract research – an easy sell when you consider the people working in St. Louis.
"We really have a highly educated and talented workforce," Sweeney says. "I think our best kept secret is that we graduate 44,000 students from area universities and colleges every year. At 39 North we have 1,000 plant science PhDs. They're all working and living here, and that talent continues to grow."
St. Louis has one of the most well-educated workforces in the country with a Bachelor's degree attainment nearly 10 percent higher than the national average and those educated minds are brimming with new ideas. According to Popular Mechanics and Mashable, St. Louis is the No. 1 fastest-growing market for tech startups in the country.
"We are seeing a lot of high growth startups in bioscience and agtech," says Ginger Imster, Vice President of Innovation and Entrepreneurship for St. Louis Partnership. "What we hear from them is that they like St. Louis because they can collaborate with other innovators. One of the things that makes St. Louis unique is that we have three thriving innovation districts that all work together and feed off the energy from one another."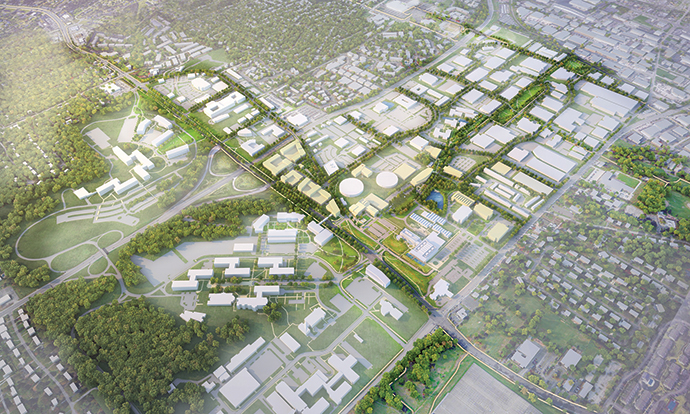 If St. Louis is at the heart of the country's bioscience industry, then BioSTL is its backbone. BioSTL is a non-profit organization with support from a coalition of universities, businesses and philanthropic leaders that supports the region's bioscience and innovation ecosystem.
Founded in 2001 as the Coalition for Plant and Life Sciences, BioSTL fosters collaborations to benefit the region's bioscience community. St. Louis' strong university and corporate presence have been a boon for R&D for many years, and the coalition has strengthened the scientific community. Put simply, it's designed to provide everything this ecosystem needs to thrive.
"St. Louis is a city built by entrepreneurs with bold ideas," says Donn Rubin, President and CEO of BioSTL. "From Anheuser-Busch brewing beer, Enterprise offering cars for rent, and Ralston Purina recognizing pets as part of our family, to McDonnell Douglas technology leading America's first human spaceflight program, and Monsanto helping farmers to produce food to feed the world. But over time, we lost that entrepreneurial edge as more people went to work for big corporations and then those big corporations consolidated. Yet, we had tremendous intellectual capital within our great universities, medical schools and research institutions. The problem was, an entrepreneurial support system didn't yet exist in St. Louis, so we became a farm system for California or the East Coast."
The Comeback
In 2009, Pfizer laid off hundreds of researchers at its St. Louis facilities. When faced with the flood of displaced scientists and business people, BioSTL rallied local bioscience companies to hire as many as possible. The civic group then took its efforts a step further and began encouraging these same scientists to pursue their own business ideas by scaling up its startup accelerator BioGenerator, the investment arm of BioSTL.
BioGenerator helps promising companies in the region reach their potential and bring their products and services to market sooner. Since it was formed in 2003, BioGenerator has invested nearly $19 million in more than 70 high-growth ventures. These investments have attracted $509 million in additional funding from outside investors.
One of the first companies to take advantage of the newly formed non-profit accelerator and seed investor was Confluence Life Sciences Inc., whose founders, Walter Smith and Joe Monahan, had worked with a team of scientists focused on anti-inflammatory drugs while at Pfizer.
"Joe and I are both research scientists. Neither of us had much business experience and we're not necessarily entrepreneurial, or considered ourselves to be entrepreneurs," says Walter Smith, co-founder and Senior Vice President of R&D for Confluence. "But we had some, what we thought, were really good ideas to create new drugs and we learned on the job through working with BioGenerator how new entities get formed and funded and grow."
Seeing the potential in their ideas, BioGenerator, along with about $500,000 from the state's Missouri Technology Corp., built a shared lab space with equipment for the new company in the Cortex Innovation Community, St. Louis' nationally-recognized urban innovation node for technology and bioscience research. Today, BioGenerator's free labs there house some 50 science-based companies with more than 150 employees.
---
"I think our best kept secret is that we graduate 44,000 students from area universities and colleges every year. At 39 North we have 1,000 plant science PhDs. They're all working and living here, and that talent continues to grow." 

In August 2017, BioGenerator and Confluence both realized the fruits of their labors with the $100-million acquisition of Confluence by Pennsylvania-based, dermatologist-led biopharmaceutical company Aclaris Therapeutics Inc.

And, by the way, with all the continued growth in St. Louis, it may not come as a surprise that the pharma giant has changed gears, making a major comeback in the region. Pfizer is building a state-of-the-art R&D and process development facility in Chesterfield, Missouri. The 295,000-sq.-ft. facility is expected to be completed in 2019 and will be home to the company's BioTherapeutics Pharmaceutical Sciences group. The new facility will bring more than 450 area employees together under one roof and the company has plans to hire 80 more employees over the next few years.

"We've been proud to call Missouri home since 2002," said John Ludwig, Senior Vice President of BioTherapeutics Pharmaceutical Sciences for Pfizer. "During this time, we've benefitted from the excellent life sciences workforce based in Missouri, and also from a strong partnership with the State, St. Louis County, and the St. Louis Economic Development Partnership. All of these were important factors as we sought a new home where we could continue to evolve our business over the coming years."

With innovation hubs like Cortex, 39 North and T-REX, it's no wonder small businesses are growing like weeds in the region.
Cortex: A 200-acre innovation hub and technology district located in St. Louis' historic Central West End. The Live-Work-Play-Learn biomedical district was formed in 2002 when BioSTL convened stakeholder institutions that now anchor the district: Washington University, BJC Healthcare, University of Missouri - St. Louis, St. Louis University and the Missouri Botanical Garden. More than 350 companies are in the Cortex Innovation Community.
39 North: With the highest concentration of plant science PhD's in the world, St. Louis' newest innovation district, 39 North — named for the agricultural belt around the world — is a natural next step for innovation. Located next door to Monsanto's global headquarters and the Danforth Plant Science Center, the district is anchored around plant science and agtech.
T-REX: A coworking space and technology incubator in downtown St. Louis. Since its inception in 2011, T-REX has created 3,497 jobs in the city and sees a total annual economic output of more than $464 million. The incubator is home to more than 200 companies which includes 180 startups, as well as several entrepreneur support organizations.
Janet Wilding, Vice President of Major Projects and 39 North for the St. Louis Economic Development Partnership, says St. Louis County has invested a great deal of time and resources in creating an innovation district unlike any other in the country in 39 North. Three major infrastructure projects will begin on the district this year including a biking and walking trail that runs through the entire district, a renovation of the districts' main street that will widen landscaped paths for bikers and pedestrians, and a revamped 1960s-era cloverleaf that will make significant room for real estate development.
"It's a master plan and it's really a neighborhood or district that we're creating around the Monsanto headquarters, the Danforth Plant Science Center, BRDG Park, and the Helix Center, which is also an incubator," she says. "We already have these four assets co-located in Creve Coeur, which is a suburb of St. Louis, and its an area of town that is ripe for some upgrade of infrastructure and has a really strong residential and commercial components around it. We wanted to have a landing spot for this industry, so we chose Creve Coeur and the 600 acres around these four assets to focus on and create a really interesting community around this sector."
Benson Hill Biosystems, an agricultural biotechnology company, planted its roots in St. Louis in 2013 when it became a tenant of BRDG Park. The startup has since outgrown its space in the incubator and is looking to remain in St. Louis as it expands its operation. The company was attracted to the region for its proximity to the Danforth Plant Science Center as well as the region's talent assets.
"There's an ag community around here that's growing and there are quite a few companies that have that community perspective for the scientists to interact and learn from each other," says Mohammed Oufattole, Vice President of Research and Development for Benson Hill Biosystems. "Washington University is obviously a big engine as well. It's not ag, but when it comes to things that are agnostic like biochemistry and molecular biology and things that like that work across animal and plants, there's quite a bit of talent coming from there as well."
In 2015, German plant-breeding company KWS SAAT AG decided to locate its North American research facility, the KWS Gateway Research Center, in St. Louis at 39 North. Derek Bartlam, KWS Head of Research USA and managing director of the KWS Gateway Research Center, says the company initially considered more than 20 other locations stateside before choosing St. Louis. The region ultimately made the cut because of its workforce, quality of life and the scientific and business community's collaborative spirit and eagerness to help new businesses find their footing – even from one of its biggest competitors, Monsanto.
Global Gateway
While St. Louis is known as the Gateway to the West, it's best to think of the region in more global terms. Between the efforts of GlobalSTL, another BioSTL initiative, and the World Trade Center St. Louis, the city's assets are attracting international companies to the area.
In 2017, Israeli tech company, Atomation, chose to locate its US headquarters in St. Louis to be closer to its growing customer base and to work on a special pilot project with St. Louis-based electric company Ameren. Atomation created some 20 jobs and has several other St. Louis-based clients including Dynaquip and the Danforth Plant Science Center.
"Compared to other US regions, St. Louis has a hunger for innovation and an authentic will to implement new, practical technologies and processes," said Guy Weitzman, founder of Atomation. "Thanks to GlobalSTL's relationships and their business development expertise, we've been connected to St. Louis clients in the agriculture, industrial atomation and energy sectors with crucial technology needs – and where there are needs, there is business potential."
---
This Investment Profile was prepared under the auspices of BioSTL and the St. Louis Economic Development Partnership. For more information, contact Maggie Crane at 314-880-8870, mcrane@biostl.org or Jamey Edgerton at 314-615-3956, jedgerton@stlpartnership.com.