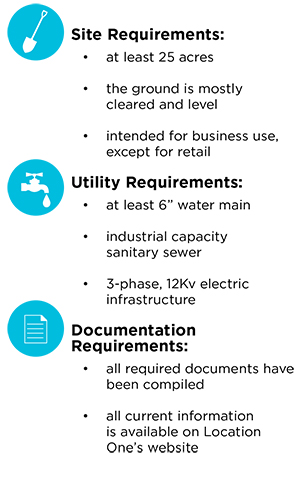 When businesses are ready to grow quickly, Missouri's Certified Sites Program is there to help them find the perfect site for their expansion or relocation needs.  
Each of the state's prequalified sites have been through a thorough standardization process to meet the requirements of industry. Certified Sites must be at least 25 acres, with the ground mostly cleared and level with utility requirements for water, sewer 
and electric infrastructure. Choosing a Certified Site reduces the risk associated with development by providing up front and consistent information.  
Communities across the state are working to prepare new sites for incoming companies. One of the state's newest Certified Sites is the Rolla National Airport Industrial and Technology Park.  
"Certified Sites show companies that communities are serious about job creation and business expansion," Director of the Missouri Department of Economic Development Rob Dixon said. "Preparation is important to win projects, and this is a great way to demonstrate the Rolla area is ready for growth." 
Additionally, Missouri leads the nation with 87 fully Certified Work Ready Communities and more than 4,500 supporting employers. The Show-Me State was one of the first seven states in the country to implement the Certified Work Ready Communities (CWRC) initiative. Being certified means there are job candidates in the pipeline with high-demand skills proven by the National Career Readiness Certificate. More than 100 Missouri counties are actively participating in Certified Work Ready Community initiatives. 
The Work Ready Community initiative empowers counties throughout the United States to identify skill gaps and quantify the skill level of its workforce. This helps educators build career pathways aligned with the needs of business and industry.