Nearly half of the 300 projects tracked by Site Selection magazine's Conway Projects database since January 2018 have come from the manufacturing sector. None may be more promising than an investment announced in the north Kansas City community of Claycomo in November 2020.
That's when Ford Motor Co. announced it would invest $100 million and add 150 new jobs there as part of a $3.2 billion investment in its North American manufacturing facilities to produce a series of new electric vehicles (EVs). The plant will produce the new E-Transit van, an electric version of the Transit van Ford has produced in North America since 2014 — the 1 millionth Transit ceremonially left the Claycomo plant in June 2021.
EVs are a key part of Ford's commitment to meet the requirements of the Paris Accord and achieve carbon neutrality globally by 2050. E-Transit is part of Ford's more than $11.5 billion global investment in electrification through 2022.
That's about as advanced as it gets, and a long way from the Claycomo plant's beginnings in 1912, when it was churning out up to seven Model T's a day.
"We're taking our most iconic vehicles and using fully electric technology to deliver even more performance, productivity and capability for customers," said Kumar Galhotra, President, Americas and International Markets Group. "We are building out the North American manufacturing footprint to support this growth. This is just the first chapter with more new electric vehicles and more investment to come."
The Kansas City plant investment is in addition to the $300 million Ford invested for the 2020 launch of the all-new F-150 at the plant. The plant employs approximately 7,500 workers.
Big Fish
The ironic thing about advanced manufacturing is it usually comes from homespun roots. That's where ingenuity reigns supreme, after all.
Three years ago, I was fortunate to hear Johnny Morris, Founder and CEO of Springfield, Missouri–based Bass Pro Shops, speak at the Southern Legislative Conference annual meeting in St. Louis. He described the invention of the jelly worm in an oven, and selling lures in the back of his father's Brown Derby liquor store in the Ozarks. He described his parents lack of TV and radio, and their absolute passion for the outdoors as they lived through a historic era of advancement that even included a connection to the Ford plant mentioned above.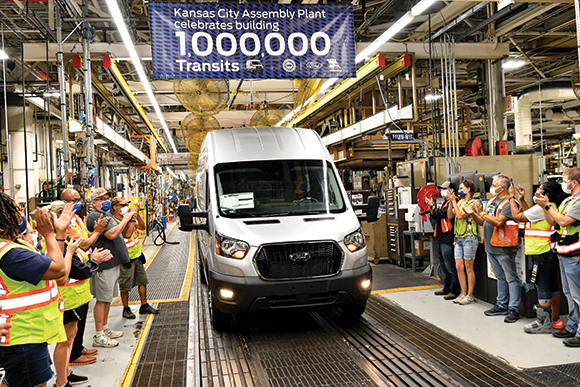 "They got to see the first Model T, the airplane and landing on the moon," he said, "but they also became great fans of conservation. They introduced me to fishing, and they loved to quail hunt."
Today, the company Morris founded in 1972 employs around 20,000 associates at more than 100 stores and marine centers, which now encompass Cabela's. A lesser-known part of his Springfield-based empire is White River Marine Group, the world's largest builder of fishing and recreational boats by volume. It's grown from Morris's introduction in 1978 of the world's first professionally rigged and nationally marketed boat, motor and trailer packages. "Tracker quickly became — and has remained — the No. 1-selling fishing boat brand in America for more than 40 years," says the company.
The company reopened a White River Marine plant in Bolivar, Missouri, in 2018 as customer demand heated up, part of a network of facilities that includes sites in Arkansas and Oklahoma as well as Missouri operations in Clinton, Lebanon and Ozark. In March 2021, Bolivar saw the very first Bass Buggy 16 Pontoon Boat roll off the line as the company has expanded once again to produce the entire family of Sun Tracker Pontoon Boats, including the Bass Buggy 18 and the unmistakably named Party Barge 18. The new facility doubles Tracker's production output and manufacturing footprint in Bolivar. Located four miles from the existing Tracker plant and including a newly constructed adjacent building, the expanded operation is anticipated to create 250 full-time jobs whe it reaches full production in summer 2021.
"We are thrilled to be able to continue to showcase the skill and craftsmanship of our amazing team members right here in the Ozarks — America's heartland," said Morris.
Project Watch
In July 2020, aerospace manufacturer R&S Machining announced plans to invest $13.5 million to grow their presence and create 60 new jobs at two of the company's facilities in the St. Louis area where the company got its start. R&S is one of more than 100 aerospace manufacturing companies in Missouri, including Boeing and its network of more than 500 Missouri suppliers.
Also in July 2020, Armstrong World Industries (AWI) announced plans to invest nearly $8 million to grow its Architectural Components Group Inc. (ACGI) wood ceiling and wall operations in Marshfield, Missouri. The expansion of the company's manufacturing, warehouse and office space was expected to create nearly 130 new jobs. 
In August 2020, Kawasaki Motors Manufacturing Corp., U.S.A., announced plans to expand and invest by adding an additional shift and three assembly lines at its facility in Maryville. The moves will create 110 new jobs. "Northwest Missouri has provided the kind of workforce necessary to produce a quality product that has our customers requesting more," said Anita Coulter, Vice President of Operations. Kawasaki opened the Maryville plant in 1989 to make walk-behind lawnmowers with 150 employees. The plant has expanded more than a dozen times, currently employs more than 850 people and has become the main manufacturer of general purpose engines worldwide for parent company Kawasaki Heavy Industries.
Also in August 2020, WEG Transformers USA committed to its third facility in Washington, Missouri. The 147,000-sq.-ft. facility makes distribution transformers. WEG is also upgrading an existing plant, adding capacity for transformers used at utility substations and renewable energy facilities.
Yet another August 2020 project came from O'Neal Steel, a manufacturer and supplier of a wide range of carbon and alloy steel, stainless steel, and aluminum products for companies nationwide, which is investing in a new 64,000-sq.-ft. facility in St. Joseph.
Missouri is home to nearly 6,500 manufacturing establishments that employ more than 273,000 people 
— 10% of the state's workforce.
More recently, Consolidated Machine and Welding announced it will expand its facility in Hannibal in Missouri Northeast, investing $4.3 million and creating 30 new jobs in the area. "Consolidated Machine and Welding has consistently expanded over the course of more than 25 years," said Andy Fishback, President of Consolidated Machine and Welding. "We are fortunate to be in the Missouri Northeast region, which offers great opportunities and labor resources. We are committed to growth and expansion, which is made possible through our relationship with public economic development partnerships."
In June 2021, Gateway Studios announced that Missouri would be home to the largest U.S. music manufacturing, rehearsal and production studio. The 330,000-sq.-ft. complex will create more than 100 highly skilled jobs that will design, manufacture, construct, and produce globally touring music acts and movies. 
"The type of advanced manufacturing GSPS provides the music and film industries brings new jobs to our region, and we're excited to welcome the group as employer and innovator," said Steve Johnson, Chief Business Attraction Officer, Greater St. Louis, Inc., and President of the AllianceSTL business attraction initiative.
"This project will create more than 100 new jobs that will enhance the local economy and launch a new and vibrant industry in Missouri. There is nothing else like his in our state, and we are very much looking forward to seeing where this takes us," said Subash Alias, CEO of Missouri Partnership.
And in July 2021, WireCo WorldGroup Inc., which manufactures, engineers and distributes steel wire rope, synthetic rope and electromechanical cable, announced it is investing $15 million over the next five years to expand production capabilities in its Sedalia facility. The investment adds 18 new jobs to a facility that already employed more than 160 people.
"WireCo has had a major impact on the Sedalia area, and I'm glad to see them continue to invest in the community," Missouri Department of Economic Development Director Rob Dixon said. "WireCo, and businesses like it, continue to choose Missouri because of our focus on workforce development, infrastructure, and maintaining our pro-growth business climate." 
WireCo's recent expansion was eligible for Missouri Works, a program that helps companies expand and retain workers by providing access to capital through withholdings or tax credits for job creation. The company is also receiving assistance from Missouri One Start, a division of the Department of Economic Development that assists eligible businesses of all sizes with their recruitment and training needs. 
Engineering a Workforce
Missouri colleges and universities grant over 4,000 degrees in engineering or engineering technology annually.
There are over 21,000 engineers employed in Missouri according to the Bureau of Labor Statistics.
Missouri ranks 15th nationwide for bachelor's engineering degrees granted. More than 4,000 engineering degrees are awarded each year in the state, offering a steady pool of mechanical and electrical engineering graduates.