The New Jersey business climate can be summed up in one word: innovation.
While most places on the planet simply repeat what they offered last year, the state of New Jersey seldom stands pat. New Jersey, like its people, is constantly changing.
From Thomas Edison to Bell Labs, innovation is written into the code of New Jersey's DNA. How do we know that? Consider the following list:
Air conditioners
TV dinners
Baseball
Golf tees
Electric guitars
Ice cream cones
Steam locomotive engines
Submarines
Radar
M&M's
What do all these have in common? Besides changing the world, they originated in New Jersey.
Most people associate New Jersey's reputation for innovation with Edison, and that is appropriate. After all, the Wizard of Menlo Park gave us the phonograph, the motion picture camera, the telegraph and, most famously, the electric light bulb.
But perhaps his biggest contribution was that he showed the world that New Jersey is a place that welcomes people who think differently, and who come from different places. The Statue of Liberty stands in the waters of New Jersey, welcoming immigrants from every corner of the globe. New Jersey boasts the third-largest population of foreign-born residents in the country. Jersey City is ranked the No. 1 most culturally diverse city in the U.S., and Newark has been previously recognized as the No.1 largest city in the U.S. for integrating people from other nations.
New Jersey does not produce this climate of innovation by accident. Rather, it is the result of policies and location attributes that make it so. For example, the website SafeHome.org
ranks New Jersey as the smartest state in America; and the state regularly is ranked as having the No. 1 public school system in the country. On top of that, Princeton University annually is rated the No. 1 university in America by U.S. News & World Report — a feat it has accomplished a record 10 times in a row.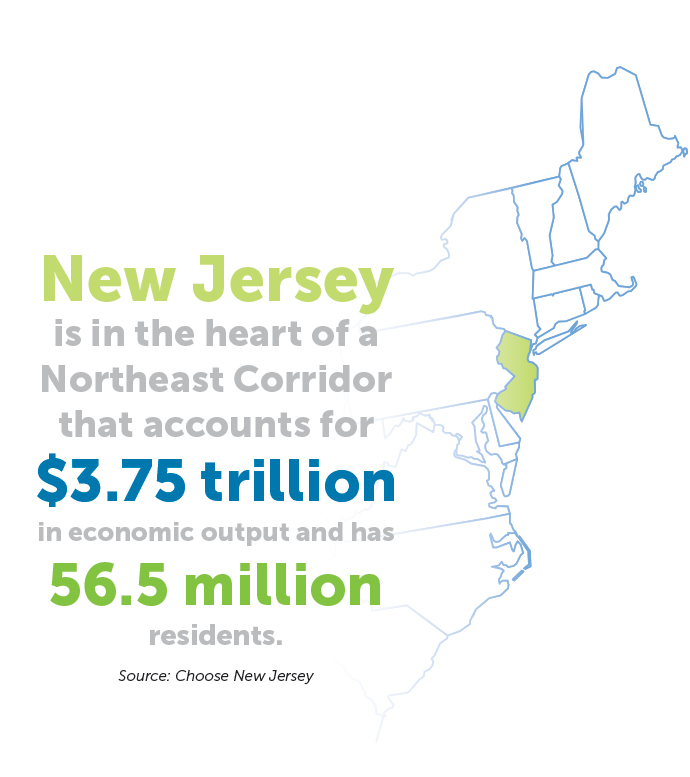 Other state assets include a central location that is in the heart of a Northeast Corridor that accounts for $3.75 trillion in economic output and has 56.5 million residents; an airport network that provides direct flights to 340 domestic and 260 international locations; and real estate that is more affordable than comparable space in New York City or Silicon Valley.
Fundamentally, New Jersey supports entrepreneurs. New Jersey is home to more than 70 collaborative workspaces that incubate and accelerate innovation. Startups can apply for free rent support in select coworking spaces through the New Jersey Economic Development Authority's NJ Ignite program; and the Angel Investor program offers refundable tax credits for investing in a qualifying emerging technology business.
Programs like these are a big reason why so many world-changing companies are based in New Jersey. From Campbell's Soup to Nokia Bell Labs, innovations that create the future are being developed in New Jersey. Nokia, for instance, is revolutionizing drone technology, artificial intelligence and the deployment of 5G connectivity.
In Ramsey, Konica Minolta partners with Google Cloud to develop business productivity tools by using blockchain, facial recognition and AI. Newark Fiber is delivering up to 10G of high-speed, low-cost internet service to parts of the city; and the Newark Land Bank became the state's first land bank on April 7, 2020. The program officially launched in the fall.
Advances like these are a big reason why New Jersey added 66,000 jobs from August 2019 to August 2020 even though a global pandemic had shut down much of the nation's economy.
New Jersey ranks fourth in the number of patents issued, and it is the only state to boast an inventors' hall of fame. That is fitting, as the most famous inventor of all time — Thomas Edison — was personally responsible for more than 1,000 U.S. patents, including everything from the stock ticker to an electrical vote recorder.
But it is not just everyday devices and technology that emerge regularly from New Jersey. So do history-altering ideas. Consider the words of this famous American: "Fight for the things that you care about. But do it in a way that will lead others to join you."
Those words came from the late U.S. Supreme Court Justice Ruth Bader Ginsburg, who served as a Rutgers Law School professor in Newark from 1963 to 1972. Her students at Rutgers sparked her desire to learn more about gender discrimination and the law.
And the rest, as they say, is history.