New Jersey's first public post-secondary institution, Kean University (pronounced "cane"), is a growing educational hub for business, health care and technology. Serving more than 16,000 undergraduate and graduate students at four campuses in New Jersey and abroad, the university has earned a reputation for graduating some of the state's top talent.
Amid a global pandemic in May, Kean University's board of trustees selected its newest leader following a comprehensive nationwide search. The board chose a leader they were already familiar with — Kean University alumnus Lamont O. Repollet, Ed.D. — for his extensive background in education. Before becoming the university's president, Repollet served as the Commissioner of Education under Governor Phil Murphy. As commissioner, Repollet expanded early childhood education, strengthened STEM opportunities for students and promoted a positive school culture that embraces social and emotional learning.
We spoke with the university's new leader about his plans for the institution and what the university brings to the state's business climate.
When you took on the president's role earlier this year, how did you approach the university's unique challenges with the COVID-19 pandemic?
Lamont O. Repollet: When I became president of Kean University, I announced three pillars on which I would focus this academic year — safety, equity and academic excellence. Safety is truly my top priority as we tackle the unprecedented challenges posed by COVID-19. Collaboration and innovation are key to bringing all of us through this pandemic.
The President's Task Force, which included members from across our campus community, worked together to create a comprehensive plan for launching remote and hybrid courses and bringing resident students back to campus safely in Fall 2020. A partnership with the County of Union, in which the county operates a drive-through COVID testing site on campus, has become key to our efforts to protect our community as all students, faculty and staff have access to free testing on campus. It's also a great example of the kind of partnerships with businesses and government entities that are a priority at Kean. Our students are participating in internships and conducting research across a range of disciplines as a result of the testing partnership. They are developing invaluable real-world skills that will serve their future employers well.
Over the years, Kean University has evolved from a teaching college into a major state university. Where do you want to take Kean in the future?
Repollet: I have said this clearly from day one — Kean University will become the next world-class research institution in the State of New Jersey. We are pursuing the R2 Carnegie classification to take the university from great to elite. Kean is already on its way. Our annual Research Days event, in which students from across all disciplines present their research, has grown tenfold since it launched. Faculty and students are excited about conducting research. We are seeing more of our students win national research competitions against students from some of the most elite universities in the country.
Kean has many programs to encourage and support research, including our Research First Initiative at the New Jersey Center for Science, Technology and Mathematics and our Freshman Research Initiative that runs campuswide. Both programs bring freshmen into research early in their academic careers. The university's Office of Research and Sponsored Programs is charged with growing research enterprise throughout the university with an emphasis on faculty-student research and securing external funding.
With new facilities like Hynes Hall, the home of the College of Business and Public Management, and the new Hennings Research wing of our science building, Kean students have access to state-of-the-art technology to spur their curiosity and support their educational and research goals. We're also focused on recruiting diverse faculty to teach and conduct research through the new Equity in Action Presidential Postdoctoral Fellowship Program.
A significant number of Kean University students are the first in their families to go to college. How would you describe the university's role in promoting social mobility?
Repollet: U.S. News & World Report has ranked Kean as a top-performing school for social mobility for two years running and recognized Kean among the most ethnically diverse universities in the northern United States. This recognition is a tremendous source of pride for us.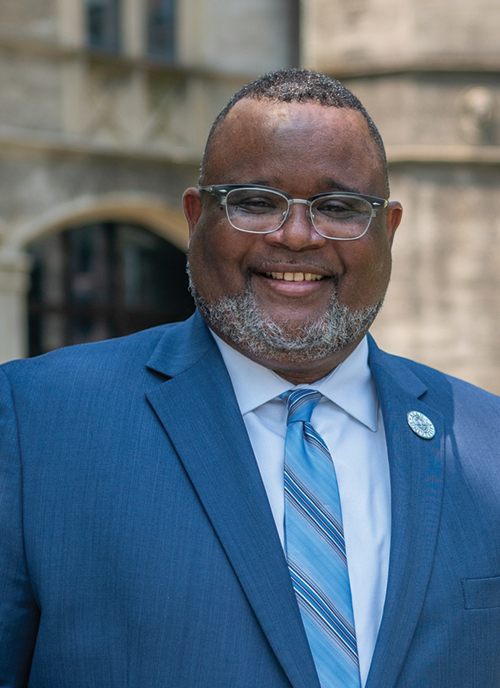 Equity is more than a buzzword for me. It drives all that I do. As a first-generation college student myself, I know personally the importance of education in opening doors of opportunity for all students. Equity will always be a part of who we are as a university.
I have created an Office of Diversity, Equity and Inclusion to take the lead in ensuring all students are welcomed and supported at Kean. We have many different academic support programs that start before students even come to campus. Our Supplemental Instruction program encourages all students to take challenging math and science courses by having embedded academic support in the class. I like to say that Kean receives students where they are and takes them where they want to go.
What sets Kean University apart from other higher education institutions in the region?
Repollet: Kean's diversity is one of its great strengths. Our students come from every different background you can think of, and at Kean, they collaborate, learn and socialize together. Our diversity gives them an education outside the classroom and makes them ready to thrive in the global job market.
In addition to that, our students benefit from outstanding academic programs — many of them recognized among the best in the state and nation — taught by faculty who are experts in their fields and go the extra mile to provide students with the support and one-on-one mentorship they need to excel.
How does Kean University support entrepreneurship and innovation in Northern New Jersey?
Repollet: Right on Kean's campus, we are working to support entrepreneurship and innovation through the Institute for Life Science Entrepreneurship (ILSE). Located in our STEM Building, ILSE is a nonprofit life science technology accelerator, business incubator and research institute. It's been recognized as a top life science-tech accelerator and works with partners as varied as the CARB-X Global Accelerator Network in its fight against drug-resistant antibiotics to the Township of Union as it seeks to expand its outreach to life science entrepreneurs.
Many of Kean's students intern with ILSE, creating a mutually beneficial relationship between the university and the science entrepreneurs. We are always looking for new opportunities to work with corporations and nonprofits to support scientific and technological discoveries and expand the resources available to our students.
---

This Investment Profile was prepared under the auspices of Kean University. 
For more information, contact the Office of the President at (908) 737-7000.