Yeah, sure, okay: The nation's No. 1 truck bottleneck for two years running has been where I-95 meets New Jersey State Road 4 in Fort Lee, near the George Washington Bridge to New York. But that kinda comes with the territory when you're one of the densest populations in the nation.
"Typically, we see the most egregious truck bottlenecks in locations where you have high population density, because population density requires all the things that get delivered by a truck," Rebecca Brewster, president and CEO of the American Transportation Research Association (ATRI), told Site Selection's Gary Daughters in early 2020, before the COVID-19 pandemic struck. Even then, the rise of e-commerce was stretching the market beyond Exits 8 and 8A on the New Jersey Turnpike.
"Distribution warehouses are growing by the gazillions in New Jersey because we're close to the largest consumer market in the world," Gail Toth, executive director of the New Jersey Motor Truck Association, told Daughters.
Fast forward to late 2020, and the logistics scene is one of the few business sectors in growth mode. New Jersey is one of the places to capitalize.
"For the first time in our history we are pretty much 100% leased," says Brian Sudler, vice president of development for Chatham, New Jersey–based industrial developer The Sudler Companies, founded in the area in 1907. "Everything's been gobbled up, including our three-spec-building project in Lakewood off the Garden State Parkway, which were all pre-leased before they were even built. We are building a fourth building there for a long-time tenant of ours who needed another building and knew we had bought the land across the street from them."
"If we could put up 2 million square feet tomorrow, we could probably lease it pretty quickly," says Jeff Hale, Sudler Companies' vice president of leasing. "Target just took 1.7 milllion, Amazon has taken millions of square feet. Add that to the other players, and you're at record occupancy levels."
That's really saying something after New Jersey's historic year of 2018, when 25.7 million sq. ft. of industrial space was leased and vacancy was lowered to 3.2%. With that result, New Jersey exceeded 10 million square feet in annual absorption for five years in a row, for a total of more than 67 million sq. ft.
Take It to the Limit
The demand, of course, comes from being in a region with 9 million people nearby and between 30 million and 40 million within a truck turn.
"E-commerce has gone through the roof," Sudler says. "Locations in New Jersey along the turnpike, like Exit 8 or 8A, historically were always heavy industrial, but nobody went south of there." Now warehouse and logistics projects are popping up around exits 7 and 6, even all the way down to exit 4, he says. "And the rents are following suit."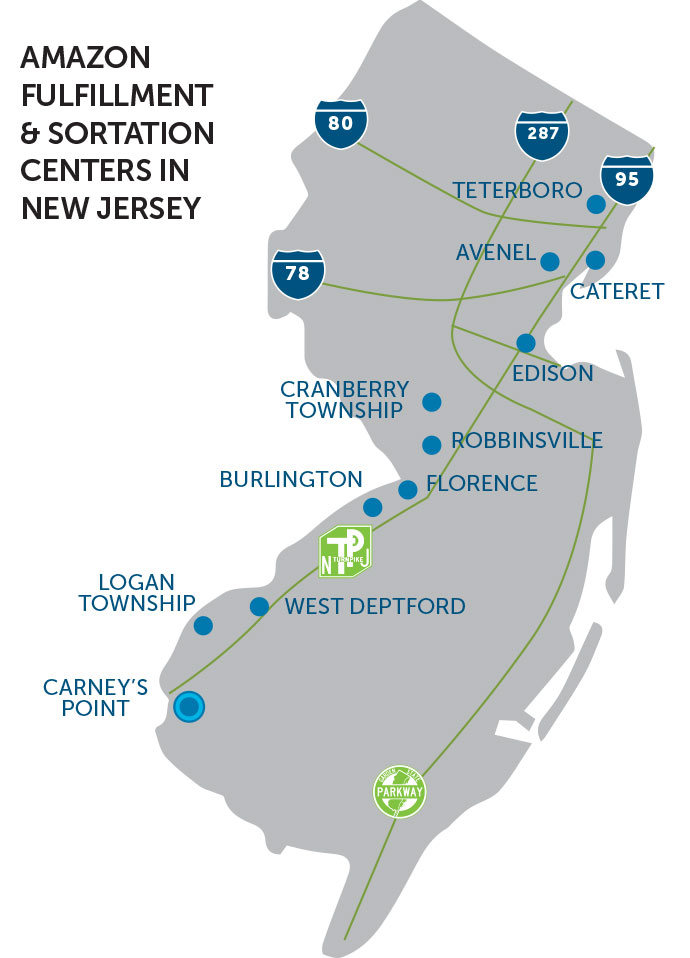 But they keep coming. Among the projects Sudler has helped come to fruition is a new North American headquarters, distribution center and artist studio space in Piscataway for Colart, the artist materials company founded 300 years ago in London.
"We are planning on redeveloping 10 Corporate Place South, right next door," Sudler says. "It's an old 1980s office building — we are going to completely raze that building and build a 65,000-sq.-ft. warehouse. We're confident it will pre-lease. Somebody will want that whole building for themselves. Piscataway became a very hot area overnight."
In fact, it's the only other New Jersey area besides Fort Lee on the nation's Top 100 most congested list. That's because of its location at the confluence of major thoroughfares, with entrances to the New Jersey Turnpike and Garden State Parkway just down the road.
Hale says the company has had good success turning former office space locations into industrial properties, most recently completing a project in Cranbury Township. He says outmoded office space and regional retail centers are both "getting hard looks right now" for potential industrial repurposing. In the meantime, it may not be too far in the future when warehouses start to go up higher instead of out farther, much as has happened in Europe.
"I see that happening," says Hale. "It's going to have to happen, because most requirements have pushed out to real limitations outside of the market."
Project Watch
The chart here presents some of the dozens of corporate end user logistics projects tracked by Conway Data, publisher of Site Selection magazine, since the beginning of 2019. At the top of the list — as they are in many states today — is Amazon, which in October 2020 announced a new 800-job fulfillment center in Carneys Point in Salem County would join
the company's 15 other fulfillment and sortation centers across the state in Avenel, Burlington, Carteret, Cranbury Township, Edison, Florence, Logan Township, Robbinsville, Teterboro and West Deptford.
"We are proud to continue our growth and investment in New Jersey with a new fulfillment center in Carneys Point Township that will serve our customers across the state," said Alicia Boler Davis, Amazon's vice president of global customer fulfillment. "For more than a decade, New Jersey and its incredible workforce have been vital to our ability to provide great selection, competitive prices and the Prime services we know our customers love."
The project follows another new Amazon fulfillment center and sortation center in Cranbury, creating more than 1,000 new jobs, and three additional sortation centers across the state throughout the month of October — two in Burlington and one in Edison — creating hundreds of full- and part-time jobs. The new employees will join more than 34,000 full- and part-time Amazonians already working across the state, the company says. "Since 2010, Amazon has invested $14.5+ billion across New Jersey, including infrastructure and compensation to its employees, which has contributed $14.7+ billion to the state's economy and helped create more than 30,000 indirect jobs on top of Amazon's direct hires — from jobs in construction and logistics to professional services," Amazon stated.
Among other projects:
South Korea's LG Electronics USA signed a seven-year, 925,000-sq.-ft. lease with Crow Holdings Industrial for a nearly completed building in Franklin Township. Later in 2020, Crow sold the building to BentallGreenOak, on behalf of an institutional investor, for $164 million. Not bad for Crow's first foray in the Northeast from its Texas base.
"While the pandemic has brought most investment activity to a standstill, there is still tremendous demand for state-of the-art logistics properties," said Clark Machemer, senior managing director of Crow Holdings Industrial's Northeast region. "With collaboration from the municipality and our key partners on this project, we were able to acquire, build and lease the property in less than 18 months, leveraging our extensive market knowledge and an expedited construction timeline to bring much-needed industrial space to Central New Jersey."
In Piscataway in 2019, New York–based global beauty company Kiss Products purchased a 469,600-sq.-ft. distribution building at the 2.2-million-sq.-ft. Rockefeller Group Logistics Center for $65.7 million. "Kiss is excited to be relocating its distribution center to Piscataway and consolidating our four Long Island distribution locations at Rockefeller Group Logistics Center," said Richard Kim, CFO of Kiss Products, Inc. "Piscataway's proximity to the port of Newark/Elizabeth makes it an attractive location for reaching our customers nationally."
Talk about repurposing: The entire logistics center site was a former Union Carbide industrial manufacturing campus. Building on a roster of tenants that includes not only Kiss, but also Best Buy, Fujitsu General and global logistics giant Kuehne + Nagel, Rockefeller broke ground for another 400,000-sq.-ft. building at the site in September 2020.