North New Jersey
---
Newark: A Rising Tech Capital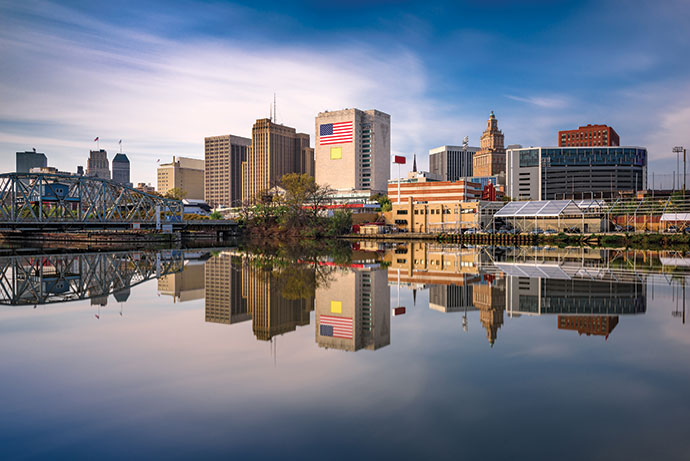 New Jersey's largest city is home base for many global companies, including PSEG, Prudential Financial, Audible, Horizon Blue Cross Blue Shield of New Jersey, and Panasonic Corporation of North America.
Only a 20-minute train ride from New York City, Newark offers key access to markets with urban amenities at a much more affordable price point. Newark Liberty International Airport offers global access to approximately 185 destinations. Additionally, Port Newark is the second busiest seaport in North America and the largest maritime cargo center on the East Coast. An estimated $200 billion in goods move through the port annually.
Newark's well-connected infrastructure includes broadband. With 26 miles of underground municipal fiber delivering 10-gigabits-per-second speeds at prices far below those of other cities, news travels fast. The outdoor Wi-Fi network is one of the largest and fastest in the country, delivering 400 megabits per second. Additionally, the city has committed to further tech infrastructure investment as it transforms into one of America's smartest cities.
Only a 20-minute train ride from New York City, Newark offers key access to markets with urban amenities at a much more affordable price point.
In 2018, Newark officially launched its LinkNWK (pronounced "Link Newark") Wi-Fi enable kiosks to deliver super-fast, secure Wi-Fi and other services at no cost to taxpayers or users. Located in key places around the city, each kiosk offers free mobile device charging, phone calls to anywhere in the U.S., access to municipal services, maps and directions, and community content produced in conjunction with local partners. With LinkNWK, Newark joins New York City, Philadelphia, London and cities around the U.K. in bringing these digital upgrades to city streets.
"We are the only city in the entire state and the second in the nation to provide these services, and every person who uses one of these kiosks will not only gain the services they need but learn something more important: Newark is a world-class urban leader," said Newark Mayor Ras J. Baraka.
LinkNWK is the result of a collaboration between The City of Newark, The Newark Community Economic Development Corporation (NCEDC), the New Jersey Institute of Technology (NJIT) and Intersection, a leading smart cities technology and media company, to enable city residents to benefit from Newark Fiber — a program designed to bring affordable gigabit internet to the city. LinkNWK, Newark Fiber, the city's renowned research universities, tech-savvy workforce, and proximity to New York City, are all making Newark a robust technology center.
"We're excited to continue to build upon Newark's reputation as a tech hub. With major anchors and corporations like NJIT, Audible, Panasonic and Newark Venture Partners, as well as robust data infrastructure, we continue to bring Newark and its residents to the forefront of innovation," said Aisha Glover, President and CEO of Newark CEDC. "We are equally excited that LinkNWK is another feather in our tech cap."
Quickly gaining a reputation as an ideal location for tech entrepreneurs and startups, Newark's robust innovation ecosystem includes the New Jersey Institute of Technology (NJIT) and Rutgers University – Newark. NJIT, located in the city's lively University Heights District, is one of only 32 polytechnic universities in the United States. The Princeton Review listed NJIT as one of the best schools for aspiring entrepreneurs. NJIT ranked No. 41 among the Top 50 Undergraduate Schools for Entrepreneurship Studies for 2020. NJIT is one of only three R1 research universities in New Jersey.
Brick City's Jewel Box
In 2019, Onyx Equities unveiled redevelopment plans to overhaul the landmark Gateway office complex in Newark. The company's investment in the complex will help establish the city as a walkable destination and include approximately 10,000 square feet of street-facing retail space for the first time. Gateway's concourse and bobbies and 5,000 square feet of converted retail space will also be reconfigured to be consistent with the expectations of its tenants with spaces of varying sizes to relax or enjoy food and drink from local and international dining options.
"As Newark's front door across from Penn Station, Gateway sets a tone for interacting with the City, says Matt Flath, Vice President Asset Management for Onyx Equities. "Gateway's new "Jewel Box" entrance is the hallmark of a renovation plan that expresses a new vision for activating the street level with 10,000 square feet of new restaurants and retail as well as a stunning update of the concourse walkway network that provides indoor access to Gateway's four buildings and the rest of the downtown. As the leading collection of office buildings in New Jersey's largest city, Gateway is the center of a community featuring world class education, entertainment and sports venues whose potential to elevate Newark into a world-class City is only now being realized."
---
Cross River Bank Grows at Home
Cross River Bank, a New Jersey financial institution known for its innovative use of new technology, is expanding in New Jersey with support from the New Jersey Economic Development Authority (NJEDA). The bank has acquired a 70,000-sq.-ft. facility in Fort Lee, which will be home to 200 employees from the bank's current Fort Lee headquarters, along with an additional 250 new employees it plans to hire.
"Innovative fintech companies like Cross River choose to locate in New Jersey because of our unrivaled pool of diverse, tech-savvy talent, and the unique advantages of our location," said Governor Phil Murphy. "We are thrilled that Cross River is committed to growing in the Garden State and creating the kind of job opportunities that align with our vision for a stronger and fairer New Jersey economy, with a focus on high-growth, high-tech industries that promote financial inclusion."
In December 2019, Cross River was approved by the NJEDA for Grow New Jersey tax credits to encourage the company to expand in Fort Lee over a competing location in Orangeburg, New York. The bank will initially occupy 36,447 square feet of its new facility and will take on additional space as it grows. 
"The State's support will enable us to expand within New Jersey instead of leaving the state we have always called home," said Gilles Gade, president and CEO of Cross River. "Governor Murphy's focus on supporting companies that look to the future and take advantage of innovative new solutions is exactly what New Jersey needs right now. We are proud to call New Jersey home and look forward to hiring hard-working Garden State residents as we continue to grow."
---
HIGHER EDUCATION SPOTLIGHT: Local Colleges & Universities
In addition to the region's diverse workforce, a steady stream of talent pours into the pipeline from local colleges and universities.
New Jersey City University's School of Business is located directly in the heart of the city's financial district. The campus opened in 2015 in a 68,348-sq.-ft. space at Harborside Plaza 2 directly on the waterfront. The location provides students with convenient access to corporate employers on both sides of the Hudson River. Across its three campuses, NJCU serves nearly 8,000 students annually, offering 47 undergraduate degree programs and 30 graduate programs in a wide range of fields, including emerging technologies and interdisciplinary fields. 
Montclair State University is one of the state's leading public research universities. Across three campuses in Montclair, Little Falls and Clifton, the university serves more than 21,000 undergraduate and graduate students annually.
In June, The Montclair Innovation Lab officially opened in a downtown storefront. A timely collaborative effort between the University's Feliciano Center for Entrepreneurship & Innovation and community partners like the Montclair Center Business Improvement District (BID), the Innovation Lab aims to breathe life into the local economy while creating opportunities for students and community entrepreneurs. The Lab, which is a two-year pilot project, will include a mix of 3D printing operations and business pop-ups, scaling the learnings of the Feliciano Center's MIX Lab. This on-campus facility has fostered student/community innovation around 3D printing since it was founded in 2015. The new Montclair Innovation Lab will expand that effort to provide more help to the Montclair business community and increase opportunities for students.
---
City Profile: Jersey City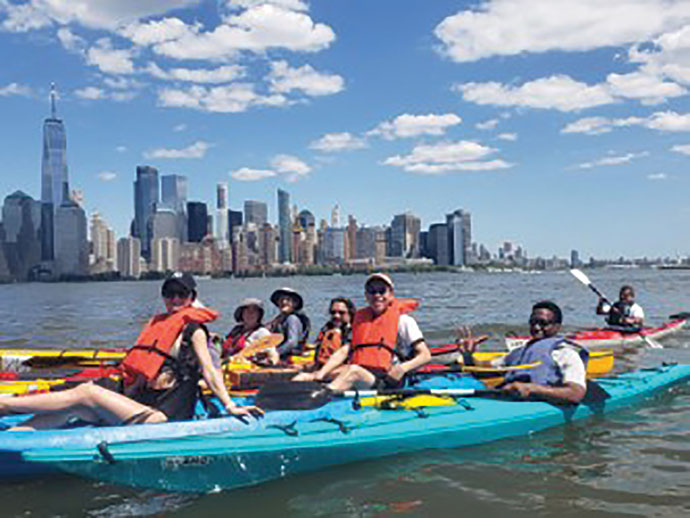 Boasting views of neighboring New York City's skyline, Jersey City offers all the convenience and opportunity of the world's financial capital, without the hefty price tag. Office space is 40-60% cheaper in New Jersey than in other nearby markets and has some of the best digital infrastructure in the U.S. 
The city's waterfront financial district is home to major financial firms like Jackson Hewitt, Pershing, Lord Abbett, Farm Credit System. National companies with operations in the city include BNY Mellon, HSBC North America Holdings, Royal Bank of Canada, Citi, Goldman Sachs and many more. Financial giant JP Morgan first opened in Jersey City back in 1834. Today, the company employs more than 4,000 at its Jersey City Corporate Center, where it supports nearly every one of the global company's business lines.
For companies like JP Morgan and IPC Systems, Inc. (which operates its global headquarters in Jersey City), Jersey City's diverse population ensures they're able to hire the best employees from all walks of life.
Ranked by WalletHub as the No. 1 most culturally diverse city in the U.S., Jersey City has held the distinction as the country's most diverse city in 2017 and 2018. In 2019, the city ranked second on the list. The city also ranked first in linguistic diversity and second in ethnoracial diversity.
Central New Jersey
---
New Brunswick:  Life Science & Logistics Spur Innovation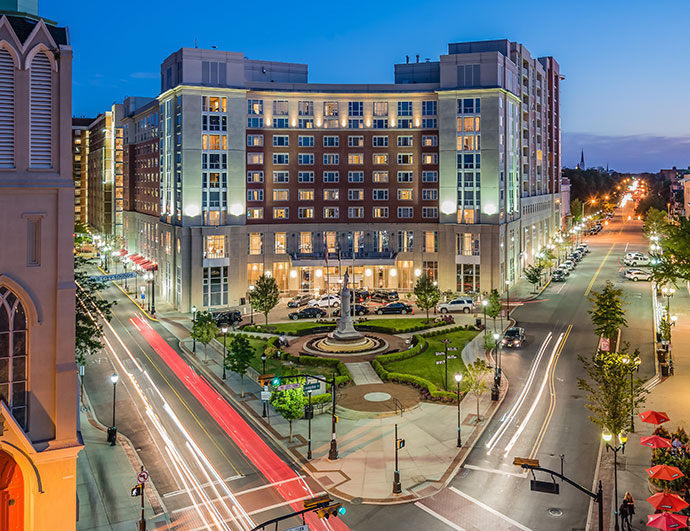 In the city's earlier years, New Brunswick was a hub of entrepreneurial and industrial activity. Today, the city's legacy continues with world-changing and life-saving innovations and technologies.
Located in Central New Jersey, New Brunswick offers easy access to 107 million people — or 1/3 of the U.S. population within a day's drive. Whether by rail, road, sea or air, New Jersey is well-positioned to quickly and affordably move goods to markets around the world.
Indeed, its central location led Johnson & Johnson to establish its base of operations in the city more than 130 years ago. On a cold day in January 1886, James Wood Johnson, one of the company's founders, took a west-bound train from New York to Philadelphia. Along the way, the train stopped at a tiny station midway through the journey, and Johnson knew he'd found the perfect location for the business he was opening with his brothers. Since its start, it has grown into a multinational corporation focusing on consumer products, pharmaceutical therapies and medical devices.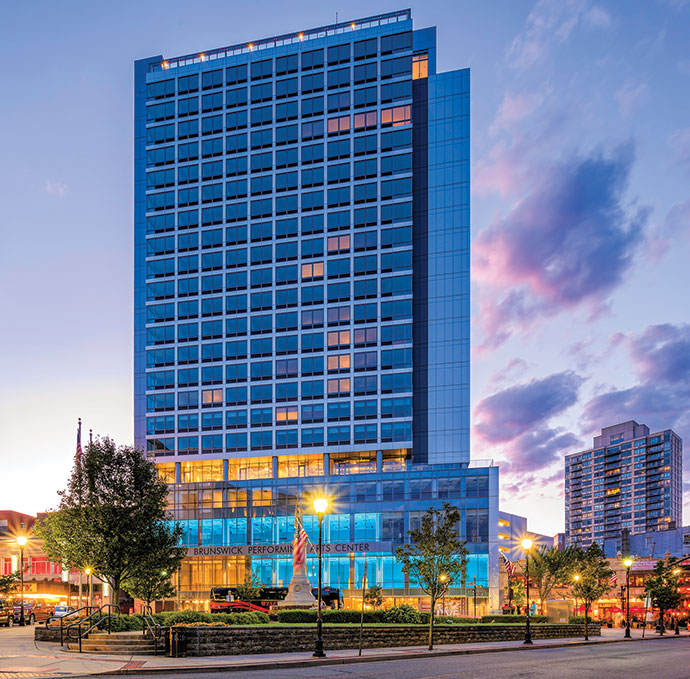 Johnson & Johnson is far from the only life science firm to call the region home. Bristol-Myers Squibb first opened its New Brunswick facility in 1905. Today the 105-acre site is used for research and development. Novo Nordisk operates its U.S. headquarters and in neighboring Plainsboro, New Jersey.
Chris Paladino, president of the New Brunswick Development Corporation, explains innovative companies like these are attracted to the region by its robust and well-educated talent pool.
"CEOs make decisions for the most part based on talent," he said. "Central New Jersey has an extraordinary talent pool and continues to turn out — between Princeton and Rutgers Universities — new talent every spring, particularly in the areas of engineering, computer science and life sciences. New Jersey has the largest percentage of P.H.Ds and engineers in the country, and a lot of that is focused in Middlesex Country. We're an extraordinarily diverse population and a very educated population."
From the Ground Up
The region's spirit of collaboration and entrepreneurship is evident in several new construction projects.
In May, RWJBarnabas Health and Rutgers Cancer Institute of New Jersey, in partnership with New Brunswick Development Corporation, announced the development of a new, state-of-the-art, free-standing cancer pavilion. The $750 million facility will house key outpatient services, including those for chemotherapy and radiation therapy, as well as the major diagnostic modalities and inpatient cancer services. The facility will also feature research laboratories.
Two blocks away from the new cancer pavilion, the New Jersey Technology and Innovation Hub is being constructed. Called The Hub @ New Brunswick Station, the four-acre redevelopment site offers 1.7 million sq. ft. of mixed-use space for innovative companies, including biotech, life sciences and technology.
Incidentally, explained Paladino, The Hub's location has long been a meeting place for the area's brightest minds. "This part of New Jersey has always been a hub of innovation," he said. "The place where we're building the New Jersey Technology and Innovation Hub is where Thomas Edison used to have lunch with the Johnson Brothers. They met there for lunch in a pharmacy to talk about American manufacturing."
A perpetual hotbed of innovation, the Hub's convenient location offers direct access to Rutgers University-New Brunswick, allowing its tenant companies to access the best of the region's talented workforce easily.
Rutgers University was established in 1766 and is the eighth oldest institution of higher leading in the country. One of the nation's premier public research universities, its New Brunswick campus is the only public institution in the state to be represented in the prestigious Association of American Universities. Rutgers' School of Engineering is developing cutting-edge techniques in continuous manufacturing for pharmaceuticals, in partnership with Janssen and other sector leaders. Additionally, Rutgers Discovery Informatics Institute recently installed one of the nation's most powerful supercomputers, Caliburn, which will be available for use by industry.
---
CASE STUDY: Peloton Expands in Carteret 
Not far from Peloton Interactive's downtown New York City headquarters, the national interactive fitness platform has expanded into a 156,000-sq.-ft. industrial facility in the borough of Carteret, New Jersey. The new facility will be used as a warehouse, distribution and fulfillment center.
Peloton is well-known in the health and wellness circuit for its cutting-edge indoor workout bikes and other fitness-related equipment. 
"Carteret is happy to welcome Peloton to our thriving industrial district," said Carteret Mayor Daniel J. Reiman. "This immensely successful company joins some of the biggest names in the country, like Amazon, Dr Pepper/Snapple, FedEx, NuWorld, and Performance Team in calling Carteret home, thanks to the Borough's prime location and business-friendly policies."
The facility that Peloton is leasing was constructed in 2017 as part of redevelopment with Hampshire Companies and features 17 loading docks, 36-foot ceilings, ESFR sprinklers and a secured truck court with parking and trailer storage.
"Peloton Interactive needed a state-of-the-art warehouse and distribution facility with convenient access to the New Jersey Turnpike that was also in close proximity to New York City and near a robust labor pool," said CBRE Senior vice president Scott Belfer. "1500 Blair Road fit our client's requirements perfectly, and its location was a key factor in its decision to commit to a long-term lease for the entire complex."
---
HIGHER EDUCATION SPOTLIGHT: Princeton University
Once again, Princeton University has been named the No. 1 university in the country by U.S. News & World Report for the 10th year in a row.
A world-renowned research university, the university graduates some of the best and brightest minds worldwide. Indeed, the university counts 42 Nobel Prize winners among its faculty, staff and alumni.
Home to numerous life science-related centers and institutes, including the Princeton Neuroscience Institute; the Lewis-Sigler Institute for Integrative Genomics; the Merck Catalysis Center; the Bristol-Myers Squibb Center for Molecular Synthesis; and the Small Molecule Screening Center, Princeton's reputation for making groundbreaking life science discoveries is known the world over.
To support entrepreneurship and innovation, the university offers several resources, including Princeton Innovation Center BioLabs. Its Entrepreneurial Hub supports startups to quickly and efficiently bring ideas and products to market. The member-based coworking spaces offer shared office and lab space with strategic access to capital and industry partners.
---
CASE STUDY: Genmab 
In July, biotech firm Genmab officially opened its new U.S. headquarters office and research and development laboratories in Princeton University's Forrestal Center in Plainsboro. Genmab's new 90,070-sq.-ft. location is located on a 125-acre campus that once housed Bristol-Myers Squibb and has been renovated into state-of-the-art offices and translational research laboratories.
The global firm specializes in creating and developing antibody therapeutics used to treat cancer. Founded in 1999, the Danish company also has facilities in Utrecht, the Netherlands and Tokyo. Since first locating in the state two years ago, Genmab has expanded its employee base from 36 employees to more than 165 employees with plans to hire more in the future.
"Our location in New Jersey's ever-dynamic and innovative life-sciences ecosystem allows us to leverage the local high-skilled labor market where we can continue our growth trajectory in a setting that supports our ambitions to nurture Genmab's corporate culture in a new and vibrant workplace environment that aligns with our company vision," said Chris Cozic, Genmab's global vice president of human resources.
South New Jersey
---
Atlantic City: Winds of Change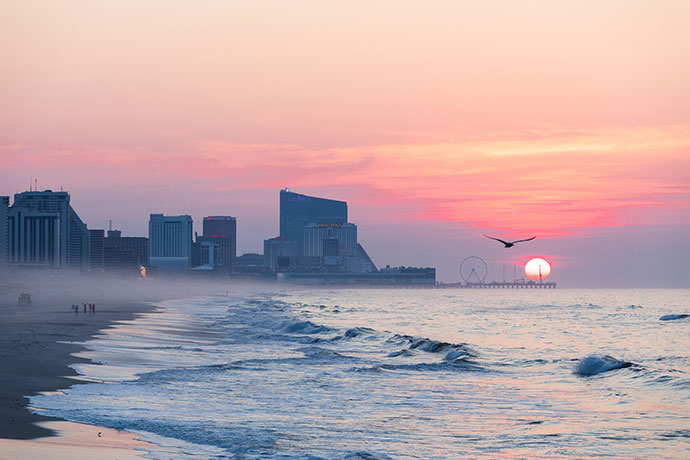 Atlantic City's iconic boardwalk has drawn tourists to the city since it was first constructed in 1870. Home to five-star restaurants, casinos, and the best beachfront in the Garden State, the seaside gaming and resort capital of the East Coast attracts 27 million visitors each year.
In recent years, Atlantic City has shifted from a beach town to a town and gown community. 
Quickly emerging as a hub for aviation innovation, the National Aviation Research and Technology Park (NARTP), a nonprofit auxiliary organization of Stockton University, is currently being constructed to facilitate R&D and commercialization of new technologies. At full build-out, the National Aviation Research and Technology Park (NARTP) will consist of seven multistory buildings with high-speed connectivity to the William J. Hughes Technical Center (WJHTC) laboratories that replicate the National Airspace System (NAS).
---
"Ocean Wind will ensure that the state and its residents not only benefit from clean, renewable power but that they reap the rewards of being an early player in the offshore wind industry as it grows in the U.S."
---
The city's unique coastal lifestyle is now available to students of Stockton University. In 2018, Stockton University opened its Atlantic City to its first students. The campus includes residential housing overlooking the beach and the Boardwalk, an academic center and a parking garage. The Atlantic City campus offers a shuttle service to the main campus in Galloway.
In October, the university broke ground on Phase II of construction, which will include a new 6-story, 416-bed residence hall. It is being developed as a public/private partnership by the non-profit Atlantic City Development Corp, or AC Devco, which also developed the 2018 Gateway Project that includes Stockton Atlantic City and South Jersey Gas.
Catching a Coastal Breeze
The site of the state's first offshore wind project is located just 15 miles off Atlantic City's coast. In 2019, Ørsted U.S. Offshore Wind announced plans to build and operate the state's first major offshore wind project. This wind farm will provide clean and reliable energy, significant capital investment. It will contribute significantly to the state's ambitious renewable energy goal of supplying more than 3.2 million New Jersey homes with offshore wind power by 2035. Construction will begin soon and is expected to be operational by 2024. At 1,100 MW, Ocean Wind is expected to create over 3,000 direct jobs annually through the development and three-year construction cycle.
Ørsted has the most experience out of any offshore wind developer, including being the builders of the world's first offshore wind farm in Denmark and the first offshore wind farm in the U.S. in Rhode Island. In addition to powering homes and businesses across New Jersey, Ocean Wind will also bring significant investments to New Jersey. Ørsted will launch its Pro-NJ Trust fund in Cape May and Atlantic counties, which will invest up to $15 million in grants to support local infrastructure investments and to support small, women and minority-owned business owners who wish to become part of the emerging offshore wind industry. Ørsted is also proceeding with plans to establish an Operation and Maintenance (O&M) base in Atlantic City that will provide permanent, high-skilled jobs during the 25+ life span of the project.
"Today's announcement firmly establishes a fast-growing global industry in New Jersey, which will create jobs and supply chain in the state," said Thomas Brostrøm, CEO of Ørsted U.S. Offshore Wind and President of Ørsted North America, at the project's announcement. "Ocean Wind will ensure that the state and its residents not only benefit from clean, renewable power but that they reap the rewards of being an early player in the offshore wind industry as it grows in the U.S."
---
CASE STUDY: NJ Wind Port in Salem County
In June, Governor Phil Murphy announced a $300-400 million plan to develop the New Jersey Wind Port, a first-in-the-nation infrastructure investment that will provide a location for essential staging, assembly, and manufacturing activities related to offshore wind projects on the East Coast. 
The New Jersey Wind Port will be located in Lower Alloways Creek Township, on an artificial island on the Delaware River's eastern shores, southwest of the City of Salem. After a 22-month assessment process, the site was selected, including engagement with industry, government and environmental stakeholders.
With construction set to begin in 2021, the Wind Port has the potential to create up to 1,500 manufacturing, assembly, and operations jobs, as well as hundreds of construction jobs.
"Offshore wind is a once-in-a-generation opportunity to not only protect our environment but also greatly expand our state economy in a way that has immediate impacts and paves the way for long-term growth," said Governor Murphy. "The New Jersey Wind Port will create thousands of high-quality jobs, bring millions of investment dollars to our state, and establish New Jersey as the national capital of offshore wind. This is a vital step forward in achieving our goal of reaching 7,500 megawatts of offshore wind power by 2035 and 100 percent clean energy by 2050."
When launched, the New Jersey Wind Port will provide a major economic boost to Salem County located in South Jersey, as well as the state economy. The offshore wind projects slated for development along the East Coast over the next decade are expected to require more than $100 billion of capital investment, creating an opportunity for significant economic growth. New Jersey's location at the heart of the East Coast wind belt, commitment to supporting offshore wind, and diverse and highly skilled workforce put the state in a strong position to capitalize on this opportunity.
---
HIGHER EDUCATION SPOTLIGHT: Rowan University
Real-world solutions are often found at Rowan University in Glassboro. A Carnegie-classified national doctoral research institution, with a strong background in the life sciences and engineering fields, Rowan University is a bastion of innovation.
One of just two universities in the nation that offers both M.D. and D.O. degree-granting programs, the research institution maintains extensive partnerships with government, business and industry operations around the world, often serving as the de facto R&D arm for them. The University is active in drug development, medical devices, diagnostics and digital health, often partnering with hospitals and industry to deliver customized solutions.
U.S. News & World Report ranked Rowan University's undergraduate engineering program #17 for 2021 among colleges in its category in its "Best Colleges" issue. U.S. News ranked Rowan's Mechanical Engineering program No. 13 in the nation and its Electrical Engineering program No. 16 among colleges in its category.
"We will continue to push the barriers of mechanical engineering, solving real-world problems and putting our students in the best positions to succeed in their careers," stated Dr. Ratneshwar (Ratan) Jha, head of Mechanical Engineering at Rowan.
Rowan Innovations, housed at the South Jersey Technology Park, helps entrepreneurs grow and scale their business. Currently, the park hosts 30 tenant companies and 3 Rowan Research Centers. Additionally, the $5 million Rowan Innovation Venture Fund supports companies in the University and in the community.
---
HIGHER EDUCATION SPOTLIGHT: Rutgers Food Innovation Center
The Impossible Burger's (a meatless alternative to a ground beef patty) rise in popularity all began in a lab at Rutgers Food Innovation Center. In 2016, Impossible Foods founder and CEO Pat Brown went to the Food Innovation Center at Rutgers University in Piscataway for help with his startup. Staffed by a team of food industry veterans, the lab helped Brown perfect his vegan burger and connected him with engineers to spec-out manufacturing equipment and other resources to get the company off the ground.
Today, the company is taking over the meat-free market. Impossible Burger's products can be found all over the country, in 5-star restaurants, fast foods joints and grocery aisles. While the company's success might seem impossible, it's just one of many startups to grow out of the center.
The Food Innovation Center is a unique food business incubator at Rutgers, The State University of New Jersey. The Center provides business and technology expertise to startup and established food and value-added agricultural businesses, locally and globally. With two USDA and FDA-certified manufacturing facilities in Piscataway and Bridgeton, businesses have convenient access to guidance with everything from commercialization to distribution, while also providing mentoring assistance in marketing, R&D, food safety, regulatory, manufacturing and sales and distribution.