In the firmament of American higher education, Princeton University stands out as the brightest star. In September 2020, the Ivy League stalwart was ranked by U.S. News & World Report as the top university in the nation. Not for the first time, either, but a startling tenth year in a row.
Chartered before the American Revolution, Princeton counts among its graduates 12 Supreme Court Justices, two presidents and numerous foreign heads of state. The private university has been associated with no fewer than 69 Nobel laureates, including novelist Toni Morrison and economists Paul Krugman and Angus Deaton. Former first lady Michelle Obama graduated Princeton in 1985 before going on to Harvard Law School.
When it comes to education, New Jersey's bragging rights merely begin at Princeton. U.S. News ranks the state No. 2 on its list of the country's best-educated states. Most tellingly, New Jersey holds Top Five spots in each of the magazine's five metrics for K-12 learning, which include college readiness, high school graduation rate, math scores, reading scores and pre-school enrollment. Likewise, Education Week has ranked New Jersey top in the nation for K-12 education for the past two years.
Such achievements do not occur in a vacuum. According to the U.S. Census Bureau, New Jersey spends $18,920 per student per year, the third highest in the country. In the 2021-2022 school year, New Jersey will become the first state in the nation to require climate change among its public school education standards, which also include social studies, science, visual and performing arts, health and physical education, world languages, computer science and design thinking, and career readiness, life literacies and key skills.
A newly-unveiled initiative in Jersey City is further emblematic of New Jersey's innovative approach to K-12 learning. In conjunction with the Hudson County Board of Education, Jersey City plans to establish Liberty Science High School on the grounds of SciTech Scity, an emerging innovation campus. The magnet school is to offer science, technology, engineering and math (STEM) education to 400 students across the county, as well as access to businesses at the campus, including internship opportunities.
"We are revolutionizing what public education can accomplish, and this partnership with the county is a significant step towards our vision of creating an ecosystem of innovation to educate and inspire future entrepreneurs and scientists," says Mayor Steven Fulop.
An All-Star Lineup
More than 535,000 students are enrolled in New Jersey's 63 public and private colleges and universities. Forty percent of the state's workforce holds a bachelor's degree or higher, while 16% have an advanced graduate or professional degree. The state boasts the highest concentration of scientists and engineers per square mile in the country.
Like Princeton, Rutgers University, with campuses in Newark, New Brunswick and Camden, was founded before the Revolution, making it one of the nation's nine "colonial colleges." Classified as Research Intensive University by the Carnegie Foundation, Rutgers offers more than 100 undergraduate and masters programs and more than 80 doctoral programs. In 2020, U.S. News ranked Rutgers No. 3 on a newly-added list of Top Performers on Social Mobility, signifying colleges and universities that graduate the most students receiving federal Pell Grants.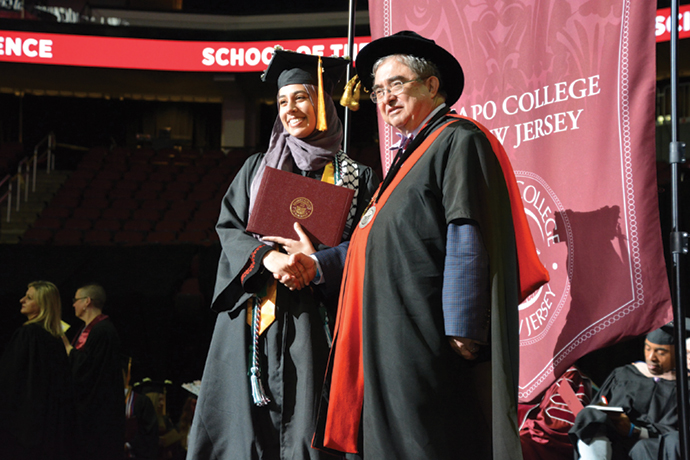 Stevens Institute of Technology in Hoboken offers a specialized Quantitative Finance Program. Participants receive instruction in disciplines such as pension funds management, financial markets modeling and control of operational risks for manufacturing and consumer products companies. The first university in the nation to develop a Ph.D. in Financial Engineering, Stevens was selected in 2020 by the National Science Foundation to lead the nation's first-ever industry-based cooperative research center devoted to financial technology and science.
New Jersey Institute of Technology (NJIT), the state's leading polytechnic university, focuses on preparing students for the increasingly tech-dominated economy. With an enrollment of more than 11,000 undergraduate and graduate students, NJIT is considered a global leader in such forward-leaning fields as solar research, nanotechnology, resilient design, tissue engineering and cybersecurity. The school offers a unique blend of liberal and technical education, with 50 undergraduate degrees and 68 graduate programs.
Ramapo College, founded in 1969 in Mahwah, has ranked among Kiplinger Personal Finance Magazine's 100 Best Values in Public Colleges for 14 years in a row. Undergraduates at Ramapo can choose from about 40 programs in five schools, and graduate students can earn degrees in nursing, business, liberal studies, sustainable studies and education. Ramapo has launched the construction of a new Learning Commons, which will add 18,000 sq. ft. of space to the existing 62,000 sq. ft. George T. Potter Library. The John Templeton Foundation has named the college to its Honor Roll for Character-building Colleges.
Life-Long Learning
New Jersey's 18 community colleges serve more than 300,000 students each year in credit, non-credit and workforce development courses. Nearly 100,000 of those students are enrolled in non-credit training programs linked to the system's business partners, which number in the thousands.
The state's Consortium for Workforce and Economic Development provides coordinated, one-stop statewide education and training services for businesses and industries through the community colleges, which offer access to over 1,700 programs taught by faculty with business experience. Workforce training resources available to businesses also include competitive employee training grants, apprenticeship training and on-the-job training.
In 2019, New Jersey piloted the state's first tuition-free college program, known as the New Jersey Community College Opportunity Grant (CCOG). New Jersey students enrolled in any of the state's community colleges are eligible if they have no prior college degree and household adjusted gross income of less than $65,000.
"Everyone deserves an opportunity to pursue his or her dreams — whether you are a recent high school graduate or an older student changing your career," said Gov. Phil Murphy, as he launched the program. "Our community colleges play a critical role in helping our students build the skillsets they need to meet the demands of a growing and diverse 21st-century economy. CCOG grants provide a pathway to success for both our students and our state as a whole."