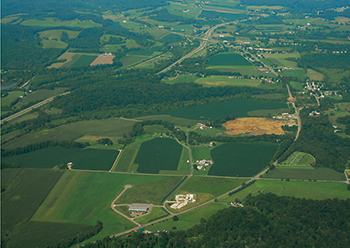 If there were a Match.com for economic development, Joy Davis would look for a partner who would build hotel rooms in Hocking County, where she serves as executive director of the Community Improvement Corporation (CIC). Davis also would like to find enough land to build another business park.
The 67-acre Logan-Hocking Commerce Park still has 40 acres available for development, but, two things: One, if a particular business locates there, then Davis will be out of available space, and two, plenty of companies need more than 40 acres, which are the reasons a new business park is on her wish list.
Hocking County is a haven for tourists — three to five million annually, Davis says — because of the stunning natural beauty throughout the county. Jawdropping rock formations, waterfalls and caves with fascinating histories bring sightseeing visitors, and the area has plenty of cabins for overnight stays.
But, according to Davis, there's an entire market out there of people who won't visit the county because there are no hotel rooms.
"I happen to be one of the folks who, if I didn't live here, I wouldn't come. If I'm on vacation, someone else is making my bed for me," she says, her point being that cabins typically do not offer daily maid service.
The privately funded CIC has a healthy budget of more than $800,000 annually and there's more. "We have a revolving loan fund in place, and with our substantial budget, when the right person comes knocking, we're going to be able to help in ways that a lot of other communities won't be able to," Davis says. "We can do grants to businesses; we can do local income tax deals. And, of course, we have a real estate tax abatement that is prevalent across the state of Ohio." All of this is in addition to state incentive packages.
"We have all the right tools in place to make things happen," she says. "Now it's just finding the right match."
More to Come
One recent success story is the expansion of Logan Coatings, an automotive parts finishing company that specializes in electro and powder coating services.
As Davis looks for companies that are a fit for Hocking County, she says, "We tend to fall more toward manufacturing. We have a GE plant here, we have suppliers to the automotive industry, we have Smead Mfg., Logan Clay Products; manufacturing is our strength."
Besides the natural beauty of Hocking County that would make it a desirable place to live, Davis says the workforce is a big plus as well.
"A lot of our folks are driving to Columbus every day," she says. "Forty-four percent of our workforce drives 30 minutes or more one way to work. If we can create jobs locally, we prefer to keep them here.
"And, of course, we have other amenities. We're close to Columbus; we're part of the Columbus Metropolitan Statistical Area," Davis says. "Not only do I have a workforce that I can pull from Hocking County and the counties to the south of us, we're within 45 minutes of Columbus. That's a workforce of hundreds of thousands people north of us."
She also cites as attributes the proximity of Ohio University in Athens, which is about 30 minutes south, and The Ohio State University in Columbus. Plus, Hocking College, located in nearby Nelsonville, has a branch in Logan, where the CIC is located.
When Davis started her job as executive director in 2014, she endured about a year and a half of "housekeeping" before she could start actively doing economic development. She inherited an organization in disarray and thus dug into tasks such as redoing bylaws, making sure all filings with the state were up to date and separating the CIC from the Chamber of Commerce.
"Now, we are in a place where we can start looking at growth again," says Davis, who hired Holly Sheets in March as the new economic development assistant. "She came from real estate development; she's seen development from the private perspective. Now she's on our side, and we're actually in a position where we can do some things."
In addition to her new staff member, Davis has a 10-member board of directors made up of four public members and six private members.
If Davis gets her hotel, she knows that more visitors will flock to Hocking Hills, a group of state parks including Old Man's Cave, named for a hermit who once lived there, Ash Cave, with its huge recess cave and Pulpit Rock, Cedar Falls, Cantwell Cliffs, and Rock House, and maybe like it enough to stay.
---
This investment profile was prepared under the auspices of the Hocking County Community Improvement Corporation. For more information, contact Joy Davis at jdavis@hockingcountycic.com. On the Web, go to www.hockingcountycic.com.