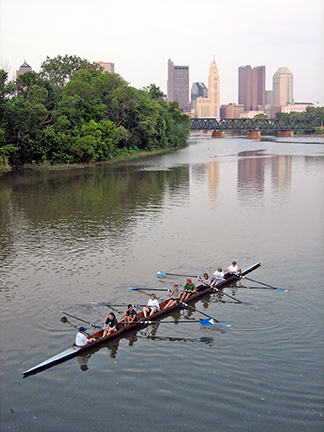 Ohio is home to 74 state parks, more than 100 breweries, over 240 wineries, world-class orchestras, award-winning zoos and diverse museums. So, whether it's a weekend getaway to Lake Erie shores or an evening at the symphony, Ohio's tourism offerings coupled with a low cost of living makes Ohio an ideal destination for work life balance.
"The improvements in the economy and continuing diversity in tourism offerings has kept us on a positive trajectory since 2009," says Mary Cusick, director of TourismOhio. "We have about 207 million visits annually to Ohio that support a $42-billion industry, employing 420,000 people in the tourism industry. It's big business and big fun."
Ohio is fertile ground for innovation and entrepreneurship, deeply impacted by the legacies of John D. Rockefeller, Andrew Carnegie, F.A. Seiberling, the Wright Brothers, and Edward Drummond Libbey. Their endowments helped support the spectacular art museums and beautiful outdoor spaces these Ohioans created and treasured.
Throughout the state are countless opportunities to connect with nature all year. With more than 70 state parks, Cuyahoga Valley National Park, five ski resorts, numerous waterfalls, fishing and birding hotspots, hundreds of miles of cycling and hiking trails — there's something for everyone.
Celebrated destinations such as Amish Country, Hocking Hills, Appalachian Country, Lake Erie and its surrounding shores and islands offer visitors and residents alike, unique adventures to create memorable experiences that last a lifetime.
Ohio is seeing dynamic growth in its downtown areas such as Cincinnati's Over-the-Rhine neighborhood and Cleveland's Ohio City. National interest in urban living has trigged increased residential development, the reintroduction of green spaces, and enhanced mass transit and shared transportation opportunities.
"We have a number of historic neighborhoods that are being reenergized," says Cusick. The effort is aided by Ohio's Historic Preservation Tax Credit, which helps breath new life in historic buildings while offering consumers' options for working, living and enjoying time in these authentic spaces.
Within the state's urban spaces and beyond, Ohio's art museums are well visited — and for good reason. Art museums in Ohio present major exhibitions, frequently selected as the only Midwestern venues for particular showings. "Art museums in Columbus and Cleveland just completed renovations making their museums even more sought after by local, national, and international artists for exhibition," says Cusick.
No matter what part of Ohio you find yourself, there is no shortage of available fresh, local foods at farmers' markets. Cusick says "there's no better place for farm-to-table dining than Ohio because agribusiness is the state's second largest sector." In fact, well known farm-to-table advocates and Cleveland natives Michael Symon and Jonathon Sawyer have recently returned to their hometown, and each James Beard award-winning chef has opened restaurants. Their eateries are critically-acclaimed and helping boost Ohio's recognition as a foodie hotspot.
What goes well with a delicious meal prepared with fresh, local foods? A great wine or beer. Ohio is one of the top 10 wine-producing states. Importantly, the state's climate and soil provide some of the best conditions in the country for grape growers and winemakers. Ohio has more than 240 wineries across the state collectively producing 1.1 million gallons of wine every year.
Microbrewing is also an industry that's seeing tremendous growth in Ohio. In 2015, craft breweries swelled to 173 — producing 1.4 million barrels. "We're excited to see this industry take off. In 2015, over 35 breweries opened in Ohio. The industry supports almost 11,000 jobs and has a combined economic impact of $2.16 billion," says Cusick. Ohio ranks No. 4 for craft beer production and four Ohio breweries recently won gold at the U.S. Open Beer Championship. "We're excited to see success in this industry from both a tourism and economic investment standpoint," continues Cusick.
"The state offers a unique balance of diversity and stability unlike any other. There is job growth, meaningful work, and exceptional amenities here," says Cusick. "Pride and enthusiasm exist here, and we're happy to build on that momentum. You can find happiness, diversity, and stability right here in Ohio."