One out of six Oregon jobs is directly or indirectly tied to cargo, recreation, industrial, commercial or other activities at the 23 member organizations of the Oregon Public Ports Association. Updates from a handful of them demonstrate why more jobs and investment will be docking in Oregon soon.
Oregon International Port of Coos Bay
Every year, almost 2 million tons of cargo move through the Coos Bay harbor and over 25 million pounds of seafood are landed at the Charleston Marina. Among active projects are repairs by the U.S. Army Corps of Engineers to the Port's important North Jetty, thanks to $32 million in federal funding. In October 2021, the Port announced it had entered into a purchase and sale agreement to acquire the former Georgia Pacific Mill site from CDC Inc.
of St. Louis, Missouri. "With this facility back in service, it is anticipated that it will bring with it the addition of well-paying family wage jobs to the area including longshore labor, yard workers and cargo handlers, as well as additional rail line crews," said John Burns, Port CEO. The Port says it is "currently working with multiple businesses with interest in moving products and commodities through the Port of Coos Bay to avoid congestion and its associated costs and inefficiencies found at other West Coast Ports.
Port of Arlington
The Port of Arlington in Gilliam County bills itself as "an oasis for business, industry and water lovers," the last part because of the port area's popularity for windsurfers and kitesurfers plying the Columbia River. The port markets and provides assistance and shovel-ready infrastructure services for all industrial properties in Gilliam County, including the Business Oregon–certified Arlington Mesa Industrial Park; the active rail siding with over 1,000 rail sidings per month at Shutler Station Industrial Park; the Columbia River waterfront landing at Island Park; and the repurposed former U.S. Air Force Radar Base at Columbia Plateau Industrial Park.
Port of Cascade Locks
The mission of the Port of Cascade Locks is economic development for the entire port taxing district, which extends from the Columbia River in the north to the peak of Mt. Hood in the south. As of October 21, 2021, the iconic Bridge of the Gods over the Columbia River, which serves as a critical transportation connection between the states of Oregon and Washington and which is owned and operated by the Port, returned to full legal load limits after strengthening work, allowing freight to flow freely once again between I-84 on the Oregon side and Hwy. 14 on the Washington side.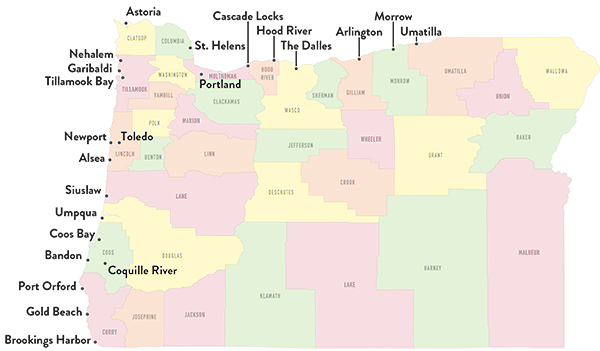 Port of Hood River
A federal decision is imminent for a new bridge to replace the Hood River-White Salmon Interstate Bridge, which was essentially rebuilt in 1938 and serves an average of 4 million users daily. The nearly one-mile bridge is a vital Columbia River crossing in the central Columbia Gorge bi-state region connecting Hood River, Oregon, with the communities of White Salmon and Bingen in Washington State. New weight limits were imposed on the bridge in March 2021. The minimum cost of a replacement bridge (two options are being studied) will be $250 million. 
Port of Morrow
Among the activities at this port located on the Columbia River near Boardman, Oregon, is the development of the new Cultural Alliance and Training Center at SAGE, backed by $4.3 million in state funds. "The SAGE Center expansion will provide a beneficial community-based development center to assist our regional education and industry partners with programs and events that support continuing education, workforce initiatives, and youth programs," said Port of Morrow CEO Ryan Neal. That same center (which stands for Sustainable Agriculture and Energy) is the site of a new AWS Think Big Space, an enhanced classroom funded by Amazon Web Services for students to explore STEM-related interests.
Port of Portland
Established in 1891 by the Oregon Legislature, the port owns four marine terminals, three airports (Portland International, Hillsboro, and Troutdale) and five industrial parks. Among other news in 2021, the port welcomed expanded service from South Korea's SM Line and from MSC at Terminal 6, following SM's steps to bring weekly service back to the port in 2020 for the first time in more than four years. SM launched a new intermodal rail service via the Union Pacific railway to Chicago, while BNSF extended its intermodal service between Terminal 6, Seattle and Tacoma in order to help shippers "who face delays from truck congestion at ports to the north."
In special session in December, the Oregon Legislature approved a $5 million appropriation for the Port of Portland and Hacienda Community Development Corporation to build prototypes of modular housing units, made from mass timber, that can be deployed to various sites throughout Oregon. The mass timber modular manufacturing facility at the Port's Marine Terminal 2 "aims to support Oregon's emerging mass timber industry, grow regional economic development opportunities, create career pathways and business opportunities for struggling communities, and accelerate housing production."
The port is part of a Mass Timber Coalition that was awarded $500,000 in December as Oregon's only finalist in the U.S. Economic Development Administration's $1 billion Build Back Better Regional Challenge. The coalition will advance to Phase 2 and compete for up to $100 million in American Rescue Plan funding to develop and scale mass timber manufacturing in Oregon and the Pacific Northwest.
The Port of Portland in late 2020 approved a master development agreement with Specht Development Inc. and Colas Development Group to implement a diversity, equity and inclusion (DEI) framework at the 221-acre Gresham Vista Business Park, a thriving jobs center for manufacturing and logistics companies, including Subaru of America and Element 6, a synthetic diamond manufacturer. At roughly 48 acres, Gresham Vista Lot 5 is one of the last large lots that remain undeveloped across all the Port's properties.