As a global leader in wood product manufacturing, Oregon offers abundant raw materials and an innovative ecosystem in which to produce a diverse range of value-added wood products. The largest producer of timber in the nation, Oregon's 3.5 million acres of forestlands amount to approximately 50% of the total landmass in the state. 
Beyond forestry, the state's wood products industry ranges from dimensional lumber to plywood and other value-added wood products. Oregon has long been home to several leading wood and paper product manufacturers, including Weyerhaeuser, Georgia-Pacific, Roseburg Forest Products, the Collins Companies and more.  
Oregon's wood product companies are constantly innovating and thanks to key educational assets in the state, including Oregon State University (OSU), home to one of the world's leading forestry schools. OSU keeps Oregon on the leading edge of advanced technology in wood products, from timber harvesting to processing. In particular, OSU's Wood Innovation Center connects the best in business, science and forestry, linking industry with university-based research to develop innovative processes and systems that add value to Oregon's wood products. And the multi-university Oregon Built Environment & Sustainable Technologies (Oregon BEST) Center provides businesses around the state with access to the latest developments in green building, biofuels, bioproducts and biomass-based renewable energy.
 2,142
Forestry and Wood Product Establishments in Oregon
In December, the Oregon Mass Timber Coalition was awarded $500,000 from the U.S. Economic Development Administration as part of the Build Back Better Regional Challenge. The coalition is a partnership between Port of Portland, Business Oregon, the Oregon Department of Forestry, Department of Land Concertation and Development of the Tallwood Design Institute (TDI). TDI is a collaboration between the Colleges of Forestry and Engineering at OSU and the College of Design at the University of Oregon. TDI works with industry and faculty to research a range of topics, including structural and seismic engineering, fire performance and engineering, wood supply chain and carbon impacts, moisture performance of mass timber, modular design and more.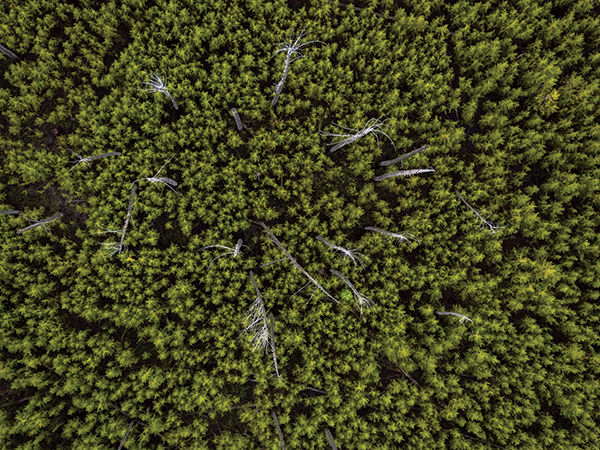 The award will create a strategy for a mass timber modular manufacturing facility at Marine Terminal 2 in Portland. Additionally, the award will support Oregon's emerging mass timber industry, grow regional economic development opportunities, create career pathways and business opportunities for struggling communities, and accelerate housing production. The coalition will advance to Phase 2 and compete for up to $100 million in American Rescue Plan funding to develop and scale mass timber manufacturing in Oregon and the Pacific Northwest.
"We're incredibly proud that the Mass Timber Coalition was selected to help drive economic recovery in our region," Curtis Robinhold, executive director of the Port of Portland, said. "Accelerating the mass timber industry can be transformative for jobs, housing and equitable economic development in Oregon."
TFL Facility Opens in Klamath Falls
Wilsonart, a world-leading engineered surfaces company, officially opened its new manufacturing facility in Klamath Falls in November. Selected for its strategic West Coast location, plentiful labor pool and warm welcome, Klamath Falls has proven an ideal location for Wilsonart's newest manufacturing facility, which primarily produces thermally-fused laminate (TFL) in all of the finishes offered under the KML and Wilsonart brands. The new facility came to fruition during a critical growth period for Wilsonart and during an opportune time to help stimulate Southern Oregon's economy.
"We are excited to be up and running and are grateful to the Klamath community for its support in getting us to this point," said Ron Ubertini, vice president of product management at Wilsonart. "The added capacity that this facility represents will enable us to serve our customers more efficiently and effectively."