When a thriving brand of flour chooses to keep expanding its facilities and employment, self-rising takes on a whole new meaning.
That's what Bob's Red Mill Natural Foods — which started in the kitchen oven of founder Robert G. Moore and his wife Charlee in the 1960s — keeps on doing. The miller of stone-ground whole grains and a leader in nutritious, organic, and gluten-free foods is based in Milwaukie, Oregon. Its more than 400 products are backed by more than 500 employees, a 325,000-sq.-ft. headquarters with a laboratory and manufacturing plant, and a large distribution center as its most recent facility expansion.
The employee-owned company was named 2018 Exporter of the Year by the Export-Import Bank of the United States (EXIM) at its 2019 annual conference. The agency supported nearly $15.5 million of the company's exports during the 2014 to 2019 period.
"Our nutritious product line is in high demand by health-minded consumers across the globe," said Bob's Red Mill's CEO Dennis Vaughn, "and EXIM has made it possible for us to forge strong economic relationships with international merchants eager to fulfill that demand."
In Oregon, Red Mill is not alone by any stretch: One of six Business Oregon target sectors, food and beverage is the fastest growing, bringing in $11 billion in sales from more than 1,200 firms across the state. In addition to the name recognition of Bob's, other prominent brands in the state include Nabisco, ConAgra Foods and Flav-r-Pac.
The state's creameries and cheeses are world-renowned — befitting a state that named milk its official beverage in 1997. The cheesemaking tradition includes such companies as Tillamook County Creamery Association (a co-op) with major facilities in Tillamook and Boardman, and Face Rock Creamery, whose rejuvenation of the former Bandon Cheese property continues a tradition that began in the 19th century.
Reinvesting in communities is central to cheese culture, if you will. Tillamook was recently named the winner of the 2018 Community Impact Award by the Innovation Center for U.S. Dairy for its attention to social issues, including donating a distribution truck and funding a full-time position for the Oregon Food Bank, and ensuring that CARE, a local agency that serves the at-risk population of Tillamook County, had a permanent headquarters.
"Tillamook exemplifies devotion to their community," said Barbara O'Brien, president of the Innovation Center for U.S. Dairy. "From working to find the root cause of food insecurity to improving housing access, they are addressing large-scale issues that impact the people and the planet."
Ready to Roll
If you'd like something to pair with that cheese, Oregon is most accommodating: The state is home to 676 wineries, and its breweries helped create the modern craft beer movement, earning international beer awards and producing nearly 860,000 barrels in 2019.
Coffee is … well … another hot beverage sector, primarily because of the recent IPO of Dutch Bros., which valued the company at around $3.8 billion. The drive-through coffee chain operates 207 company-operated and 264 legacy franchised shops across 11 Western states (it switched to company-operated-only in 2017). It plans to open as many as 4,000 locations eventually. 
"Currently we have 154 shops in Oregon that employ approximately 40 to 50 people per location," says a Dutch Bros. spokesperson. "We also have HQ offices in Grants Pass and Merlin. Oregon is our home, so it's always top of mind for us to look for ways to grow and give back to our communities."
The same could be said of WillaKenzie Estate, a family-owned winery in the Northern Willamette Valley known for its Pinot Noirs and their slogan "Place Matters," which it calls "the Oregonian answer to the French concept of terroir. True to the vision of our Burgundian founder, terroir is not simply a notion; it's core to everything we do. It's in our name, WillaKenzie, which describes the ancient sedimentary soils on which our vines are planted."
In December 2021, Cooper Mountain Vineyards, the first certified biodynamic winery in the Pacific Northwest, announced two significant acquisitions in the Willamette Valley, expanding its sustainable footprint to 325 acres with the purchase of the Chehalem Mountain Vineyard, home to some of the Willamette Valley's oldest Pinot Noir vines (planted over 50 years ago), and ArborBrook Vineyard and tasting room.
Founded by Dr. Robert Gross, a natural medicine practitioner and early proponent of holistic viticulture, and his wife Corrine Gross, Cooper Mountain is now run by their daughter, Barbara Gross, who said of the acquisitions, "Our family could not be more thrilled about this opportunity to grow our roots deeper into the valley and further invest in the Oregon wine industry."
The roots go beyond wine. Chehalem Mountain Vineyard was the third vineyard planted in the Willamette Valley, in 1969 by Oregon wine pioneer Dick Erath. "It is planted to seven clones of Pinot Noir and three clones of Chardonnay, producing some of the Willamette Valley's highest quality grapes," said a Cooper Mountain release. "Cooper Mountain has purchased the vineyard from its most recent owner, Capra Company, which is reducing its landholdings to focus further on WG Edge, a philanthropic program to support young women in agriculture."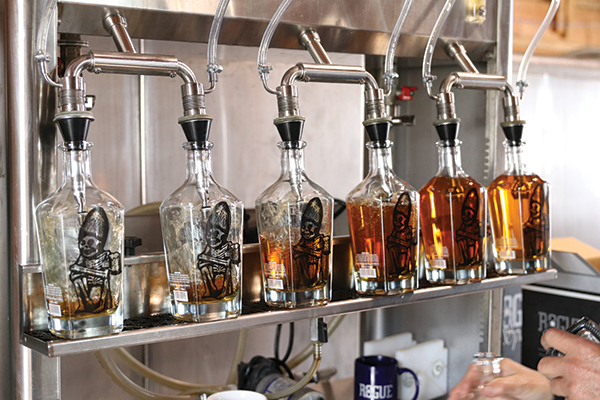 Founded in Ashland, Oregon, and based alongside Yaquina Bay in Newport, Rogue's product line has expanded along with its footprint, including soda, seltzer and whiskey.