One-third of the major corporate end-user facility projects Site Selection magazine's proprietary Conway Projects Database has tracked in Oregon since early 2019 have a logistics purpose. Among the investors are such companies as Steelhead Surgical (an Arthrex distributor investing in Portland); Meyer Distributing (investing in Umatilla County); Stratacache in Eugene; and Hawthorne Hydroponics in Gresham. But five of those projects have come from a single e-commerce giant whose HQ sits one state to the north.
Amazon projects totaling more than 4.8 million sq. ft. over that time period are landing in Tualatin, Portland, Salem, Woodburn and Canby, with the largest — 3.8 million sq. ft. and 1,500 jobs — coming to Woodburn in Marion County. Amazon's fulfillment journey in the state began five years ago with a 1,500-job, 855,000-sq.-ft. facility in Troutdale, following the opening of a Prime Now hub in Portland and a sortation center in Hillsboro.
As reported by the Bend Bulletin and other sources, the Woodburn facility, slated to open in spring 2023, will be a five-story complex on a 90-acre parcel, where starting pay will be $17 per hour. Improvements to a major I-5 interchange literally paved the way for the project, which Amazon itself is enabling with a new traffic roundabout. Woodburn's 2016 urban growth boundary expansion also helped, "targeting this land for large-lot, high-employment industrial users," the Bulletin reported in October. "The city annexed the land a year later."
According to Woodburn City Council minutes documenting building permit activity, the investment in "Project Basie" is just north of $451 million. The project was taking so much of the building inspector's time that the city in December proposed contracting out some inspection and plan review work. Also in the works are two large industrial developments totaling more than 1.5 million sq. ft. in the city's Southwest Industrial Reserve (SWIR) area.
"The city is currently experiencing development activity (residential, commercial, and industrial) at a historical high rate," city council minutes stated. "For perspective, in the last 18 months the Building Department has issued permits for more than twice as many housing units (1,096 units) than were issued during the previous 12 years combined (457 units). Based on recent land use approvals and subdivisions that have been recorded, staff believes residential construction will continue at high levels into the short-term future."
The city in December applied for a grant from Business Oregon's Special Public Works Fund (SPWF), which provides low-cost financing to eligible municipalities for planning, design, and construction of utilities and facilities essential to industrial growth, commercial enterprise, and job creation. Among other communities receiving SPWF funds in the past few fiscal years were:
Prineville: $3 million for water system improvements
Port of Columbia County (formerly Port of Saint Helens): Nearly $2.5 million for the SIA Devinaire Hangar Building Project (FY2021); sewer improvements in FY2020; and a total of $1 million in FY2019 for the Composites MIP ­– E Production Building Project.
Seaside: $5 million in FY2019 to support a School Campus Water Tank Design & Construction project.
Port of Cascade Locks: A new flex industrial building called The Renewal Workshop ($6.6 million in FY2021) and an industrial building for pFriem Brewing Co. ($4.38 million in FY2020).
In Cascade Locks, pFriem is working with the Port of Cascade Locks to construct a new secondary production and warehousing facility to make room for significant capacity expansion at the Hood River headquarters. The two facilities will work in tandem.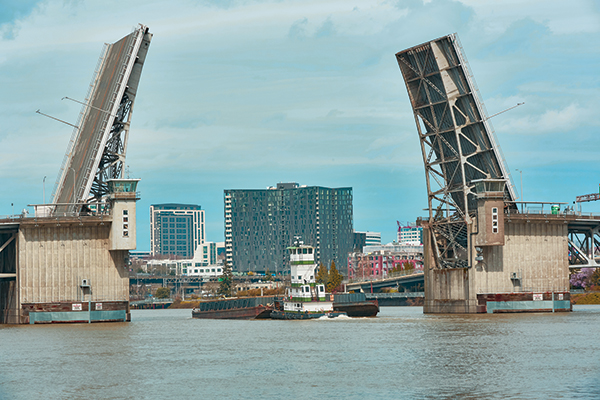 Portland
Photo courtesy of Travel Oregon
In Hood River, pFriem will continue to brew all of its beer, and ferment and package all of its non-barrel aged beers. In Cascade Locks, the brewery will age and package all of its barrel aged beers. Cascade Locks will also be the company's main logistics hub, and will warehouse all of its raw materials and finished beer.
"We are excited to announce that we have partnered with the Ports of Cascade Locks and Hood River to expand pFriem's production footprint in the Gorge," said Josh Pfriem, pFriem brewmaster/co-founder, in 2019. "The Columbia River Gorge has always been our home, and we have worked hard with the folks at these ports and cities to develop a long-term plan for pFriem to thrive in this beautiful area. The Cascade Locks project will allow us to significantly expand our barrel aging program while consolidating our warehousing and cold storage operations in a beautiful new facility. It will also free up space in our current Hood River brewery for a new state-of-the-art brewhouse, increased fermentation capacity, and sophisticated canning line."