Whether they're keeping Portland weird, producing and imbibing world-renowned wines or embracing myriad, mystical outdoor pursuits, Oregonians are serious about living. And what a place to live! Is there an earthly shade of green to match that of Oregon's lush, lonely forests, such as those that greet the flight that descends into Eugene?
And, yes, that's just the beginning. For Oregon is a state with many faces, none of which fails to charm, surprise or simply amuse. From towering volcanic peaks to breathtaking beaches and vast deserts, Oregon has it all, with lifestyles to match.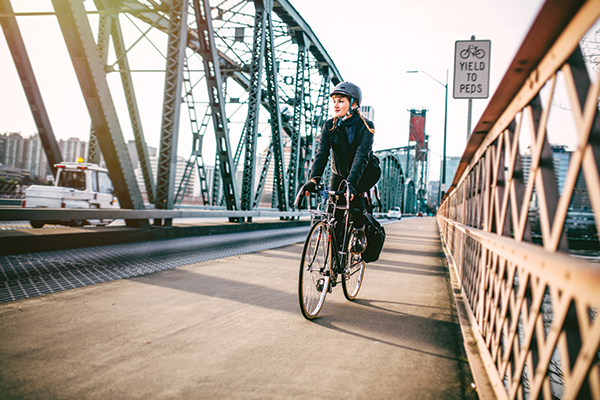 Portland is America's bike-friendliest city.
Photo: Getty Images
The Coast with the Most
From gritty Astoria on the Columbia River to balmy Brookings-Harbor above northern California, Oregon's Pacific Coast offers 363 miles of unspoiled beauty, dotted by vibrant coastal enclaves of distinct and genuine character. Book a fishing expedition, rent a dune buggy, sample local cuisines or simply embrace the solitude of a windswept beach. Multiple adventures await. 
Cannon Beach, Gold Beach, Florence and Neskowin are among Oregon's best-known coastal redoubts. Among hidden gems, Shore Acres State Park near Coos Bay features European-style gardens perched atop a dramatic shoreline, and the hidden Hobbit Beach is accessed by a secret trail near Florence.
Portland on Wheels
More than one in 20 Portlanders pedal to and from work rather than ride. That's tops in the county, and more than five times the national average. With more than 400 miles of bikeways, paths and greenways, Portland enjoys a Platinum ranking from the League of American Bicyclists in addition to its designation as America's Bike-Friendliest City by smartasset.com.
Portland's Classic Waterfront Loop along the Wilamette River is one of a dozen designated tours that beckon strong legs and free spirits. Launched in 2016 in conjunction with Nike and Lyft, the city's BIKETOWN bike-sharing system boasts 133 stations, making it easy to navigate Portland from behind a set of handlebars.
Around the Bend
The second-fastest growing city in America, as ranked in 2020 by WalletHub, inland Bend is a town for all seasons. Nestled between the snow-covered peaks of the Cascade Mountains and the vast, high desert plateaus, Bend has grown from a sleepy lumber town to an international mecca for outdoor adventures that include mountain biking, hiking, camping, fishing, white-water rafting and snow skiing.
Surrounded as it is by unparalleled, pristine beauty, Bend fairly crackles with entrepreneurial spirit, as evinced by its culture of art, artisanal food and beverages and health-oriented retreats. With just under 100,000 residents, Bend is a singular spot for those attracted to the thrill of city life and the pace and beauty of the countryside.
Golf With Abandon 
Rivalled only by stately Pinehurst in North Carolina, Oregon's Bandon Dunes Golf Resort is a golf fanatic's dream. Just north of the coastal town of Bandon, the isolated retreat boasts an ever-expanding roster of thrilling golf layouts that marry unmatched grounds for golfing with the finest names in course architecture. The results are stunning.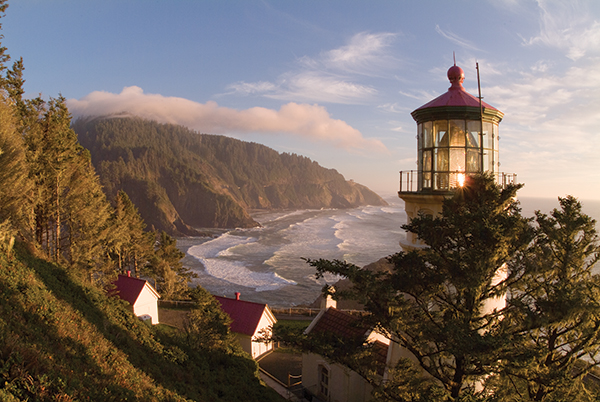 The Heceta Head Lighthouse Bed & Breakfast is a 19th-century lighthouse that stands watch over the Oregon coast.
Photo: Getty Images
Once a quixotic venture in the mind of entrepreneur and developer Mike Keiser, Bandon Dunes opened in 1999 with a single, seaside 18-holer that immediately set the golf world abuzz. Two-plus decades later, Keiser and company are up to six golf layouts conceived and sculpted from the coastal wilds by noted Scotsman David McLay Kidd, the celebrated team of Ben Crenshaw and Bill Coore and the noted "minimalist" Tom Doak.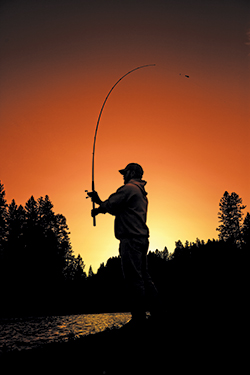 Fisherman in southern Oregon
Photo courtesy of Business Oregon
The Bandon experience is singular and extends to simple, sublime lodging options with ascending levels of dining, all of which hit the mark. Have an after-dinner drink on the back porch and watch the foursomes finish at dusk, the ocean swelling behind them.
The Wine is Divine
It might rightfully be stated that Oregon taught America to love Pinot Noir. Vintner David Lett put the Wilamette Valley on the worldwide map of wines with his 1975 Eyrie Vineyards release, ranked tops among that complex red at the global Wine Olympics. As if from nowhere sprang a billion-dollar industry that now boasts 1,000-plus wineries and tasting rooms covering more than 30,000 acres. While it produces but 1% of the country's wines, Oregon has commandeered up to 20% of Wine Spectator's domestic 90+ ratings.
Most of Oregon's Pinot Noir still comes from the Wilamette Valley, whose suitably cool climate is shielded from extremes by the Cascade Mountains to the east, Coast Range mountains to the west and smaller hill chains to the north. Oregon's "other Pinots" include its fruity Pinot Gris, also pioneered by Lett, and the delightfully floral Pinot Blanc.
Going Rogue
Anchored by the revitalizing town of Medford, southern Oregon's Rogue Valley is a hidden gem unto itself. With temperate climes equally amendable to winemaking and vacationing, the valley has a history of high-profile visitors dating back to the Golden Era of Hollywood, when movie stars including Clark Gable, Ginger Rogers and John Wayne frequented the region's historic vacation lodges.
Striking natural phenomena include the mysterious Oregon Vortex, the 480-acre Oregon Caves National Monument and scenic Rogue River that runs from Crater Lake to the Pacific. Rafting, kayaking and fishing take center stage during the summer months, along with local and regional arts festivals and the Grants Pass Growers Market, southern Oregon's largest farmers' market.