Oregon ranks among the top 15 most educated states in the nation, outperforming states like California, Arizona and Texas. Forty percent of Oregonians are college educated, and the state's workforce of more than 1 million is growing at six times the national average. 
Programs like Oregon Promise, a state grant that helps cover tuition costs at any of the state's community colleges, create opportunities for more students to enter the workforce and propel the state's industries into the future. 
Oregon's community colleges provide certificates, two-year degrees, and training programs that prepare students with degrees and coursework to transfer to a four-year university.
With seven public universities and 17 community colleges across the state, students have access to a robust network of higher education institutions. The following is an overview of Oregon's seven public universities, highlighting their unique attributes and offerings. 
Eastern Oregon University (EOU) La Grande
Officially designated as Oregon's Rural University, EOU enrolls more than 2,800 students and offers more than 37 degree programs. The university is well known for its online education offerings, which include more than 22 degrees available 100% online. EOU was recently ranked by The Economist among the best value colleges in the Northwest for return on investment.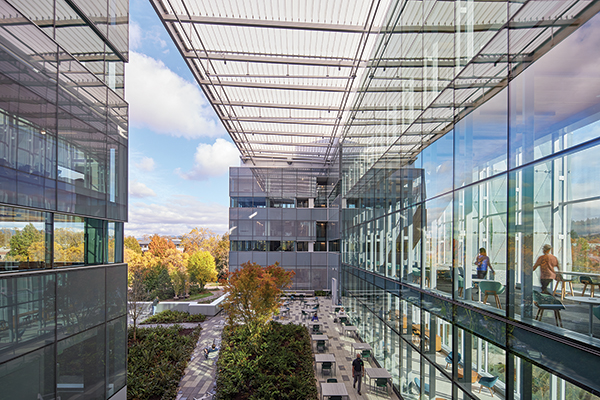 University of Oregon — Knight Campus
Image courtesy of the University of Oregon  
EOU will launch its new Agricultural Entrepreneurship degree program in the 2022 Fall semester. The program includes courses on marketing, finance and human resources, as well as courses in biology, chemistry and intensive agriculture management. Reflecting a major change in the national and international agricultural markets and the trade of agricultural products, this unique undergraduate degree program will equip the next generation of food producers to find success across this essential industry. 
Oregon Institute of Technology (Oregon Tech) Klamath Falls and Wilsonville
With two campuses in Klamath Falls and the Portland metro, Oregon's only polytechnic university offers nearly 50 bachelor's and advanced degree programs and enrolls approximately 4,900 students annually. Oregon Tech specializes in engineering, technology, healthcare, business, communication and applied sciences such as psychology and environmental science. 
Oregon Tech was recently ranked among the best schools in the nation in Forbes' annual ranking of Top Colleges. The rankings list 600 schools — the top 20 percent of all four-year and graduate universities in the nation — with Oregon Tech listed at No. 292 overall and No. 133 of Public Colleges. Additionally, Oregon Tech ranks among the nation's best universities in multiple categories in the 2021 U.S. News and World Report "Best Colleges" rankings. The report lists Oregon Tech at No. 2 Top Public College in the West, No. 10 Best Western Regional Colleges and No. 62 Best Undergraduate Engineering Programs.
Oregon State University (OSU) Corvallis and Bend
With 34,108 students enrolled in the 2021 Fall semester, Oregon State University is the largest in the state for the eighth consecutive year.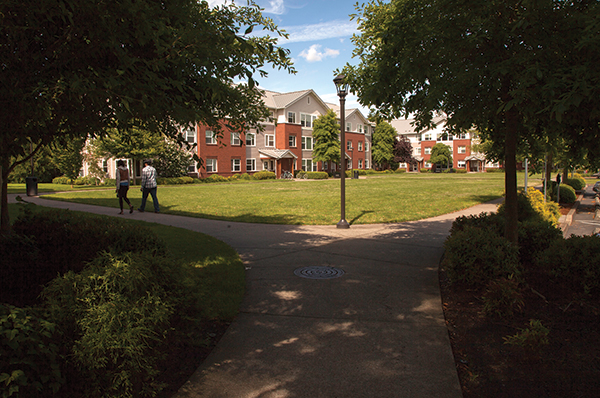 The Arbor on the grounds of Western Oregon University campus
Photo courtesy of Western Oregon University
This year, OSU's Fall 2021 enrollment reached record levels, with strong demand for in-person and online classes, a continued rise in students of color and surging interest in an OSU education from out-of-state students. The most popular undergraduate majors at Oregon State are computer science, followed by business administration, mechanical engineering, psychology and general engineering. General engineering is a program for entering undergraduates in the College of Engineering who will later select a specific engineering major.
Research funding at OSU has topped $380 million for the fifth straight fiscal year, and research expenditures by the university, a key measure of research output, rose despite the pandemic for the seventh consecutive year, increasing by 5%. The contributions of OSU research extend worldwide through programs such as real-time ocean monitoring, the development of spatial datasets that reveal short- and long-term climate trends, the national expansion of Oregon State's TRACE-COVID-19 public health project, and a Physics Frontier Center that seeks to understand the universe through gravitational waves.
Portland State University (PSU) Portland
Located in the heart of Downtown Portland, PSU enrolls 23,900 students annually. PSU is one of the nation's most innovative universities, according to U.S. News & World Report.
Portland's public research university offers more than 200 degree programs and is the most diverse, innovative and affordable research universities in the state.
PSU has established a leadership position to help the Northwest combat cybersecurity threats. In 2020, PSU was designated as Oregon's first and only National Center of Academic Excellence in Cyber Research by the National Security Agency (NSA) and the Department of Homeland Security. In 2021, the NSA awarded PSU a new two-year, $2 million grant to establish a consortium of public, private and academic partners that will address cybersecurity issues related to smart grid infrastructure in the Pacific Northwest, Hawaii and Colorado. And in January 2022, PSU will launch a new cyber resilience certification for professionals.
Southern Oregon University (SOU) Ashland
Located in the Rogue Valley, SOU offers more than 120 undergraduate, minor, certificate and graduate degree programs. SOU's Ashland campus is located in the foothills of the Cascade and Siskiyou Mountains, providing a unique backdrop to the university's career-driven programs. Nearly 44% of the university's admitted students are over the age of 25. 
The university recently launched a micro-credential program — part of an academic movement that promises to transform higher education. SOU's micro-credentials range from Cinema Production Technology to Foundations of Professional Writing to Values-based Leadership. Most of the new micro-credentials require about 12 credit hours of coursework — which can stand alone or count toward students' degree requirements.
Some include community workshops, service learning or other opportunities to apply skills and knowledge. They are typically brief, accessible programs that are considered "stackable" as learners achieve sets of discrete, demonstrable areas of expertise based on their career needs, professional goals or personal interests.
University of Oregon (UO) Eugene
Enrolling some 22,760 students a year, the University of Oregon is the state's No. 1 public university for graduation rates. UO is also one of two Pacific Northwest Institutions in the prestigious Association of American Universities and a Tier 1 National Public Research University.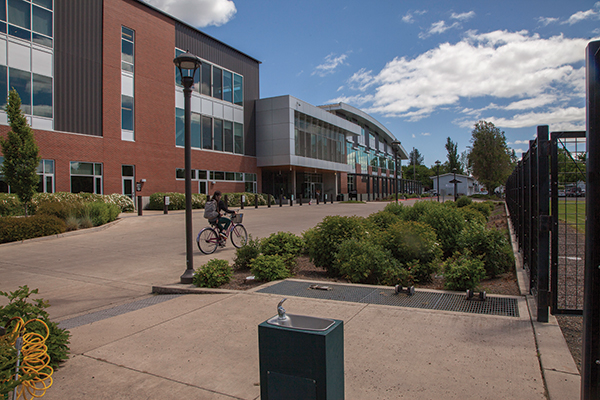 The Peter Courtney Health and Wellness Center Western Oregon University campus
Photo courtesy of Western Oregon University
Earlier this year, the university's Phil and Penny Knight Campus for Accelerating Scientific Impact began phase two of its construction plans which will further expand the university's strengths in bioengineering and applied scientific research and training. The Knight Campus was first launched in 2016, with the first of two $500 million gift from the Knights.
The campus embodies a new paradigm for scientific inquiry that accelerates the cycle of translating scientific discoveries into solutions that create societal impact. Every year, the Knight Campus enrolls 80 to 100 students who are pursuing master's degrees while specializing in areas of materials science, bioinformatics and genomics, with an emphasis on hands-on training. 
Western Oregon University (WOU) Monmouth
The 157-acre campus of Western Oregon University, located in Monmouth, is the state's oldest university and serves approximately 5,000 students annually. WOU is also the state's No. 1 safest university campus. Since 2017, the university has made strategic changes to offer to become the most affordable public university in Oregon for resident undergraduates. In 2017, WOU ranked at second-highest relative to household income; WOU now ranks at second-lowest on the basis of the estimated total cost of attendance.
In 2019, WOU began its expansion into Salem with programs geared toward working adults. In September, the university officially opened its new WOU:Salem campus downtown, which is positioned to serve approximately 500 students. WOU:Salem now features two programs only offered on the Salem campus: a Master of Arts in Organizational Leadership and a Bachelor of Applied Science in Liberal Studies. Both of these programs offer hybrid courses to support working adults in completing degrees.