When MG Development, a French manufacturer of hearing aid cleaning products, went looking for a place to locate its North American headquarters, Pennsylvania made sense for all the right reasons, a top company executive says.
"We are very successful in France, and we wanted to come to the U.S.," says C.J. Loeffler, director of sales for MG Development. The company chose Pittsburgh in November of 2015 for its regional headquarters and the place to land 50 new jobs.
Supported in the move by the Pennsylvania Office of International Business Development, MG plans to serve the U.S., Canada, and South America from its new base in Western Pennsylvania.
In an in-depth interview with Pennsylvania Economic Quarterly, Loeffler, who worked at Google and Microsoft before joining MG, shares important details on the site selection process and discusses the location factors that sealed the deal.
What were the most important site selection criteria that led MG Development to choose Pittsburgh for the company's North American headquarters?
LOEFFLER: One of our first customers was here in Pittsburgh. We do a lot of other international business as well, and Pennsylvania has an international business development office in Pittsburgh. They helped us out. One reason we liked Pittsburgh was because it has the least amount of time zone difference between here and our office in Europe. That minimizes the gap in communications.
When you were conducting your site search, which other potential locations did you consider in North America? How long did the site search take?
LOEFFLER: We actually looked at New Jersey because of shipping reasons. We have a huge headquarters in France. A lot of our stuff is bottled there. We had to have all of our stuff sent from there to over here. Freight is very pricey. We wanted something close to the water. The entire site selection process took two to three months.
What ultimately gave Western Pennsylvania the decisive edge in the site selection process?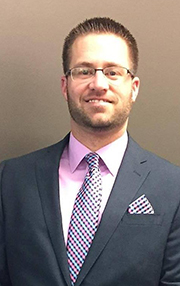 "We are able to work all over the U.S. from here. You can build a rapport here with your customers very easily. People work hard for their money here."
LOEFFLER: Having one of our first customers here. The Allegheny Conference on Community Development was very helpful. They talked about starting businesses here. They talked about the benefits of doing business here.
How does the Pittsburgh location enable your company to also serve the Canadian and South American markets?
LOEFFLER: We definitely use it to serve those markets. We ship from Pittsburgh to Europe, South America, Canada, and Mexico.
What is your overall assessment of the business climate of Pennsylvania right now?
LOEFFLER: Our business is a little bit different. Our actual location does not help or hinder our business. But it definitely helps me because I travel to a lot of medical device conventions. I am on the road all year long. You can go pretty much anywhere from here. We are able to work all over the U.S. from here. You can build a rapport here with your customers very easily. People work hard for their money here.
Can you share any details on the corporate facility project in Pittsburgh?
LOEFFLER: We are ramping up to have 25 to 35 employees. We are looking to grow — with sales people, assembly people, admin people, etc. We are right downtown. We are in the Strip District. It is the old garment warehouse district and location for furniture and meats, etc. It is very cultural. You can get fresh food here. There are Italian places, bars, and restaurants. Many old warehouses have been converted into apartments.
What do you like best about the workforce of Western Pennsylvania?
LOEFFLER: The Pittsburgh person is known as a hard worker. People are dedicated and down-to-earth. They are very work-oriented here.
How important to you is access to talent coming out of the region's many colleges and universities?
LOEFFLER: It will eventually come in handy — especially with places like CMU, Pitt, Duquesne, etc. That is a huge opportunity for us.