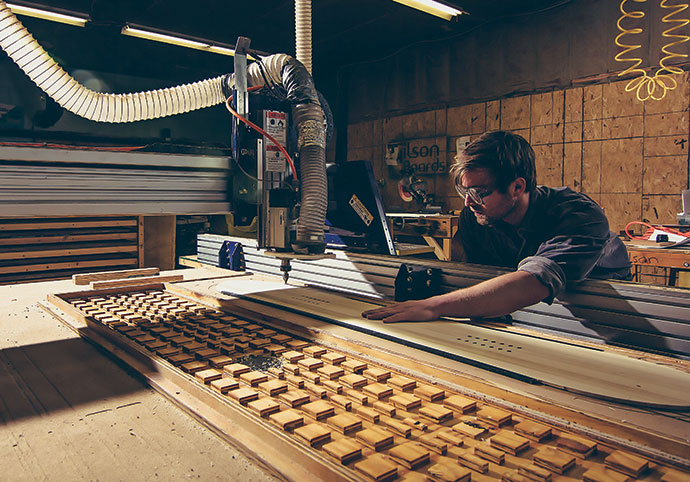 Snowboard innovator Gilson Snowboards has a complete sustainable supply chain within a 10-mile radius of its facility in Winfield, Pennsylvania, located in the central region of the state. Pennsylvania Poplar is a key ingredient to the wood cores of the boards and is visible in the snowboards.
Within this small supply chain circle, Boyer Logging in Rural Valley sustainably harvests local trees and kiln dries the wood, which is then sent to Stanley Woodworking in Middleburg where it is pressed into blocks, says Gilson Snowboard Co-founder Nick Gilson. From there it goes to Penns Creek Forest Products in Penns Creek for further processing. The lumber then makes "the full circle on the back of one of our pickup trucks so there is no inbound shipping," Gilson says. The company operates from a 5,000-sq.-ft. facility, "going from raw Pennsylvania Poplar to finished product under one roof," Gilson says.
Companies operating in Pennsylvania are able to tap into a large hardwoods resource. The state is home to nearly 17 million acres of hardwood forest, which is the largest in the nation.
Pennsylvania's innovators have a history of applying the latest technologies in hardwoods development in niche markets such as applications in sports (bats and snowboards), musical instruments (guitars and drumsticks), and interactive wood toys, notes Pennsylvania Hardwoods Development Council Executive Director Wayne Bender.
The ability to innovate is important to Gilson and fellow middle school teacher Austin Royer, who both relocated from Nashville, Tennessee, to Pennsylvania to be near the hardwoods required to create their vision of leading-edge snowboards.
With three patents in hand, Gilson Snowboards has successfully developed its line of snowboards, along the way tapping into assistance from a researcher at Penn State University to overcome a manufacturing hurdle in regard to bonding and adhesion between plastic and fiberglass.
"We started doing some incredibly cool science that allowed us to solve not only the problem, but create a process that leads to what is arguably the best bonding in the industry right now," Gilson says. "The Innovative Manufacturers Center connected us to Penn State and Josh Stapleton," who heads up the university's Materials Research Institute.
The Power of the Poplar
"The wood has its own brand," Gilson says. He says a reviewer of the company's snowboards referred to the snowboards as "Pennsylvania Poplar snowboards," which is catching on. The company sells its product in Italy, South Korea, the United Kingdom and other countries.
Another company, BWP Bats LLC in Brookville, spun out of Brookville Wood Products in 1999; the company had been manufacturing billets for bats for other companies and wanted to produce its own line of bats. BWP Bats sources its wood from its own acreage located throughout the state, as well as wood from upstate New York, says BWP Bats Vice President Josh Johnson. Maple and red oak trees are processed into bats because they are considered the finest hardwood trees.
BWP Bats controls the development of its bats throughout the entire state-of-the-art production process, producing up to 2,000 bats per week.
Johnson says minor and major league baseball players who tour the company are quite impressed with how much hands-on care goes into each bat. Johnson, who played professional baseball for 13 years, spent most of his off-seasons working at BWP Bats, learning each manufacturing process. "I connect with the players and they can tell that I know what I am talking about as far as the wood goes," Johnson says.
Hands-on craftsmanship and careful attention to detail using hardwoods in the manufacture of guitars is what maintains C.F. Martin & Co. Inc.'s place as a world leader in the production of guitars. The firm is well known for industry standards such as X-bracing and the 14-fret guitar. The company, which formed more than 175 years ago, uses a combination of new design techniques and those instituted by the company's founder.
Supporting Next-Gen Products
The Pennsylvania hardwoods industry consists of 2,100 companies that are involved in forestry operations and forest management programs; primary and secondary mills such as those involved with veneer, flooring or dimension mills; furniture facilities and paper facilities, Bender notes.
"We estimate our economic impact at $19-to-$20 billion," he says. In 2015, the state exported $472 million worth of wood products. Bender says Pennsylvania's climate is ideal for growing high-quality hardwoods. The farther north in the forest, the closer the growth rings in the trees, which results in more stable wood. The wood doesn't move as much and is better suited to handle changes in humidity.
Bender says the state's economic development leaders are working to ensure the long-term success of the hardwoods and wood products industry. This includes reaching out to architects and designers at conferences and other events to promote the environmental benefits of using wood in their designs. One benefit includes the life cycle of American hardwoods, which are found to be carbon negative, even after being shipped to destinations worldwide.
"One thing we say to architects is that we need them to specify the use of more American lumber in products because the biggest threat to our forests is the underutilization of the forest resource," Bender notes. "If we develop a better market it increases the value of the forest to the persons who own the forest and they are more likely to manage the forest in appropriate ways."
Economic development officials say the state is well positioned to support applications involving cross-laminated timber and thermally modified hardwoods. Pennsylvania is home to Bingaman & Son Lumber Inc. in Kreamer, which is one of three companies in the United States producing thermally modified hardwoods. The finished product is resistant to bugs and results in a dark brown color.
"There is a huge market in Europe," Bender says. "In fact, ash prices have been historically high in our country until recently because of the demand for ash for thermally modified lumber in Turkey, the Middle East and Europe."