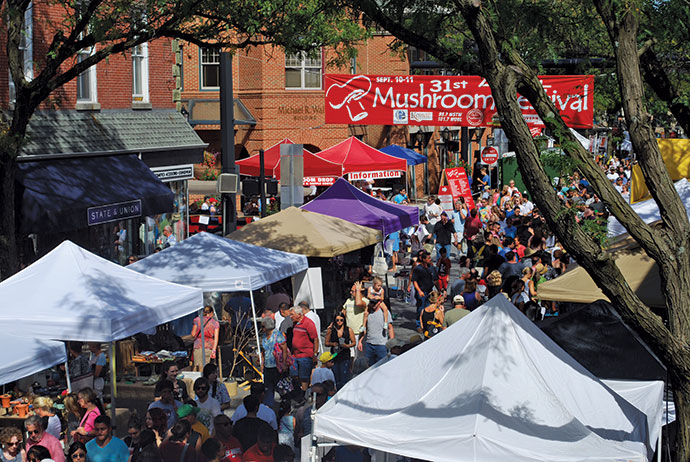 Bedford County farmer Zachary M. Akers was looking for cash flow when he sought a loan to help him build a duck house. In East Hanover Township, Jeffery Wenger had worked in the poultry industry for 11 years before making the leap to become an owner/operator in 2015.
Their stories are new, but their experiences undoubtedly are similar to those of the innovators who began growing mushrooms in southeastern Pennsylvania more than 120 years ago. All of these farmers had one thing in mind: making a living.
Mushroom farming in Pennsylvania started with two florists who had the bright idea to grow mushrooms in the unused space underneath their greenhouse benches.
Today, Pennsylvania's 68 mushroom farms produce 63 percent of all white mushrooms consumed in the United States. Their value: $554.4 million, according to Mushroom Farmers of Pennsylvania.
Zach Akers and his wife, Jessi L., started their duck business just after Thanksgiving 2015. They received a $400,000 Pennsylvania Industrial Development Authority (PIDA) loan to help with construction of the 63- by 644-foot duck house on the farm owned by Zach's parents. Total project cost was $1.18 million, with Fulton Bank providing a matching $530,000 loan and a $250,000 loan from the Next Generation Farm Loan Program through Fulton Bank.
The Akers raise Pekin ducks. The company they contracted with supplies the birds and the feed. The Akers supply the building and the labor, and, says Zach, "They pay me to raise the birds."
The duck house was constructed for what Zach calls two-stage housing.
"We have a starter room and a finish room. So, I'm actually starting birds before I send out my finish room," he says. "They're in here for anywhere from 35 to 40 days depending on what market they're trying to hit and what weight they want." The "they" he refers to is the company with which he contracts.
"So, with the overlap, I'm sending birds out of here every 28 days," Zach says, "and I'm getting birds every 28 days. The birds come to us hours old, from Hamburg, Pennsylvania. They'll hatch that morning, and they'll load the truck and call me when they're about an hour out. Then I've got to be here to unload and get them settled in."
"My goal is to have an income-producing farm for the next generation," he says. Noting that at some point he has to buy the entire farm from his parents, Zach says, "So this farm has got to be able to pay for itself. I couldn't buy this farm while working a job and trying to farm on the side. I needed to do something in order to make this farm create more income in order to pay for itself and eventually become self-sufficient."
Jeffery Wenger runs a one-man operation in Quarryville, Lancaster City. He raises 480,000 chickens per year, all by himself. How is that possible?
Wenger answers with one word: "Automation."
Wenger had worked in the poultry business for just over a decade, but he got his shot at running his own chicken farm when the Lebanon Valley Economic Development Corporation was awarded a $400,000, 15-year PIDA loan at 3.5 percent on his behalf.
He used the money to purchase his grandparents' farm and add two broiler operations. Wenger built two barns, each with a 40,000-per-flock capacity. So the farm capacity is 80,000 per flock.
In business since December 2015, Wenger raises six flocks each year, thus the 480,000 chickens.
His broiler operation, Wenger says, is "very much computerized. There are central computer systems in each barn that control all the fine tuning as far as feed, ventilation, air and water movement. I just make sure everything is functioning the way it's supposed to and make any adjustments daily as needed."
Wenger raises his antibiotic-free chickens under a contract with Hain Pure Protein Corp., in Fredericksburg, PA.
Appeeling Fruit, an established business in Berks County, received a $301,176 PIDA loan to use for equipment replacement. The company received a matching $376,470 loan from Customers Bank to help pay for three packaging machines.
Open since 1991, Appeeling Fruit began with Steve Cygan and his wife, Beth Ann, providing fresh sliced apples for bakeries.
Eight years in, the company began selling its fresh sliced apples to retailers, food service companies, schools and to private labels.
On the retail side, Appeeling Fruit sells 12-ounce packages of sliced pears and sliced apples including red skin, green, organic and honey crisp. Retailers also can get 2-ounce bags of sliced organic apples.
Food service customers may buy 2-ounce bags of sweet apples or red seedless grapes or 2.5-ounce bags of a combination of the two or sliced pears. Larger quantities also are available for the food service industry.
Two-ounce packages of sliced apples are available for schools through the USDA Commodity Apple Slices for Schools program.
By rinsing the fruits in an FDA-approved combination of minerals including calcium and ascorbate (Vitamin C), the fruits stay fresh, and they are, well, "appealing" when opened and eaten. For the most part, Appeeling uses Gala, Empire, Fuji, Pink Lady and Granny Smith apples.
The Pennsylvania Department of Agriculture's PA Grows program exists to help farmers navigate the world of loans and grants. PA Grows operates a toll-free number and website support program to help agribusinesses access the money they need to begin, continue and expand their business.
PA Grows works with the state's Department of Community and Economic Development, the U.S. Department of Agriculture's Farm Service Agency, Rural Development and Natural Resource Conservation Services.
The organization helps farmers, food processors, farmer's market operators and other agricultural businesses learn about state and federal programs that provide access to grants and low interest loans.
While farmers like Akers and Wenger have just launched their businesses, the state's mature mushroom industry is so established that it has had its own festival for more than 30 years.
Held the weekend after Labor Day each year, the festival attracts 100,000 people to Kennett Square, known as the mushroom capital of the world.
Zach Akers, who hopes to pass his duck operation on to his children, might take heart from Buster and Artie Needham, veteran mushroom growers. Buster Needham started his mushroom farm in 1958, and in the intervening years Artie and another son joined the family business. It seems to be a Pennsylvania tradition.