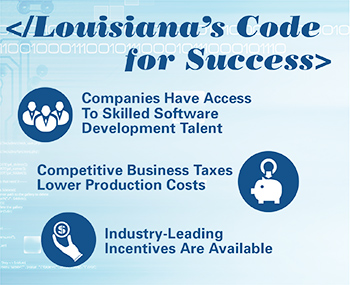 Over the last few years Louisiana has emerged as a hub for technology and software development. Its unique advantages, including a low cost of living, high quality of life and the nation's most comprehensive incentives for software development, are attracting globally recognized companies. 
The state is committed to rapidly growing its current and future software workforce through investments totaling more than $38 million in the computer science and engineering departments of higher education institutions across the state, including Louisiana State University, the University of Louisiana at Lafayette, the University of New Orleans and Louisiana Tech University. These investments were made in conjunction with project announcements across the state by corporate partners including CGI, CSC, IBM, GE Capital and CenturyLink. 
With its existing workforce and through strategic investments in higher education programs, Louisiana is on the path to becoming one of the top states in computer science graduates. Technology companies in Louisiana have ready access to a skilled workforce that includes over 22,500 informational technology professionals. Software and digital media clusters are emerging around the state, particularly in Baton Rouge, Lafayette and New Orleans, bolstering Louisiana's vision of a technology ecosystem.
Baton Rouge
Digital media and software development continue to climb in Baton Rouge. Video game developer EA Sports selected Louisiana State University (LSU) for its North American Test Center in 2008 and significantly expanded its presence in 2012. To better accommodate the company's facility needs, and to grow LSU's digital media curricula, the university established the Louisiana Digital Media Center on the LSU main campus. The 94,000-sq.-ft. site is now the permanent home of the EA Baton Rouge, with employment flexing between 400 and 600 jobs, along with the LSU Center for Computation and Technology and a diverse digital media curriculum for students.
The Capital Region's biggest technology announcement arrived in 2013, when IBM committed to investing in a new 800-job technology center in downtown Baton Rouge. More than 200 IBM employees were working in temporary office space before the company moved in May 2015 to a new $44-million urban development that includes the nine-floor IBM technology center and a 10-story residential tower of smart-home residential units and townhomes.
To answer the demand for more computer science graduates, the State of Louisiana is funding a 10-year, $14-million expansion of higher education programs, with the LSU-led initiative expected to double computer science faculty and triple the number of annual bachelor's degrees awarded in computer science at the Baton Rouge campus.
Lafayette
Among other projects, Lafayette invested in a municipal fiber-to-the-home-and-business service that brings 100-percent fiber-optic access to all of Lafayette at 1-gigabyte-per-second speed. It has allowed tech entrepreneurs to flourish.
Technology companies in Louisiana have ready access to a skilled workforce that includes over 22,500 informational technology professionals.
Acadiana's software development sector has expanded rapidly, evidenced by the 2014 announcement of Canada-based CGI, the world's fifth-largest independent IT services firm. CGI is establishing a 400-job US technology center in Lafayette.
Also in 2014, Silicon Valley-based software development and IT firm Enquero announced it will open a 350-job enterprise software and technology services center in Lafayette, from which it will serve commercial clients. Just a few months later in September 2014, Perficient — a leading information technology and management consulting firm — announced it would establish a 245-job software development center in Lafayette.
CGI, Enquero and Perficient will join a thriving tech sector in Lafayette that includes website development and communications firm Bizzuka, listed among Inc. magazine's fastest-growing private companies in America for 2010, 2011 and 2012. Tech leaders point to a strong regional infrastructure that includes the University of Louisiana at Lafayette's School of Computing and Informatics, a National Science Foundation Center of Excellence.
In 2014, as part of the CGI project, the state of Louisiana announced a $4.5-million higher education initiative over 10 years, led by the University of Louisiana at Lafayette, that will triple the number of annual graduates in computer science, computer engineering and related fields.
New Orleans
The post-Hurricane Katrina recovery of New Orleans is well documented as one of the nation's greatest comeback stories. A city challenged by disaster recovery and evacuation quickly became a noted hub of innovation, entrepreneurship and intellectual energy. The region has seen continuing new investment in emerging sectors, while legacy industries also have expanded.
By 2010, New Orleans had established itself as a vibrant tech center, earning accolades in national media outlets for its ability to attract innovators and tech entrepreneurs. New Orleans' lower operating costs, high quality of life and state digital media incentives convinced global video game designer Gameloft and other tech firms to establish sites in New Orleans.
GE Capital selected the Crescent City for a 300-job information technology center that opened in 2012. With help from LED FastStart — Louisiana's top-ranked state workforce development program — GE Capital filled jobs at a much faster rate than expected. The company benefited from a valuable regional partner, the University of New Orleans, and $5 million in state higher education support over 10 years to develop the Software Engineering Apprenticeship Program.
High Voltage Software (HVS) is another major tech win for New Orleans. The company has shipped 95 game titles and worked with more than 25 major brands including Star Wars, Toy Story, Batman, SpongeBob Square Pants, Captain America and others. One of the largest third-party game developers in the world, HVS will establish a studio in New Orleans with 80 game development professionals.
In addition to the well established players flocking to New Orleans, the city is also home to a vibrant startup community. Dubbed by many as the "Silicon Bayou," the city has seen a flurry of activity from tech startups of all types.
Among the more interesting clusters emerging is the edtech ecosystem, which is being driven by 4.0 Schools, a non-profit incubator for education based startups. Since 2014, 4.0 Schools has helped create over 35 new ventures. One of the more successful to date is Kickboard, a company focused on instructional management technology.
In addition to edtech, food tech is also exploding in New Orleans. Dinner Lab, founded in 2012 in New Orleans, is redefining social based dining through pop-up events built around up-and-coming chefs from across the country. They represent both the future and the past for the region — innovation and food.