When Vicki Hollub took over as president and CEO of Occidental Petroleum in April 2016, she became the first woman to head a major American oil company.
Today, Occidental continues its robust growth in the international oil industry, reaching a market capitalization of $56.4 billion at the end of last year. With operations in the United States, the Middle East and Latin America, Occidental is positioned to be a global player for decades to come.
In a recent interview, Hollub talked about doing business in Texas and what it's like to lead a major American oil company that's based in Houston.
How does the tax and regulatory climate in Texas facilitate corporate growth and expansion in the state?
VICKI HOLLUB: Texas has one of the lowest tax burdens in the United States, with no state, corporate or personal income tax. Commerce is rooted in a business-friendly regulatory climate that encourages job growth and economic development, which makes Texas an attractive place to do business for companies of all sizes. Occidental is appreciative of this business-friendly environment as it supports the success of companies like ours so we can recruit and retain top-notch talent, maximize value for stakeholders and reinvest in the communities we operate in as we strive to be a Partner of Choice®.
You were involved in leading Occidental's expansion into the Permian Basin, which has proven to be a game-changer for American energy independence. How significant has that been?
HOLLUB: The Permian Basin is foundational to Occidental, as we are one of the largest oil producers and acreage holders there. The Permian is huge and has the capability to sustain its current position with respect to the rest of the world for probably another decade or two at least, so there is significant potential remaining. Occidental has more than 50 years of reserves remaining in the Permian, and I would not be at all surprised to find Occidental still here in 100 years. Just as I expect the Permian Basin to be the last U.S. basin standing, Occidental will be the last company standing.
You are the first woman to head a major American oil company. What does that say about your company, and what does that mean to you?
HOLLUB: Occidental's culture is unique in that we try to make sure everybody has the opportunity to contribute and make us a stronger company. We encourage innovative thinking, smart risk-taking and ownership so people feel empowered to improve processes and achieve better results.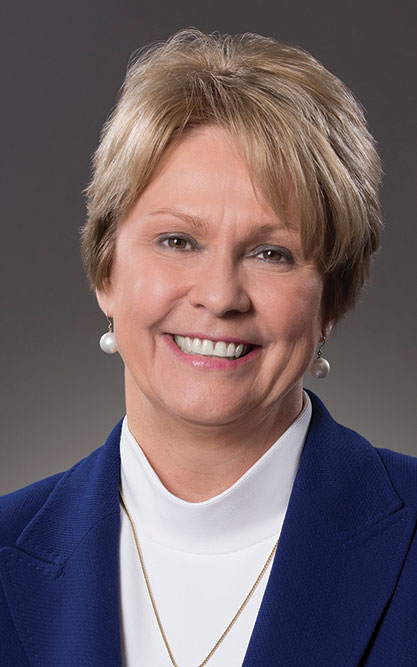 "In 2014, Occidental moved its headquarters to Houston as it brought us closer to the heart of our operations and the people who work in the oil fields of the Permian Basin. Given the state's business-friendly nature, we have not looked back."
I have been with Occidental for over 30 years and have taken advantage of every opportunity presented to me, from working in the field, on the rigs and in various parts of the world, and taking on leadership positions along the way. There is something to be learned from every person you encounter and every job you tackle — it is these collective opportunities and the people I have met that have contributed the most to my career path.
How does being headquartered in Houston help your company thrive?
HOLLUB: Houston is an international hub for business and trade that is home to more than 20 Fortune 500 companies. The city has a concentration of energy companies, and is also known for its aerospace, information technology and health care industries. Houston has one of the nation's fastest growing populations, is a top-10 city for attracting millennials and ranks first in retaining college graduates. The area's workforce is highly skilled and diverse, and residents enjoy vibrant arts and culture and quality of life amenities. Each of these qualities is essential to a strong local economy that is poised to thrive for business now and in the future.
Business is also committed to causes in the Houston community. Occidental partners with nonprofits to provide programming for education, social services, the arts and culture, military veterans and the environment through its community partners program. Some of the organizations we support include the Houston Symphony, American Corporate Partners, the Houston Astros Foundation, Houston Food Bank and Houston Museum of Natural Science.
Houston suffered a major blow with Hurricane Harvey two years ago. What did you learn from the city's recovery?
HOLLUB: Houston's response to Hurricane Harvey reinforced my belief in how resilient this community is. There were so many inspiring stories of generosity and compassion, and I was especially proud to see how Occidental employees came to the aid of their colleagues, neighbors and strangers. We had employees who were trained by Texas Search and Rescue combing neighborhoods to rescue people from flood waters. There were employees in West Texas collecting construction supplies and basic essentials that they then trucked to the Gulf Coast region. Our employees in Abu Dhabi held bake sales to raise funds for affected colleagues. These are just a few examples of the extraordinary compassion and willingness to help others that we saw, and it was truly awe-inspiring.
The business community's response was equally tremendous, with companies donating goods and services while offering resources and support to help employees and families who were displaced by the disaster. Houston would not have recovered as quickly were it not for the selfless acts of all who have contributed.
What is your advice to corporate executives in other parts of the country who may be considering an expansion opportunity in Texas?
HOLLUB: In 2014, Occidental moved its headquarters to Houston as it brought us closer to the heart of our operations and the people who work in the oil fields of the Permian Basin. Given the state's business-friendly nature, we have not looked back. Texas is an excellent source of highly educated and trained workers — its 13 million-person workforce is the second-largest in the nation — and it has a strong higher education system. The Houston region alone has 20 universities and colleges, which will be critical to developing the workforce of the future.
Texas is consistently ranked as one of the top states to do business, and first for economic climate and growth prospects. This is a great place for commerce.