In Texas, small doesn't necessarily mean the same thing as it does in other states. Small businesses seem to grow larger in Texas, and small towns can offer more than some major metro areas. In Abilene, that is undoubtedly true.
Consider the case of Hartmann's Inc., which got its start in Abilene back in 1955 as a small engine repair shop. According to the founder's grandson and company president, Alan Hartmann, it is still a "small company" with just 55 employees at its headquarters and manufacturing facility in Abilene and another seven at its Jacksonville, Florida, location.
Today, the family-owned company produces precision parts for some of the biggest names in the aerospace, automotive and medical industries — like Johnson & Johnson, Cummins Engines and Emerson Automation. Hartmann's also serves a few other local customers in the DFW area, including Boeing, Pratt & Whitney, Lockheed Martin, Raytheon and Aerojet Rocketdyne.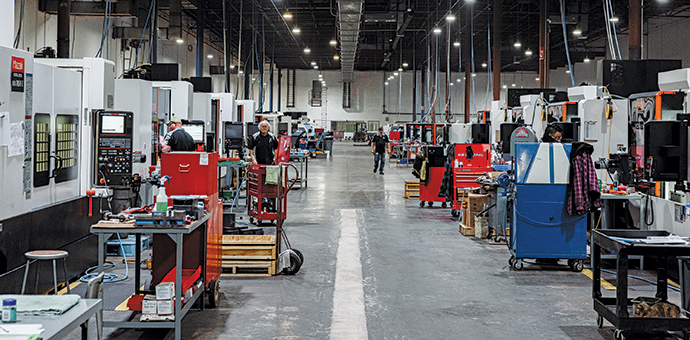 Hartmann said that operating the company for nearly 70 years in Abilene has provided several benefits. First, Abilene's people are skilled and hardworking, which has given the company a solid team to rely on over the years. Second, I-20 provides easy access to technical resources in major cities like El Paso and the Dallas-Fort Worth metro area. Finally, "the city has been absolutely fantastic in our latest growth push that we've had," Hartmann said.
Abilene's central location offers ease of access to markets on both coasts, the Midwest, Northeast and Mexico. With Interstate 20, U.S. highways 83, 84 and 277, as well as rail services by Union Pacific and Southern Switching Company, getting goods to market from Abilene is easy.
In 2020, more than 122,500 people called Abilene home. Additionally, the region boasts a 19-county labor shed representing more than 140,000 people. The city is home to several higher education institutions, including three private universities, two public community and technical colleges and the Texas Tech Health Science Center — Schools of Nursing, Public Health & Pharmacy. Dyess Air Force Base in Abilene supports more than 5,000 civilian and military personnel and 8,000 family members and retirees.
Room to Grow
The city's two business parks and available properties mean companies have plenty of room to grow when they need to. Abilene's next-generation industrial park, Access Business Park, offers several shovel-ready sites ranging from two to 15 acres. While the city's 1,000-acre business park, Five Points Business Park, provides ample room for all-sized companies. Five Points Business Park offers companies easy access to Interstate 20, with service by Union Pacific Railroad, and is fully equipped with electrical, natural gas, water and wastewater and fiber optics for telecommunications. Additionally, the park is only a 15-minute drive from the Abilene Regional Airport, which offers six round-trip daily commercial flights to Dallas-Forth Worth and two round-trip daily commercial flights to Houston.
In 2019, Hartmann's Inc. had reached a critical junction. With several new contracts secured, Hartmann said the company found itself at the precipice.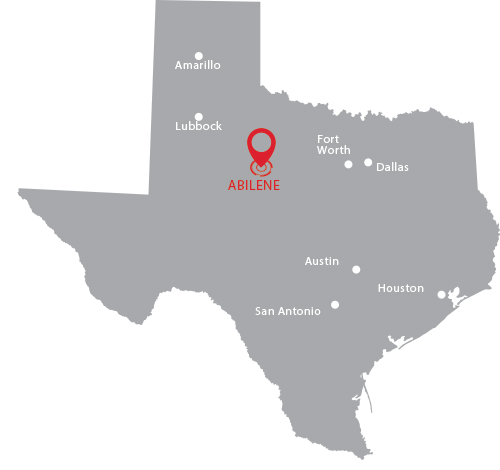 "We had to either grow or cut back," Hartmann said. "For the sake of the company and everyone that works here, we said, 'We're pushing forward, and we're going to be on the cutting edge of what we do.' And that's exactly where we are."
In early 2020, Hartmann's Inc. invested $12.5 million into its new 100,000-sq.-ft. facility in the Five Points Business Park with help from the Development Corporation of Abilene (DCOA). Hartmann explained that the DCOA's hands-on approach to working with businesses has benefited the company in the last year.
"I'm very thankful for the vision and the persistence of the DCOA," Hartmann said. "We were looking at a smaller building in Five Points. [They] said to me, 'Alan, I think you're too close to the growth. You can't see what you're going to need in the future. You're too close to it.' By the good grace of the Lord and a little persuasion, we wound up here in this magnificent facility."
Hartmann says the larger facility has given the company room to become leaner and more efficient.
"Abilene is a fantastic city. Misty Mayo and her entire team at the DCOA, I cannot say enough good things about them," Hartmann said. "They are unbelievably professional, and they're here for the best interest of not only the company that's moving in but also the city."
Business Friendly Reputation
Abilene and the DCOA team's reputation has been known to attract companies to the area in the past. For instance, when Prairie Dog Pet Products found itself ready to scale up, the company turned to the DCOA.
Founded in Dallas a decade ago, Prairie Dog Pet Products began by offering elk and deer antlers as natural pet treats. Demand for the product took off and hasn't slowed down yet. Today the company is growing and is in the process of becoming a new pet food brand called Primal Pets.
---
"The people of Abilene are the kind of folks you would want to partner with when you're going forward."
---
Scott Gordon, CFO of Primal Pets, said it was Abilene's proximity to Dallas, large labor pool and the DCOA's helpfulness that led the company to choose Abilene for the site of its 100,000-sq.-ft. manufacturing facility in 2015. Primal Pets is currently planning to expand its operation by 60,000 sq. ft. in the next two years. Gordon said the company also plans to triple its workforce at the same time.
"From a location standpoint, let's face it, Five Points Parkway is right on the Interstate," Gordon said. "It is a benefit. Getting in and out is easy. There's a lot of space at Five Points — the DCOA has a lot of dry powder. It's not like you're going to be competing with folks — at least in the beginning — for limited space. It's Texas and there's a lot of space around us. Not to mention the people — the people of Abilene are the kind of folks you would want to partner with when you're going forward."
They say everything is bigger in Texas, and Abilene's small-town community spirit has enormous appeal for companies of all sizes.
---
This Investment Profile was prepared under the auspices of the Development Corporation of Abilene. For more information, please contact dcoa@abilenedcoa.com; 325.676.6390.