If you are one of Elon Musk's 45 million Twitter followers, you may have noticed a number of tweets calling attention to Brownsville, Texas. Specifically, the CEO of Tesla and SpaceX has asked his followers to consider moving to the yet-to-be-built city of Starbase, near Brownsville and South Padre Island. SpaceX has operated a launch site in Boca Chica since 2012, where it tests its Starship prototypes that the company hopes will one day take people to Mars. Musk's tweets noted SpaceX will be hiring more engineers, technicians, builders and support personnel in the area as it continues to grow.
While impressive, SpaceX is hardly the only company in Texas aiming for the stars. Texas has long been home to leaders in aerospace, aviation and defense with major operations including Boeing, Bell Helicopter, Lockheed Martin, Raytheon, L-3 Communications and General Dynamics. The U.S. Army also recently selected the state as the location for its first Army Futures Command Headquarters.
Founded in 2016, Houston-based Axiom Space, Inc., is developing the world's first commercial space station. Axiom recently secured $130 million in a new round of venture funding which will accelerate the growth of the company's workforce and construction of its privately developed space station. The Axiom Station will serve as the central pillar of a thriving network of commerce in Earth's orbit — a linchpin of a space economy that Bank of America and Morgan Stanley both project could be valued at more than $1 trillion in the next few decades.
"Axiom Space is a force in the space sector, and it will become a centerpiece of the C5 Capital portfolio and enhance our vision for a secure global future," said C5 operating partner Rob Meyerson, who will join the Axiom Board of Directors. "The Axiom Station will be the infrastructure upon which we will build many new businesses in space, and it will serve as the foundation for future exploration missions to the Moon, Mars, and beyond."
In January, Axiom revealed its plans to fly a historic first private astronaut crew to the International Space Station (ISS) no earlier than January 2022. NASA selected Axiom to begin attaching its own space station modules to the ISS in January 2020. The company plans to deliver as early as 2024. By late 2028, Axiom Station will be ready to detach when the ISS is decommissioned and operate independently as its privately owned successor.
BAE Systems Expands Austin Operations.
In August 2020, BAE Systems, one of the world's leading aerospace and defense technology companies, expanded its operations in Austin with a new campus development in Parmer Austin Business Park. The new facility is located near the U.S. Army's Futures Command, as well as the Austin Capital Factory, which is central to the innovation and entrepreneurial ecosystem in Austin.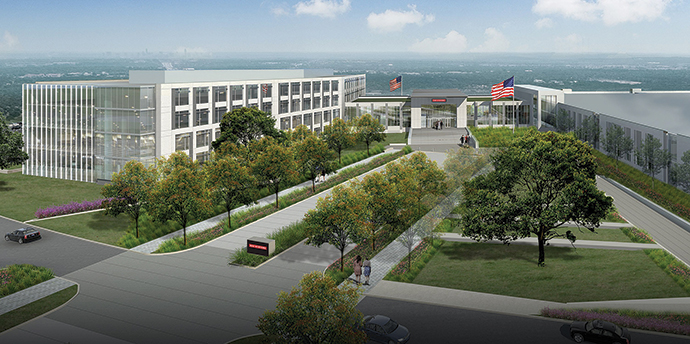 When completed, BAE Systems' new campus will be valued at approximately $150 million and will include engineering, manufacturing, laboratory, and office space to primarily support U.S. Department of Defense customers. BAE Systems is working with Karlin Real Estate on construction of its new 390,000-square-foot-facility which will begin this year and is expected to be complete in 2022.
Scott Hatch, Site Director of BAE Systems Austin Business Center, explained the company's expansion in Austin came down to three factors.
"Community: BAE Systems has a rich history — over 65 years — in the Austin community. This expansion continues our longstanding legacy of innovation in Austin, while also preparing us for our projected engineering and manufacturing growth.
"Innovation: The innovation ecosystem in Austin is unique and we want to continue to be an active participant. The new facility is located near the U.S. Army's Futures Command, as well as the Austin Capital Factory. BAE Systems is a member of the Capital Factory's Innovation Council and collaborates with startups and small businesses to accelerate the development of new defense technology for America's military. BAE Systems' Austin employees innovate for a wide range of programs in the areas of autonomy, cyber, sensor development and electronic warfare, and manufacture those leading-edge capabilities on the company's factory floor.
"Talent: Austin is a great place to attract and retain a diverse workforce. It is an ideal location to attract the talent we need to deliver the latest capabilities to our customers."
"Our expansion continues our longstanding legacy of innovation in Austin to grow next-generation capabilities that include the design, development, and manufacturing of radio frequency and electro-optical/infrared countermeasure systems primarily for our aerospace and defense technology customers," said Hatch.