"The last one out of Silicon Valley, please turn out the lights." Signage to that effect has yet to be seen in the Bay Area, but it may be only a matter of time. Corporate headquarters relocations to Texas, particularly from Silicon Valley, California, are on a roll; 2021 is forecast to see even more such activity than recent years. In 2020 alone, tech giants Oracle and Hewlett Packard Enterprises announced HQ relocations from California to Austin and Houston, respectively. Dallas is the new home base for commercial real estate services CBRE Group, which moved its headquarters from Los Angeles. In January 2021, data center giant Digital Realty Trust, based in San Francisco, also announced a headquarters move to Austin.
Texas' capital is also home to Tesla Motors' gigafactory now under construction and is the new home of the electric car makers' Co-founder and CEO Elon Musk. Reports of Tesla's headquarters moving from Palo Alto to Texas were still speculation in early April.
The Bay Area is not alone in seeing key headquarters departures for the Lone Star State. Also in 2020, Peter Rex, founder and CEO of Seattle-based technology, investment and real estate firm Rex Teams, announced his company's relocation to Texas, citing social unrest and high prices as being among the factors for the decision. Rex Teams had previously been based in San Francisco.
As Rex noted in an October 2020 Fox Business interview, "Being a servant CEO, I want to provide my employees with a place where they can afford to buy a home, they can live abundantly and afford the cost of schooling. Second, I want to be in a place where the American Dream can flourish, which includes having a culture that's amenable to flourishing and a government that's sensible. Thirdly, I want to be where the next big wave is going to be. I believe that wave, 30 years in the future, is not necessarily going to be in Seattle and San Francisco again. I think it's going to be elsewhere."
Like Texas, Rex intimates, where housing costs, a lower-cost tax environment, well-stocked labor pool and robust business climate all beckon. Nearly 200 companies have relocated their headquarters to Texas in the past decade, noted Ed Curtis, founder and CEO of YTEXAS, in a mid-October interview on Fox Business. "I think 2021 could very well be the biggest year of corporate expansion and relocations that the state has ever seen," he related. YTEXAS is a Texas business network for companies relocating, growing and expanding in the state, which already is home to more than 50 Fortune 500 and 95 Fortune 1000 companies.
Aerospace, Financial Services, Too
In September 2020, Wesco Aircraft Hardware Corp., which now operates under the brand name IncoraTM (Wesco), announced it will relocate its headquarters from California to Fort Worth, bringing more than $6 million in capital investment and expanding its presence in the state to include up to 239 jobs. In January of this year, Wesco Aircraft merged with Pattonair Limited to form Incora, one of the world's leading providers of comprehensive supply chain management services to the global aerospace and defense markets and other industries. A Texas Enterprise Fund (TEF) grant of $1,826,400 has been extended to Wesco Aircraft Hardware Corp.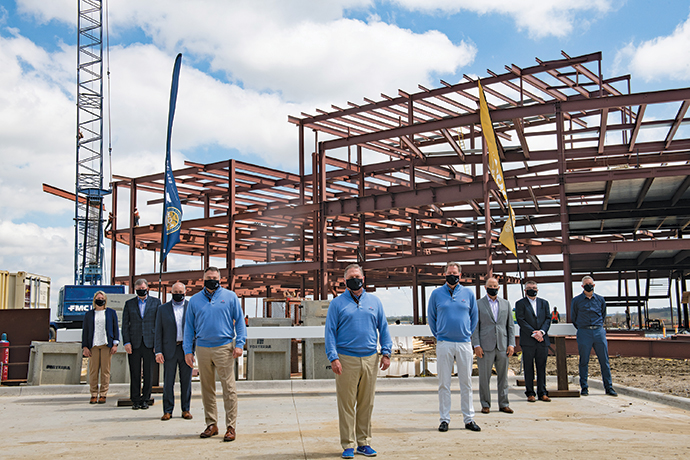 "Texas has cultivated a strong economic climate with low taxes, reasonable regulations, and a high-caliber workforce, which allows companies like Wesco to innovate and prosper," said Governor Greg Abbott. "As a thriving aviation and aerospace hub, Fort Worth is the ideal location for Wesco to continue to grow its operations and serve its customers. I am proud to welcome Wesco to Texas, along with the more than 200 jobs it is bringing to the region and look forward to working together to keep Texas the number one economy in the nation."
"Incora is a leading, global provider of innovative supply chain solutions, and the Dallas-Fort Worth area already is home to two of our offices and our largest, by volume, distribution center in the world," said Incora Chief Executive Officer Todd Renehan. "Our new, larger office space in Fort Worth will allow us to bring our teams together to increase efficiency, encourage collaboration and support the future growth of our business. This centrally located site also will offer more accessibility and availability to our customers and colleagues across the U.S. and in Europe."
Not all headquarters projects in Texas are relocations. Some Texas companies want to grow where they are. State Bank of Texas (SBT), $1-billion asset full-service commercial bank headquartered in Dallas, announced in March it has finalized plans to build a new headquarters building in the Las Colinas Urban Center. Construction is expected to be completed mid-2023. The building project was announced by Chan Patel, CEO and board chair of SBT. "We are tremendously pleased to be locating our headquarters in the vibrant Las Colinas Urban Center," said Patel. "This investment further strengthens our commitment to the Irving/Las Colinas community and allows our business ample room to continue growing."