Despite the global pandemic, or perhaps because of it, many people and companies decided that 2020 was the year to move to Texas.
For a record ninth year in a row, Texas led the nation in corporate facility expansion activity, according to Site Selection magazine — and this time that included a slew of corporate headquarters relocations.
Texas also led the nation in 2020 in household relocations, as folks in droves packed up their homes in places like California, New York and Illinois and high-tailed it to the Lone Star State in search of a better life for themselves and their families.
A big reason why Texas lures so many employers and workers alike is all the work that goes on behind the scenes at the Economic Development & Tourism Office of Texas Governor Greg Abbott. Leading that team is Executive Director Adriana Cruz.
We recently caught up with Cruz for a discussion on the events of the past year and her plans for continuing this unprecedented run of success in economic development for Texas.
2020 and 2021 have been full of news stories about people and companies moving to Texas. What's driving this mass migration?
CRUZ: Texas has always been known as a land of opportunity and freedom. Texas ranks No. 1 in the country in population growth. It did in 2019 and it has for the past 19 years. The No. 1 location they're coming from is California. Texas ranks second in relocation activity in the nation, according to Texas Realtors. What brought this on? Our governor announced the process last April of how Texas would reopen the state. I was a member of that Strike Force. We asked, how can you be safe and still have your doors open? That common-sense approach appealed to a lot of companies and CEOs. They started questioning why they were located where they were. A lot of prospect activity came in because of that. They were not just calling our office, but calling the governor directly. We were thinking as economic developers that companies would put things on hold during an election year. We thought they would take a wait-and-see attitude. But the pandemic started accelerating companies' decisions.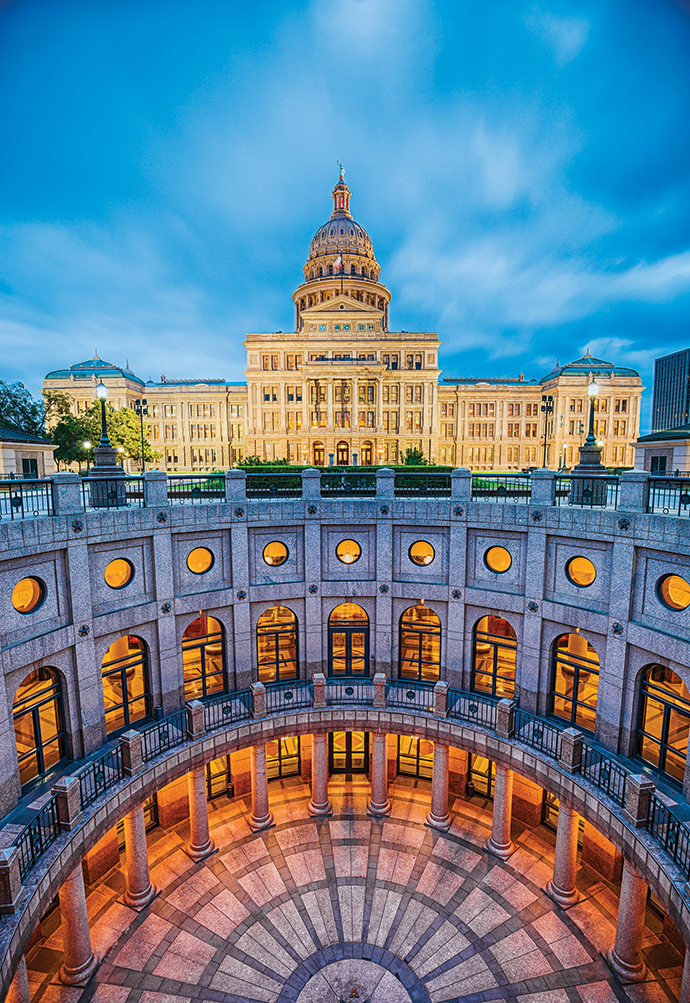 Your state won the prestigious Site Selection Governor's Cup yet again this year. How were you able to perform at such a high level in 2020 despite the global pandemic and recession?
CRUZ: It is such an honor to win that award and to have the projects recognized nationally. To do it in a pandemic year is even more amazing. We had just under $13 billion in capital investment. A lot of that had to do with the methodical and strategic way the governor went about reopening the state. It takes a lot of people working on this together — state agency partners and local and regional groups. Without them, we could not accomplish this.
Gov. Abbott made the decision to open your state fully recently. How was that decision greeted by the business community?
CRUZ: He implemented measures to protect our communities to make sure Texans could earn a paycheck and put food on their tables. On March 2, he announced that businesses could reopen 100% on March 10. Even at 75%, many Texans were still sidelined and could not pay their bills. But given the improvement in our COVID numbers, Gov. Abbott recognized that it was time to open Texas 100%. Texas is in a far different situation today than we were at the beginning of the pandemic. For a year, Texans have mastered the safety protocols. Today (March 22), 8 million vaccines have been given to Texans. We are vaccinating about a million people a week. The positivity rate is down. Hospitalizations are down. We have learned the strategies to keep ourselves safe.
How hard was Texas hit by the pandemic last year? Which industries absorbed the biggest blow?
CRUZ: Texas was hit very hard. 1.4 million jobs were lost in March and April. Leisure and hospitality were the sector that was hit the hardest — accounted for 40% of the job losses. We are seeing a bounce-back in that sector now. Many of the businesses continued to operate and were hiring. Our unemployment rate went over 13.5%. It is now 6.8%.
How long do you think it will take before Texas returns to peak employment?
CRUZ: Economist Dr. Ray Perryman says that over the next five years, we will have GDP growth of 4.5%. We feel very optimistic. We feel like we are on the way back and the economic recovery is taking hold. Some of our communities rank in the top 10 for job resiliency. We have had 9 consecutive months of job growth.
The recent deep freeze and power outages in Texas made national headlines. Are you having to do anything special to counteract any lingering perceptions of Texas because of that?
CRUZ: The Governor immediately stated that responding to the storm and power outage was the top priority of the Legislature. A lot of companies and site consultants understand that every region is susceptible to natural disasters. It was a once in a 500-year event. Never had all 254 counties been under a winter storm warning. Texans learn lessons and we take action. The Governor is working with the lawmakers to add more power to the grid. He recently issued an order to mandate and fund the winterization of the winter power structure.
How does Elon Musk's decision to locate the Tesla Cybertruck plant in Texas impact your standing in the global automotive manufacturing sector?
CRUZ: It has had a huge impact in the automotive sector, technology sector, battery manufacturing, venture capital, etc. We have seen a huge exodus of executives leaving California and moving to Texas. We have seen a tremendous amount of increase in interest. The Tesla project brings 5,000 new jobs and $1.1 billion in capital investment. We are seeing other big announcements in the auto sector. Toyota announced an expansion of its truck manufacturing plant in San Antonio. There was already great interest in Texas. We are so happy to continue to build on that reputation.
What role is quality of life playing in attracting remote workers to communities in Texas?
CRUZ: In today's world of remote working, people are choosing where to live first and then where to work. Quality of life is extremely important in those decisions. Our comparatively low cost of living, great outdoor opportunities and wide-open spaces make Texas one of the best places to live in the U.S. This is also an affordable place to do business. As a result, we are a population magnet.
---
"We were thinking as economic developers that companies would put things on hold during an election year. We thought they would take a wait-and-see attitude. But the pandemic started accelerating companies' decisions."
---
What are you hearing about the office sector in Texas? Will large CBD office buildings in your state return to something close to full occupancy anytime soon?
CRUZ: We believe we will see office buildings in our CBDs fill back up. Commercial real estate contributed $65 billion in GDP last year. Austin and Dallas-Fort Worth are some of the top markets in the country for commercial real estate, along with Houston and San Antonio. We are home to the corporate headquarters of CBRE. HP is building its corporate Headquarters in Spring, Texas. There will be telecommuting for the foreseeable future, but the office is still going to play a significant role in the Texas economy.
What's been happening on the FDI front since the advent of the pandemic?
CRUZ: Texas is very successful in FDI. Site Selection magazine has ranked us No. 1. Houston and Austin are very attractive. Small communities are also seeing their share of FDI — places like Plano and others. Companies from Brazil and Mexico are investing here. We have not been traveling abroad, so we are doing everything remotely now. That gives us a broader reach. We are able to do these Invest in Texas seminars more often now. We are doing them with Turkey, Peru, Panama, etc. We are getting the Texas word out there.