When your state has won the coveted Site Selection Governor's Cup a record nine years in a row, you may be tempted to rest on your laurels.
There won't be any of that going on in Austin this year, if Texas Gov. Greg Abbott has his way. Far from it, Abbott is doubling down on his pursuit of corporate plant investment and private sector job creation.
In a candid interview for this publication, the 48th Governor of Texas said he isn't done persuading CEOs and other business leaders to choose Texas for their various operations. From corporate headquarters to manufacturing plants and logistics facilities, companies are investing into new and expanded projects in the Lone Star State at an unprecedented pace.
In 2020, Texas outpaced every other state in the nation by landing 781 corporate facility deals, nearly doubling the total of second-place Ohio, which tallied 419. No other state in America even came close to reaching half of Texas' total.
A big reason behind Texas' windfall last year was the Governor's decision to reopen his state while many others were still closed for business.
"We undertook a number of measures that were focused on trying to maximize businesses being allowed to remain open and operate safely and to minimize any type of shutdown," the Governor told Site Selection Editor-in-Chief Mark Arend, "and find the right blend of that and maximum public safety. We focused on keeping businesses open as much as possible and providing them the guidance and the tools, meaning we were able to surge testing supplies through chambers of commerce to help businesses be able to test employees, for example."
The result was only a minor drop-off in corporate plant expansions from 2019 to 2020. In 2019, Texas landed 859 facility projects. In 2020, it secured 781.
In his more recent interview with us, the Governor pledged to pursue a balanced approach once again as he makes daily decisions on how best to protect both public health and business viability. On March 2, he announced that businesses in his state could reopen 100% on March 10 as long as certain public health attainment rates were being achieved.
Then, he went back to work, which for him meant getting busy on the phones talking to CEOs from around the country. Here's what the Governor had to say about that:
You talk to corporate executives around the country all the time. Many of them would like to relocate their companies to Texas because they are not happy where they are. What typically are their two or three biggest frustrations with their current location?
GOV. ABBOTT: The pace of CEOs calling me really has increased over the past year. They are frustrated with the governance of other states and the approach that their states take with businesses on things like taxes and regulations. We tell them that we want them, we embrace them, we support them, and we will help them achieve their vision for their companies. We then provide them with the resources and tools they need to get that done, whether that's incentives or workforce training or whatever they need. We embrace them and partner with our business leaders. And they know that they have a governor who is on their side and will work to make sure they succeed when they move to Texas.
What is it about Texas that people don't learn until they've been there for a year or two?
ABBOTT: Here is what they say to me after they moved here: "We always believed that Texas would have a greater sense of freedom, but we had no idea how dramatic that difference would be." Businesses have almost total freedom to run their company the way they see best. We can't run their businesses better than they can. We get out of their way and let them do what they do best.
---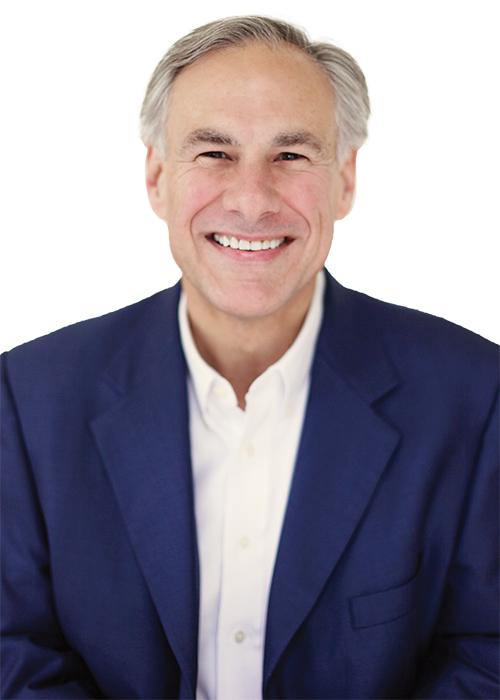 "The pace of CEOs calling me really has increased over the past year. They are frustrated with the governance of other states and the approach that their states take with businesses on things like taxes and regulations."
---
Over the last year, you've had to deal with a global pandemic, unprecedented recession, social upheaval and a massive winter storm. What's the biggest lesson you've learned about Texas and your job during that year?
ABBOTT: It is so important to show resilience and resolve and perseverance. Life is always going to give you challenges to face. You just have to do your best and move on. Both the House and Senate this week passed substantial legislation to ensure that the Texas power grid will be better than ever before. Here's an analogy that I like to share. At the very beginning of Texas was the fall of the Alamo, but Texans did not give up. They fought another battle a couple of weeks later and won our independence. In Texas, we don't let challenges get in our way. We overcome them.
Reshoring has become a hot topic over the past year. Which industries do you think are poised now to come back to America and to Texas in particular?
ABBOTT: One of the biggest lessons we learned from the pandemic was the mistake that had been made in offshoring so many critical aspects of our nation's health care. In Texas, we are now manufacturing PPE in addition to other critical medical supplies. A soon-to-be-announced vaccine is going to be manufactured at Texas A&M. From medical supplies and equipment to life-saving medicine, we understand the importance of having the immediate capability.
Speaking of success, Texas recently put two teams in the Final Four of the Men's NCAA Basketball Tournament: Baylor and Houston. What do you have to say about that?
ABBOTT: We have half the final four from the state of Texas. We play great basketball here and we are great at economic development too. That's what we say!