In March 2021, Amazon announced plans to open a new 1-million-sq.-ft. fulfillment center in Amarillo that will create more than 500 new full-time jobs.
"We look forward to becoming part of the fabric of the Amarillo community and are thrilled to be able to expand our operations in the Texas panhandle," said Mark Marzano, director of operations at Amazon. "We're grateful for the support we've received from local and state leaders and look forward to creating over 500 new, full-time jobs for the local community," he said, as Mayor Ginger Nelson gave credit to the Amarillo Economic Development Corporation "for the hard work in helping make this fantastic partnership with Amazon a reality."
Indeed, in a conversation I had later that month with Amazon Head of Worldwide Economic Development Holly Sullivan, she emphasized the importance of fabric over prefabricated plans.
---
Since 2010, Amazon has created more than 70,000 jobs in Texas and invested more than $16.9 billion across the state.
---
"Across the board, there are two things that will drive most of our business decisions," she told me. "One is available talent — ensuring we can have that initial day one talent, and also where we can invest in the long-term talent pipeline. Number two would be business friendliness. We want to locate and invest in communities that want us and can support us in the long term, and where we can build a long-term community partnership."
Whether it's a fulfillment center or a corporate office in location such as Austin, she said, "I can't emphasize enough the importance of external community partnerships with policy makers and economic development organizations we work with on a daily basis. They also can help guide where we can best integrate ourselves into the neighborhoods."
Map of Fulfillment
From January 2018 through March 2021, Site Selection magazine's proprietary database of corporate facility investment projects tracked more than 2,440 individual projects across all industry sectors and facility types in Texas. More than 30% of them — 805, to be precise — were distribution facilities. And a whole extended family of them were nice big packages of jobs delivered by Amazon to its new neighborhoods.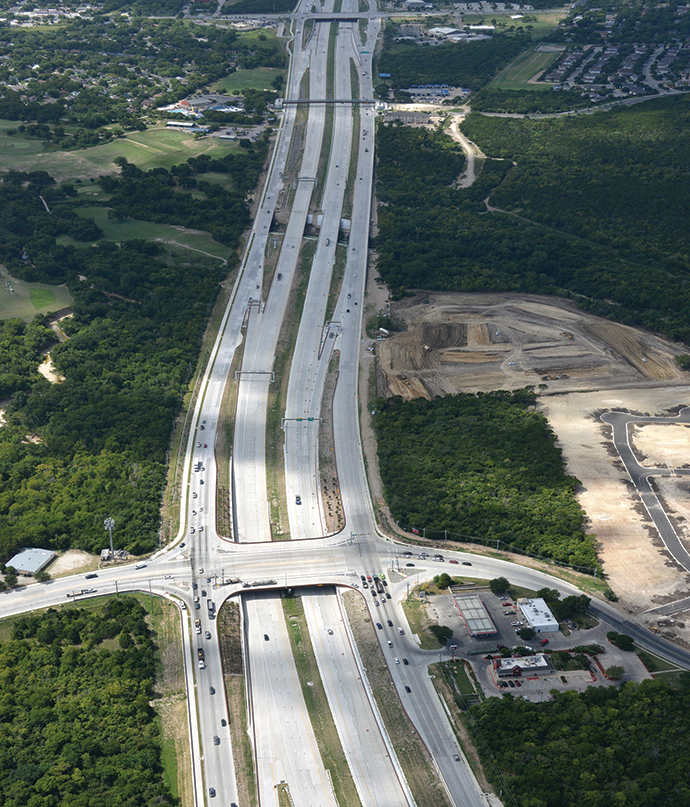 Since 2010, Amazon has created more than 70,000 jobs in Texas and invested more than $16.9 billion across the state, including infrastructure and compensation to its employees. The only states with more investment are California and Amazon's home state of Washington.
Amazon says its investments have contributed more than $18.8 billion in GDP to the Texas economy and have helped create over 49,000 indirect jobs on top of Amazon's direct hires — from jobs in construction and logistics to professional services. Moreover, more than 116,000 independent authors and small and medium businesses in Texas are selling to customers in Amazon's store, creating thousands of additional jobs across the state. Amazon's main investments in Texas include the following:
17 Fulfillment and sortation centers
10 Delivery stations
3 Tech hubs
3 Air Gateways
1 Regional Air Hub
35 Whole Foods Market locations
10 Amazon Hub Locker+ locations
1 Amazon 4-Star store
1 Amazon Books store
5 Prime Now hubs
1 Wind farm
7 On-site solar locations
Amazon Original series filmed in Texas: "Panic"
It's no wonder that during a Site Selection webinar in March 2021 about the top metro areas in the nation, Texas-based Susan Arledge, executive managing director of site selection and incentives at esrp, referred to the e-commerce facility surge inside and outside of Texas as "the United States of Amazon."
But they're not the only ones accessing Texas highways, ports, airports and customers. In Lancaster in recent months, Walmart has located two facilities totaling 2.2 million sq. ft. and 1,300 jobs; DSV Logistics is constructing a 1-million-sq.-ft. regional headquarters with 250 office jobs; and Kodiak Robotics is pioneering driverless semi trucks at their main Texas hub.
Shane Shepard, economic development director for the City of Lancaster, says the community has "a ton of creeks and rolling hills for housing, schools that are rated the same as our counterparts in north Dallas such as McKinney, Richardson, and Plano, an old downtown set for redevelopment and programming, and enough space for another 54 million square feet of industrial. He also notes the area has strong infrastructure for data centers.
Good thing. The e-commerce wave, after all, depends as much on the old information superhighway as it does on the roads that carry our goods.
Three Decades of Movement and Innovation
Meanwhile, that Amazon regional air hub is at AllianceTexas, the 27,000-acre master-planned, mixed-use community in north Fort Worth that in March announced it had generated approximately $91.98 billion in regional economic impact and over $2.82 billion in total taxes paid to local public entities during the past three decades. According to its annual Insight Research Corporation report, more than $8.24 billion of the development's economic impact was generated in 2020 alone, exceeding the economic impact generated in 2019 by nearly $1 billion — remarkable in a pandemic year, but not when one considers e-commerce was the world's pandemic-induced lifeline.
The AllianceTexas impact only figures to grow as transportation investment does too. Among projects currently underway in the AllianceTexas corridor is the construction of the Alliance Connector project (completion of I-35W from US 287 to Eagle Parkway; SH 170 from Parrish Road to I-35W; and Haslet Parkway extension). "Construction on the project kicked-off in summer 2020 and will be a three-year, simultaneous effort to complete stretches of three separate highway arterials, creating seamless highway mobility throughout the area," says AllianceTexas. "A testament to the public-private partnerships central to the AllianceTexas story, of the $768 million bid, only $25 million was paid by the Texas Department of Transportation (TxDOT)," the release continues. "The remainder, over $743 million, came from private investment."
The AllianceTexas Mobility Innovation Zone (MIZ) launched by Hillwood and Deloitte continues to expand too. And in 2020, expanding on Alliance Airport's legacy as the world's first industrial airport, Hillwood established the AllianceTexas Flight Test Center, which recently hosted North Texas' first unmanned aircraft system (UAS) delivery demonstration to a residential community with the Bell Autonomous Pod Transport (APT). "TuSimple, a global technology company with a focus on self-driving, heavy-duty trucks, also launched expanded autonomous trucking operations from the MIZ last year with a Hillwood-developed freight terminal," Hillwood reports.
"We've continued to focus on sound development fundamentals, while embracing new and innovative technologies that drive efficiency for our customers," said Mike Berry, president of Hillwood. "Though we all have experienced significant difficulties during the past year, AllianceTexas continues to prove its sustainability as an economic engine for the state of Texas and a place where business can thrive during the toughest of circumstances."