Central Texas' unique combination of higher education, logistical ease and innovation create a breeding ground for life-saving biomedical advancement.
Central Texas covers a region of 20 counties spanning about 17,400 square miles in the heart of the Lone Star State. The cities of College Station-Bryan, Killeen-Temple and Waco are the major economic and population centers in the region.
College Station is the No.1 city in the nation for career opportunities in the COVID-19 Recession.
This region is located at the center of the Texas Triangle, which is formed by Houston, Dallas-Fort Worth and San Antonio, giving businesses easy access to markets across the state. By 2050, more than 35 million people are expected to live inside the Texas Triangle region (including Austin.)
Home to approximately 1.2 million people in 2019, the region has a young, skilled population. According to the Texas Comptroller's Office, in 2019 three of the region's counties had a median age significantly below the state median age of 34.2 years in 2018. These three counties Bell (30.4 years), Brazos (25.5 years) and Coryell (31 years), combined with McLennan (33 years) — make up a majority of the region's population, with Brazos County boasting one of the "youngest" populations in the state. According to SmartAsset, College Station is the No.1 city in the nation for career opportunities in the COVID-19 Recession. Killeen-Temple also made the list at No. 22.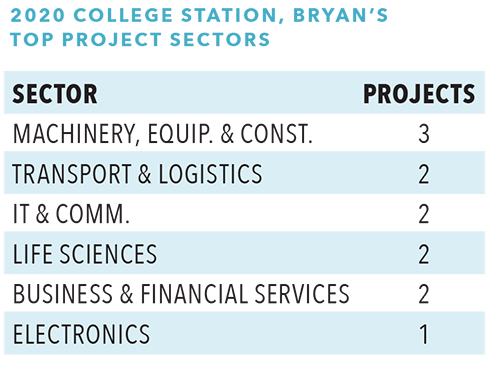 According to the Brazos Valley Economic Development Corporation the region is an international leader in the fields of engineering, agriculture and biomedical innovations. The region's "Biocorridor" is home to several companies like vaccine manufacturers iBio and Fujifilm Diosynth Biotechnologies, which recently completed its facility expansion in College Station. Matica Biotechnoclogy Inc. announced in December it would expand its College Station production facility for product development and manufacturing.
With more than 80,000 students in the region, higher education institutions include Baylor University, Texas A&M University and the Texas A&M Health Science Center in Bryan, as well as several community and technical colleges.