Everything from a relaxing beach vacation to a shopping excursion to Mexico can be enjoyed from the South Texas region that spans 37,800 square miles and stretches from the Mexican border up the Gulf Coast to some of the most important North American ports near Corpus Christi.
Covering 28 counties, South Texas is home to 2.4 million people, or roughly 8.4% of the state's population. Two large metropolitan areas anchor the regional economy: Corpus Christi and Laredo. Two smaller metros — Brownsville-Harlingen and McAllen-Edinburg-Mission — also play a sizable role in the cross-border economy.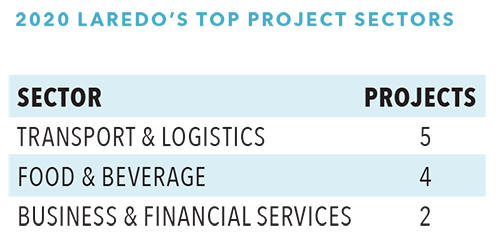 South Texas is notable for its coastal and border characteristics. Tourism, hunting, fishing and other outdoor leisure activities form a major part of the regional economy, as do trade and other cross-border activity between South Texas and Northern Mexico.
The dominant industries in the region include leather and allied product manufacturing; mining; petroleum and coal products manufacturing; fishing, hunting and trapping; pipeline transportation; law enforcement; transportation services; health care; oil and gas extraction; and museums and historical sites.
In 2020, the region benefited from several significant capital investments. The largest of these was a $48 million investment by Mission Produce in Webb County, creating 75 jobs. Other notable deals included a $12 million investment by Sicar Farms in Hidalgo County, creating 250 jobs; and a $7.5 million investment by JM Steel Corp. in San Patricio County, generating 50 jobs.
Texas A&M University-Corpus Christi is the largest 4-year school in the region, serving 12,000 students, while another campus of Texas A&M in Laredo educates 7,500 students.
The region continues to experience robust growth. Its population has risen by 7.4% (about 169,000 residents) since 2010. The Port of Corpus Christi, meanwhile, was recently ranked by Site Selection magazine as the No. 1 Free Trade Zone in the country. The port is also the No. 1 port in Texas for generating new industry and new jobs.