There is perhaps no more scenic place in Texas than the majestic Upper Rio Grande Region. Covering 21,700 square miles and stretching from the Mexico border and the New Mexico state line along the Rio Grande past Big Bend and around the area of the Guadalupe Mountains National Park, this region has captivated the American imagination for centuries.
Six counties form the foundation of this region, with the El Paso MSA serving as the dominant metro area. In 2019, about 865,000 people called the Upper Rio Grande Region home. This represents an increase of 40,000 people (5%) since the 2010 census.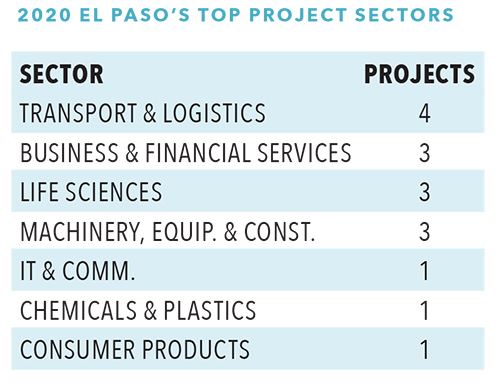 Major industries in the region include leather and allied product manufacturing; apparel manufacturing; law enforcement; truck transportation; petroleum and coal products manufacturing; museums and historical sites; administration of housing programs, urban planning and community development; heavy and civil engineering construction; primary metal manufacturing; and rental and leasing services.
In 2020, Greater El Paso landed 11 corporate facility expansion projects. The biggest deal came from Amazon, which announced a $191.7 million capital investment to build a distribution warehouse and hire 700 workers in El Paso. The TJX Companies, meanwhile, announced a $150 million investment to build a warehouse and hire 950 people in El Paso; and Marmaxx Operating Corp. announced a $90 million investment to build office and distribution space and hire 950 people in the area.
About 97% of the people of the Upper Rio Grande Region live in El Paso County.
The University of Texas at El Paso (UTEP) is the largest college in the region and educates more than 25,000 students each year. The National Science Foundation has designated UTEP as a Model Institution for Excellence, one of just six schools in the nation to receive that honor. UTEP is also one of only 11 universities in America to receive a $5 million Teachers for a New Era (TNE) research grant from the Carnegie Corp.
El Paso is served by Interstates 10 and 110, as well as four U.S. highways — 54, 62, 85 and 180. BNSF Railway Co. and Union Pacific Railroad Co. serve as the dominant rail carriers in the region.