When it comes to minerals gleaned from the earth, there is perhaps no place in America more important to the national and global economy than West Texas.
Home to the Permian Basin, West Texas contains the Mid-Continent Oil Field province and serves as one of the largest sources of oil and natural gas in the world. As a result, the economies of Midland and Odessa tend to reflect the boom-and-bust nature of the oil business.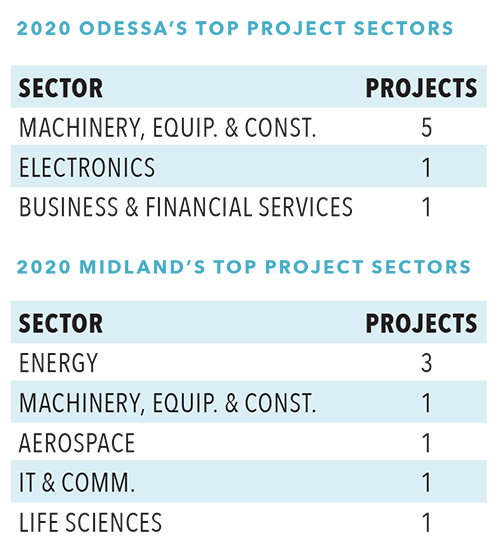 West Texas is a 30-county region that stretches from the towns of Mason and Brady in the east to the Rio Grande just south of Dryden and just north of Seminole. The three main metro areas of West Texas are Midland, Odessa and San Angelo.
Total population of West Texas in 2019 was 660,000, accounting for 2.3% of the state's population. Since 2010, the region has experienced a 16% increase in population. Approximately 52% of the region's full-time residents live in either Midland or Odessa.
Major industries in the 40,000-square-mile area are mining; oil and gas extraction; pipeline transportation; heavy and civil engineering construction; support activities for mining; rental and leasing services; truck transportation; gas stations; fishing, hunting and trapping; and lessors of non-financial intangible assets.
West Texas has grown by 15.8% since 2010, adding 90,000 people.
In 2020, the region landed a series of high-profile capital investments. The largest was a $5 million deal by ONCOR Electric Delivery Holdings Company in Stanton in Martin County. Other notable projects included a $4.5 million investment by Purvis Industries in Odessa in Ector County and a $3 million deal by Endeavor Energy Resources in Midland.
Odessa College, Midland College and the University of Texas Permian Basin educate thousands of workers every year throughout the region, as does a network of community colleges.
Interstate 20 and Texas State Highway 191 form the main thoroughfares through the region and connect West Texas to key markets in Texas, New Mexico and beyond.
Two major east-west railroads connect the region to Mexico, Dallas-Fort Worth, Houston, El Paso and other key markets in two countries.