A region once focused predominantly on oil and gas has since grown into a highly sought-after location for global corporations across a wide swath of industries.
Houston ranked No. 4 among U.S. metro Areas in Fortune 500 headquarters.
---
Port of Houston is the No. 1 Port in U.S. (Ranks first in total tonnage)
The 13-county Gulf Coast region encompasses eastern coastal Texas from Huntsville to Galveston. The region's major economic center is the Houston-The Woodlands-Sugarland MSA and is home to 7 million people. Houston, the nation's fourth-largest city, is one of the fastest-growing and most diverse in the state.
The region supports a well-developed suite of global industries, including energy, life science, manufacturing, logistics and aerospace. According to Greater Houston Partnership, the city is home to 20 Forbes Global 2000 headquarters. Additionally, 44 out of 113 U.S. publicly traded oil and gas companies are in the city.
In November, tech giant Hewlett Packard Enterprise announced it would relocate its corporate headquarters from San Jose, California to Houston — adding another Fortune 500 company to its roster. In December, Axiom Space announced it would build the world's first commercial space station at its new headquarters at the Houston Spaceport.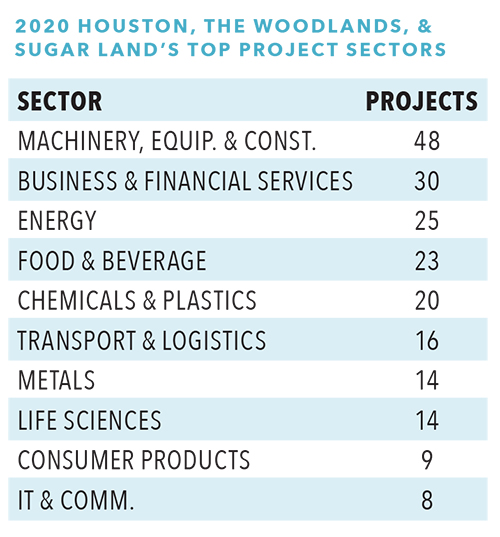 The region offers a diverse and highly skilled labor force of more than 3 million workers — larger than 35 states. One of the fastest-growing regions in the country, Houston is also one of the top cities for attracting millennials and ranks No. 1 in retaining college graduates. The region boasts an educated population, with 32% holding at least a bachelor's degree. The region is home to more than 20 public and private universities and colleges, including three Tier 1 universities.
Houston is also well-connected with four deepwater seaports and two international airports. The city is equidistant from the east and west coasts providing companies with an ideal base to distribute products. The region's extensive highway system includes Highways 10 and 45 and I-69 — the "NAFTA superhighway" — that will link Canada and Mexico upon completion.