Texas's Northwest region is a 30-county area stretching from the Oklahoma border to the Colorado River, from Big Spring to Fort Worth. The region includes the MSAs of Abilene and Wichita Falls.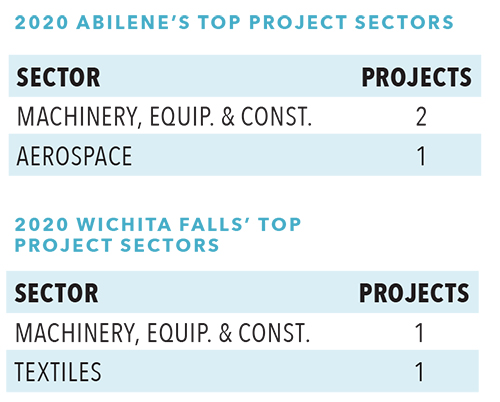 In 2019, the region's population was approximately 550,500. The region's workforce is supported by several higher education institutions, including Midwestern State University in Wichita Falls, Texas State Technical College and Texas Tech Health Sciences Center in Abilene. According to the Texas Comptroller's office regional report, Dyess Air Force Base and Sheppard Air Force Base supports nearly 42,000 jobs in the region.
Abilene is the heart of the region's economic engine. The city is a powerhouse for the oil and gas industry (representing a $1.22 billion economic impact on the area) and renewable wind energy. Abilene is home to Broadwind Energy, General Electric, Run Energy and TGM Wind. The city is also a stronghold for health care, education and manufacturing, aviation and aerospace.
Hartmann's Inc., a homegrown Abilene company since 1955, recently expanded into a new 100,000 sq. ft. facility, representing a $12.5 million investment. The company produced precision parts for large companies, including Johnson & Johnson, Boeing, Lockheed Martin, Emerson Automation and more.
Nearly 150 miles away, Wichita Falls offers businesses a strategic position at the midpoint between the Dallas-Fort Worth metroplex and Oklahoma City. This key cross point is a regional hub for both North Texas and South Central Oklahoma. The city attracted several significant investments from a variety of industries in 2020.
In June, Pamlico Air, a high-quality air filter manufacturer, opened a new manufacturing facility in Wichita Falls. With additional facilities in Florida, North Carolina and Nevada, its new 180,000 sq. ft. site is also its largest facility.
Northwest Texas is a regional hub for both North Texas and South Central Oklahoma.
In September, Dallas-based Panda Biotech selected Wichita Falls to be the home of the largest and most state-of-the-art industrial hemp processing center in the United States. The Panda Texas Plains Hemp Gin will also be the first facility in the nation to cottonize hemp fiber on a commercial scale for the American textile industry and export customers
In February 2021, Vexus Fiber, the leading fiber service provider in West Texas, began constructing a 10 Gigabit fiber-to-the-home network in the city. The network will connect to more than 30,000 new homes and businesses in the area. This network expansion is part of ongoing construction that will bring Vexus services to more than 19,000 homes and businesses in Wichita Falls before the end of 2021.