In Round Rock, opportunities are found around every corner.
Located just 20 minutes from downtown Austin, Round Rock is a diverse and growing community in Central Texas. Home to approximately 133,000 people and major tech organizations like Dell Technologies Inc. and Emerson Automation Solutions, Round Rock is ideal for families and corporations alike.
In recent years, Round Rock has attracted national attention for its affordability, lifestyle, and pro-business climate, earning a cadre of accolades and ranking among the country's best locations. Last year, the Milken Institute named Round Rock the No. 3 "Best-Performing City" in America.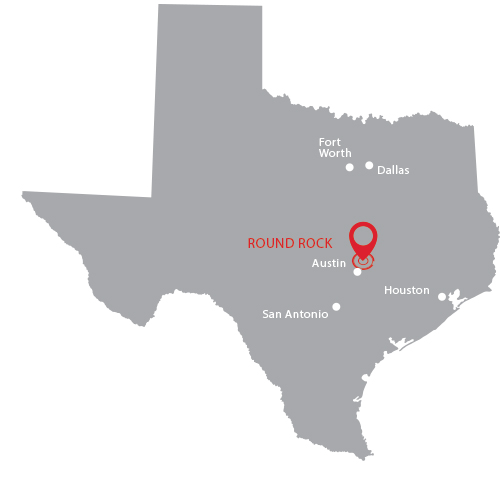 Recognitions like Milken's are nothing new in Round Rock. In 2019 alone, Austin-Round Rock was ranked the No.1 "Best Placed to Live" by U.S. News and World Report, Round Rock was named one of "the Coolest Suburbs in America" by Apartment Therapy, ranked the No. 2 "Best Places to Live" by Money Magazine, and it was ranked among the top cities for living the American Dream by Smart Asset.
With attractions like Dell Diamond, where you can catch a Round Rock Express game (the AAA affiliate to the Texas Rangers), the newly opened Kalahari Resort & Conventions (which boasts a 200,000 sq. ft. convention center and is home to America's largest indoor waterpark), a thriving downtown with unique shops and restaurants, and more than 34 park and trail corridors throughout the city, there's always fun to be had in Round Rock.
Additionally, the city boasts one of the state's best K-12 school districts and three higher education institutions — Austin Community College, Texas State University and Texas A&M Health Science Center. The city's diverse industry clusters provide economic stability and job opportunities, while its nearby colleges and universities, including the University of Texas at Austin, provide a steady pipeline of talented employees. Combine the region's workforce and affordable quality of life with its business-friendly attitude, fast-tracked permits and economic incentives, and you've found the region's recipe for continued economic growth.
---
"We started the search for our new U.S. headquarters almost a year ago and came to the conclusion that Round Rock would be the best fit for the future of our business."
---
"We've always been very pro-business," explains Mayor Craig Morgan. "We have one of the lowest tax rates for a city of our size in the state of Texas. We've been able to keep it at a minimal level with minimal regulations. Of course, we do have regulations, but they're not burdensome. You can get in here and get started on a project quickly. The process happens much faster than it does in a lot of cities across the country, and even in Texas."
With its legacy as a hub for innovation, the city has built a rock-solid reputation for helping businesses of all sizes scale up and grow quickly. For instance, Dell Technologies first moved to Round Rock in 1994 after outgrowing its space in nearby Austin. Today, Dell's worldwide headquarters in Round Rock employs over 13,000 people. When Emerson Automation Solutions moved its headquarters to Round Rock in 2014, the company found the city's willingness to assist its growth refreshing.
"The City of Round Rock was outstanding to work with," said Jim Nyquist, president of Systems and Solutions at Emerson Automation Solutions. "We had a very tight schedule for finishing the buildings and moving our 750 employees. Their attitude of collaboration between business and the city helped us meet all of our construction deadlines. They are ready to serve business and put every other city I've ever worked with to shame."
Companies run to Round Rock from other locations across the country.
While travel and other restrictions in 2020 delayed investments across the country, Round Rock continued to experience unprecedented growth, announcing 1,115 new direct jobs and $46 million in capital investment. That forward momentum continued into the new year with several companies announcing their decision to move to the city from other states.
In January, Ametrine, Inc. selected the city to relocate its U.S. headquarters and innovative manufacturing operations. Founded in 2011 in Rockville, Maryland, the company manufactures unique, advanced multispectral camouflage systems and patented nano-technology materials for clients, including the U.S. Department of Defense. The relocation will create 140 new jobs earning an average wage of roughly $75,000 with production, engineering, management and administration components.
Round Rock's proximity to Army Futures Command headquartered in Austin and the U.S. Army Fort Hood military instillation makes it an ideal location for defense innovation and technology firms, like Ametrine.
"We started the search for our new U.S. headquarters almost a year ago and came to the conclusion that Round Rock would be the best fit for the future of our business," said Brandon Cates, Ametrine's CEO. "Round Rock has been very forward-thinking when it comes to supporting the defense industry, and we anticipate future collaboration with the city, the chamber and the other innovative companies that Round Rock attracts."
After exploring several locations, California-based Amazing Magnets also announced in January plans to move its headquarters, design and manufacturing operations to Round Rock, citing the city's entrepreneurial spirit, access to world-class talent and affordable cost of living as key decision factors. It joins Saleen Performance Parts, which relocated from California and plans to hire 150 employees in Round Rock. Both companies are among the hundreds of other California businesses choosing to move to the Lone Star State.
"After visiting Round Rock and witnessing its economic growth, diversification and meeting its people, we felt like we had found our home away from home. Everyone was so welcoming, kind and supportive," said Amazing Magnets founder and CEO Tim Boettcher.
---
This Investment Profile was prepared under the auspices of the Round Rock Chamber. For more information call 512-255-5805 or email jrobinson@roundrockchamber.org.