Maintaining a family-owned business through the generations is no small task. It is accomplished through meticulous planning and attention to detail. As the generations continue, family-owned companies have to adapt to the times and make strategic moves when opportunity knocks.
Recently, two family-owned companies have elected to do just that — planting new roots in the East Texas town of Terrell.
Terrell is located just 25 miles east of downtown Dallas, at the junction of U.S. 80 and I-20. A major thoroughfare for the region, nearly 60,000 people pass through the town each day. An ideal location for companies that need to move goods to market, Terrell is located within a two-day drive of 93% of the U.S. market.
Additionally, Terrell is home to approximately 17,975 people, with access to a workforce of over 412,946 within 20 miles.
Paul Angelos' grandfather originally founded his family-owned shoe polish company, Angelus Shoe Polish, in Los Angeles as an immigrant from Greece back in 1917.
Citing difficulty with permitting following a relocation due to eminent domain, Angelos recently decided to relocate his family's business from California following a series of hurdles. Having decided on Texas as the comapny's next location, Angelos found a building he liked in Terrell. However, a chemical spill on the property dampened the deal, and Angelos decided not to go forward with the purchase. Undeterred, the city approached Angelos with an idea — "Why not build?"
"We made the deal and are planning to bring everything to Terrell as soon as possible," Angelos said. The new facility will be a manufacturing and distribution center for the company and its private-label program. Angelos said he and his family are excited for the move. "First and foremost, we feel welcome," Angelos explained. "We want to be a good corporate citizen and make Terrell happy. They took a leap of faith in our company."
Likewise, for Kevin Danzeisen's family-owned dairy business which recently selected Terrell for its new site. Danzeisen said his company's expansion into the Texas market by way of its new facility in Terrell is akin to his grandfather's steps when starting Danizen Dairy in Phoenix, Arizona, more than 60 years ago.
---
"We couldn't be more excited about what Terrell has going on over there. We think it's a great place with a lot of opportunities to grow in the next 20 years."
---
In early 2020, Danzeisen and his company, called 1836 Farms in Texas, expanded in order to offer organic Texas-made milk in glass bottles to grocers across the Lone Star State's major markets. The company plans to hire 20 people initially with plans to hire up to 50 in the next two years.
The company's distinctive, reusable glass bottles and high-quality organic milk ­— with several quirky flavors, including banana, coffee and root beer — has become a highly desired product in grocery stores like Kroger, Sprouts and Whole Foods in both states.
A key component to the dairy's model — reusable glass bottles — requires easy access to roads reaching the state's major markets. The dairy delivers the bottles to grocers and accepts returns from the stores, allowing the bottles to be recycled, sanitized, and refilled before going back on store shelves. Terrell's logistical advantages became a key consideration for the company's site selection process.
"We're really excited about Texas in general," Danzeisen said. "Specifically, in Terrell, the way the highways are situated with I-20 and the other major intersections, we could get to other metropolises fairly easy and still be close to Dallas, our main hub. Terrell also has that small-town feeling. We wanted to be part of a community that we could impact and help in that way. We couldn't be more excited about what Terrell has going on over there. We think it's a great place with a lot of opportunities to grow in the next 20 years."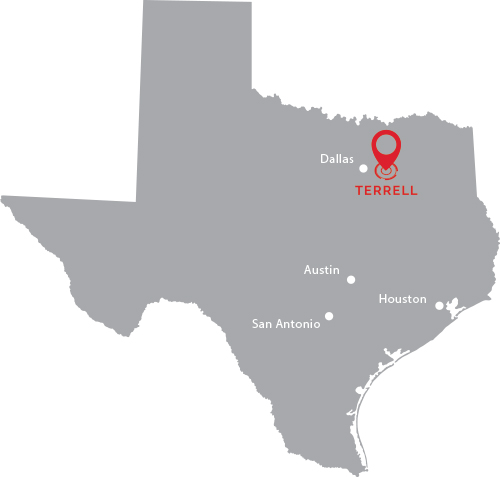 According to the U.S. Census Bureau, Kaufman County is the third fastest-growing county in the nation. Terrell is the second-largest city in Kaufman County, behind neighboring Forney. The city's unique quality of life, small-town feel and stellar educational institutions create an ideal location for companies and families to plant their roots.
"I've talked with some who have been able to leave their jobs in Dallas to work in Terrell," Ray Dunlap, president of Terrell EDC. "The advantages they speak of are invaluable. For one, they no longer must spend two hours of their day in a vehicle commuting to and from the office. They have time to become more involved in the community through various activities and local events. They can drop their kids off at school, pick them up, and participate in daytime school activities and volunteer where needed. They can run home at lunch if they'd like. They are home from work in time on a Friday night to cheer on the Terrell Tiger football team. That's just to name a few. The benefits are tremendous and have provided a much-welcomed lifestyle change for these individuals and their families."
Students with Solutions
1836 Farm's new roughly 34,000-sq.-ft. dairy is located at the site of the former FUJI Films building in Terrell.
"It had been there vacant for almost 20 years," Danzeisen said. "So, we bought it and revamped it. We took it all apart, got it up to 2021 standards. It's kind of revitalized that whole area. That's our goal; we want to engrain ourselves in the community and make a positive impact there."
While the dairy's organic product and old-fashioned glass bottles might lead one to believe it is a simple operation. The new facility is a state-of-the-art dairy and creamery. There was one thing, however, that required a solution. For that help, they've turned to an unconventional source — the local high school.
Terrell High School Career & Technical Education (CTE) students have access to innovative, industry-driven career pathway programs in high demand fields, including robotics, engineering, computer science, automotive service, welding, computer-aided drafting, health care, nursing, precision manufacturing, computer graphics, video technology and industrial safety.
"One thing we're going to be doing in the next couple of weeks is to start working with the local high school's robotics club," Danzeisen said. "These kids are going to help us with creating a robotic arm that can take the bottles in crates to the conveyer. From there, we can take the bottle automatically through our steps. So, they're going to help us build this robot to break down these pallets and put these crates on a conveyor. Once they're filled up on the other end, we get the bottles into the crate. And they're going to create another robot on the other end that takes them off the convey and builds a pallet for us. We're super excited about it, and those kids are super excited about helping us."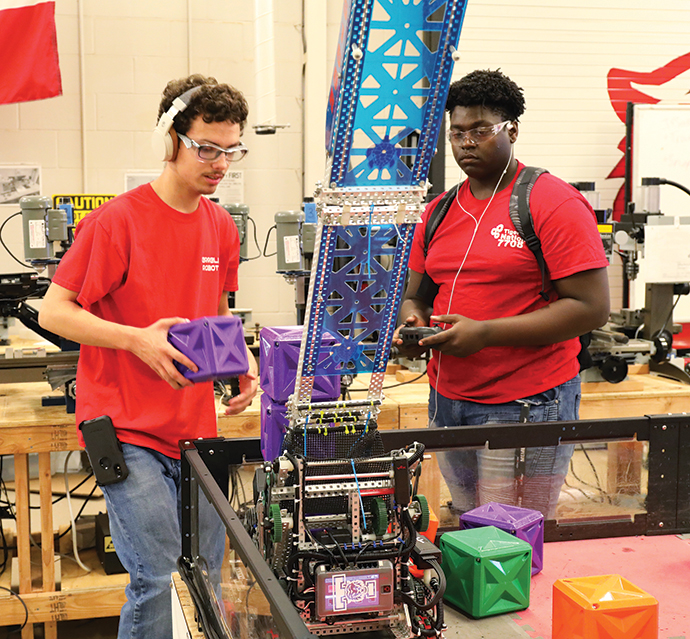 The program has earned high praise from other employers in the area, as well. During the three-year program, students earn industry certifications and college credits. They also can intern with local companies, giving students valuable hands-on experience in real-world environments. Often, these interns are hired on with the companies upon graduation.
"It's all hands-on. There aren't a lot of books around here," explains Chad Nixon, manufacturing and engineering instructor at Terrell High School. "This is more of a real-world environment versus the school environment. What you see at this facility should match what you'd see in a real manufacturing facility that runs production seven days a week, year-round. We have a lot of precision measuring and parts making. They're learning quality control and processes involved in everything from shoes to bearings."
Nixon points out that as automation becomes more prevalent in industries worldwide, programs like robotics will only become more critical. "That's our goal in setup up all this machinery here. When one of our students goes on an interview and they take him on a tour of a plant, they'll have a basic understanding of everything he or she is seeing there and can impress the interviewer."
Terrell High School Robotics teacher Marcus Edwards says the school's program and work with industries has been a paradigm shift for the students. "There was nothing like this before," he said. "Now, we're having entirely different conversations with these kids about what they want to do in their professional careers. Basically, our program thrives because we build confidence in our students. They realize their world can look different, so they're asking themselves, 'What can I do? What solutions can I come up with?'"
Across the city, local employers agree the high school's CTE program has earned a reputation for producing quality workers.
Nucor Building Systems, one of the city's largest employers with over 300 employees, has found success with hiring students from the program. The company has been an avid supporter of the program since its inception, providing resources and materials, as well as no-charge industry certifications.
"A lot of our processes are pretty rare in our industry. The CTE and vocational centers out there are all set up with our machines, our wires, gloves, consumables. We'll talk about safety a lot when we go out there to the shop," said Brandom Eshom, Structural Supervision at Nucor. "The whole idea behind it is to develop that pipeline and increase the knowledge and understanding of who we are, right here in Terrell. If you get one good person out of it that pays off immediately."
Oldcastle BuildingEnvelope, a Terrell manufacturing company since 1962, was also an early supporter of the CTE program. Carol Ohmann, group human resources manager at Oldcastle said "It's all to encourage two things. You can get a college education after you finish high school. Or, if that's not in the stars for you, there are other opportunities right here in your backyard."
For Casey Wiley, Madix Inc.'s director of human resources in Terrell, educators' willingness to work with and learn from industry sets the program apart. Madix Inc. employs approximately 900 people in Terrell and is the second largest store fixture manufacturer in the U.S.
"I think what's been impressive is they've been interested in what we want," Wiley said. "They're not sitting there, coming up with a curriculum and it maybe isn't applicable to what we're needing here."
---
This article was prepared under the auspices of the Terrell Economic Development Corporation. For more information please contact Ray Dunlap, Ray@terrelltexas.com; 469-534-2719.