E
ven in the depths of winter, Conroe is hot. How else to describe the energetic city
45 minutes north of Houston that was recently identified as the No. 1 "boomtown" in booming Texas, and No. 3 in the nation? Conroe, according to SmartAsset, the financial technology company, has seen its population swell by 26% to 100,000 over the past five years, a remarkable surge, even for Texas.
"Conroe is in the path of growth from Houston," says Mayor Jody Czajkoski, a former professional bull rider. "This community will be the northern anchor of what will be the Houston-Conroe Metroplex. Conroe is the only city left that has land to grow."
Lots of other factors have spurred the city's emergence. In addition to gliding in Houston's slipstream, Conroe is unabashedly bullish on business. It's a family-friendly city with a burgeoning music and restaurant scene. Its streets are safe, its neighborhoods stylish and affordable. With 157 miles of shoreline, majestic Lake Conroe juts into Sam Houston National Forest, a natural buffer to the north.
With an expanding workforce of 1.8 million potential employees within a 40-mile radius, Conroe's dynamic and diversifying economy is attracting robust investments in advanced manufacturing, energy services, logistics, retail and — increasingly — top-flight industries such as healthcare and biotechnology.
Housing, problematic in many parts of the country, is readily abundant in Conroe. According to SmartAsset, Conroe's five-year rate of housing growth is 40%, fourth highest in the United States. For manufacturers, Conroe boasts easy Interstate access and proximity to the bustling Port of Houston. For executives, Conroe-North Houston Regional Airport offers its own customs facility, a rare asset that smooths out the wrinkles of international business travel.
Targeted investments in infrastructure that have helped to produce an enviable public school system and served to preempt traffic snarls also have yielded two premium industrial parks, one of which has an on-site community college. Totaling nearly 2,000 acres, Conroe Park North and the newer Deison Technology Park are crucial pillars of the city's economic development strategy.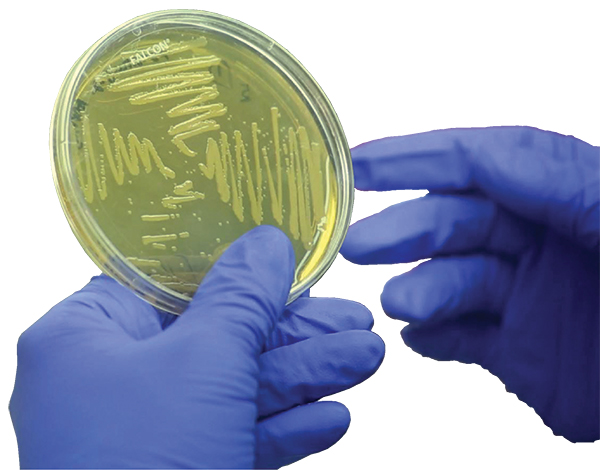 VGXI is to expand its DNA plasmid capacity "exponentially."
Photo courtesy of VGXI
"We've got all of the infrastructure in place," says Danielle Scheiner, executive director of the Conroe Economic Development Council. "We've got our industrial parks and the airport. We have a strong manufacturing base that partners well with the corporate base in The Woodlands, our neighbor to the south. You can have your corporate headquarters in The Woodlands," says Scheiner, "your manufacturing plant here in Conroe and park your corporate aircraft at our airport."
Room to Grow
Philadelphia-based retailer Five Below is among the latest of a growing expanding roster of national brands that have chosen Conroe as a primary hub for distribution. Others include The Home Depot, Buske Logistics and McKesson, the pharmaceuticals giant. Buske and McKesson, like Five Below, are embedded in the sprawling Conroe Park North, which spans some 1,655 acres.
Five Below's arrival — "a major win for our city," believes Scheiner — came in the midst of the coronavirus pandemic. Completed in 2020, Five Below's 858,000-sq.-ft. facility employs some 200 workers and is the park's largest building. The company also opened a retail location in Conroe's Grand Central Park, one of the city's attractive, master-planned residential communities.
As Conroe Park North's largest employer, medical device manufacturer Steris enjoys a storied history, having launched more than 20 years ago as Byrne Medical from the garage of Conroe's Don Byrne, an operating room technician turned entrepreneur. Byrne invented roughly a dozen instruments to alleviate infections resulting from endoscopies.
Today, under the ownership of Ireland-based Steris, the Conroe operation produces more than 100 endoscopic products and employs more than 600 people in administration, R&D and product manufacturing.
"The great thing about Conroe," says Chief of Operations Bruce Stoltzfus, "is that we're on the north side of Houston, which is the growth side. We have very, very beneficial access to high-tech talent, manufacturing talent and engineering talent. It's a great technology area, great for growth of life sciences. Every time we've expanded," Stoltzfus adds, "they've been very helpful with permitting and really everything else we need."
Companies large and small, says the mayor, receive Conroe treatment.
"We support our businesses," says Czajkoski. "We're inviting companies in and making it easy for them to open up."
Bright Horizons
Currently based in The Woodlands but making a move to Conroe, VGXI is a contract manufacturer of plasmid DNA, a key component in coronavirus vaccines. As the initial tenant at the 248-acre Deison Technology Park, VGXI is investing some $57 million in a headquarters and manufacturing facility that's to increase its output capacity "exponentially," says COO Dorothy Peterson. Deison, she says, is a "perfect fit for us."
Life sciences companies the likes of Steris and VGXI are potential harbingers of Conroe's future. With Houston having positioned itself as the "Third Coast" for biotech research — after Boston and San Francisco — the region's life sciences ecosystem is swelling with companies drawn not merely by the friendly Texas business environment, but also by an unmatched ecosystem of research hospitals and universities that include Texas Children's, the world's largest children's hospital, and the world-renowned M.D. Anderson Cancer Center. Both are part of the eminent Texas Medical Center, which has broken ground on a transformative, $1.5 billion medical research campus dubbed TMC3.
Conroe itself is served by HCA Houston Healthcare – Conroe. The University of St. Thomas out of Houston recently launched a downtown Conroe campus. Nearby Sam Houston State University has opened a medical college of osteopathic care also in Grand Central Park.
On the city's bright horizon is a new Hyatt Regency Conroe & Convention Center, around which some 300 available acres are primed for office, retail and hospitality. The new Hyatt, believes Mayor Czajkoski, is likely to help inaugurate a new generation of corporate development.
"We've got educational opportunities galore to train their employees and to educate their kids. We have a work, play and pray environment. Conroe," he says, "is ready to rock and roll."
---
This Investment Profile was prepared under the auspices of Conroe Economic Development Council. For more information, contact Danielle Scheiner, Executive Director, at (936) 538-7118. On the web, go to www.conroeedc.org.