D
oes the moniker "The Third Biotech Coast" apply to Texas yet? With more than 106,000 workers at more than 5,400 biotech-related companies in nine sectors, it must be close. More than 1,200 of those companies specialize in biotech manufacturing and R&D. Others focus on medical and diagnostics testing, medical equipment and supplies manufacturing and pharmaceutical manufacturing, among other areas.
Animal and agricultural biotech is rapidly growing sector in the state. Texas is home to several biotech research centers, including three at Texas A&M University alone — its Departments of Soil and Crop Sciences and AgriLife Research and the College of Veterinary Medicine and Biomedical Sciences. Texas Tech University in Lubbock runs the Burnett Center for Beef Cattle Research not far from where Bayer CropScience has its Cotton Research & Development Laboratory.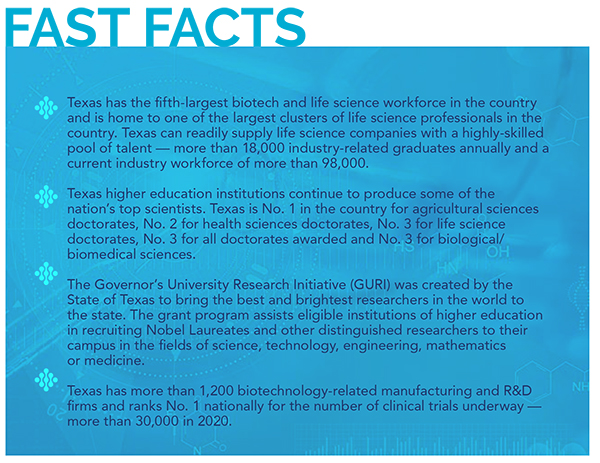 But Texas' third coast biotech bona fides are evident in all the state's major metros, particularly in the Houston area. The centerpiece is the Texas Medical Center (TMC), a 50-million-sq.-ft. campus with more than 106,000 employees. In September 2021, TMC, the University of Texas MD Anderson Cancer Center, Texas A&M University Health Science Center (Texas A&M Health), and the University of Texas Health Science Center at Houston (UTHealth Houston) began construction on the TMC3 Collaborative Building, a joint research building that is scheduled to open in fall of 2023. TMC says the 250,000-sq.-ft. building will house synergistic translational research initiatives for the four founding institutions and will be shared with commercial life sciences companies and industry leaders.
In December 2021, FUJIFILM Diosynth Biotechnologies, a Contract Development and Manufacturing Organization (CDMO), announced an expansion of its single-use manufacturing campus in College Station through the addition of a new cGMP production facility that the company says will double its advanced therapy and vaccine manufacturing capacity in the U.S. It will create approximately 150 skilled positions including manufacturing and operations by 2024.
"As the need for advanced therapies development and manufacturing capacity grows, we will continue to invest in the right technology and talent to support our partners in bringing to market these life-impacting medicines," said Gerry Farrell, chief operating officer, FUJIFILM Diosynth Biotechnologies, Texas, in a company press release. "We are grateful to Governor Greg Abbott, and the State of Texas for its commitment to supporting the growth of the Texas bio-corridor and creating highly-skilled jobs in the state."