I
f Joost de Vries has his way, Marty McFly won't be the only person traveling back in time to change the future.
Instead, de Vries plans on doing it himself by resurrecting the biggest star of the 1985 hit film "Back to the Future": the DeLorean sports car.
The CEO of DeLorean Motor Company recently announced that he plans to produce an all-new, all-electric DeLorean sports car, and he intends to do it in San Antonio. The entrepreneur made this announcement earlier this year when he told reporters that he would locate the corporate headquarters at Port San Antonio this spring and then proceed to hire up to 450 people at an average annual wage of around $150,000.
The news immediately had everyone reminiscing about the cult classic starring Michael J. Fox and Christopher Lloyd while wondering, what ever happened to the iconic stainless steel hot rod McFly and Doc Brown used to transport themselves back to 1955?
Joost de Vries has an answer for that. He's bringing back the quirky speed demon, but this time propelled by truly futuristic technology. When asked why he chose San Antonio, de Vries cited "a deep talent pool and a strong local academic ecosystem" in the area.
Sarah Sanchez, managing director of global business development for the Greater San Antonio Regional Economic Partnership, says that the whole project came together in short order. "We started working with them back in October of last year," she says. "Their CEO was in town, and we had the opportunity to pitch them. He fell in love with our city."
Sanchez says de Vries scouted multiple communities in Texas and other states before choosing San Antonio. "He felt they could succeed here in San Antonio," she says. "We showed him all the academic institutions here, and it just worked for him."
Texas and South Carolina were two finalists for the project, she notes, adding, "They will move into temporary space at Port San Antonio" to take advantage of its technology and innovation campus and have access to advanced manufacturing research.
---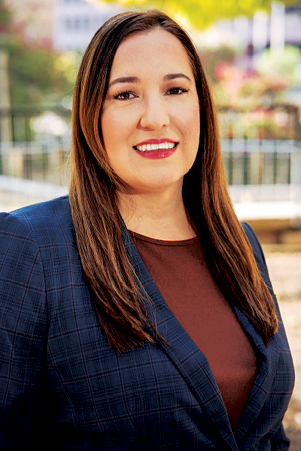 "Their (DeLorean) CEO was in town, and we had theopportunity to pitch them. He fell in love with our city."
— Sarah Sanchez, Managing Director, Global Business Development, Greater San Antonio Regional Economic Partnership
---
"Most of their hires will be engineers," says Sanchez. "We have the Southwest Research Institute, where scien-tists and engineers do research on everything from deep space and deep sea to electric and autonomous vehicles. It's just a 10-minute drive from Port San Antonio."
When asked about the impact of incentives, Sanchez said, "Incentives played a big role at both the city and the county. They are all performance-based. As they hire, that is when the incentives will be paid. It is a headquarters operation with high-wage positions. This is exactly the type of project we felt we needed to support. DeLorean is the first of many wins we expect for our community this year."
The DeLorean win comes at a time that sees Texas prospering on multiple fronts in the auto sector. Electric vehicle technology firm REE Automotive announced March 22 that it would open its first North American headquarters in Pflugerville just outside Austin. The $25 million project creates 125 jobs and fills 120,000 sq. ft. in the One Thirty Business Park.
More big news was made in San Antonio last December when Gov. Greg Abbott visited the Toyota truck plant there and spoke at the Toyota Tundra Roll Off Ceremony. Abbott officially welcomed the all-new 2022 Toyota Tundra pickup truck and first-ever Tundra hybrid, produced exclusively at the Japanese company's San Antonio factory.

The Tesla semi is moving toward production in Texas too.
Courtesy of Tesla
That news came just two months after billionaire Elon Musk delivered his latest gift to Texas: the corporate headquarters of Tesla. Musk told the world that he is moving the home base of the world's richest car company from Palo Alto, California, to Austin. Musk cited the support that businesses receive from state and local elected officials and economic development agencies in Texas, as well as a more affordable cost of living for Tesla workers.
Tesla joins Toyota and General Motors, the two largest automotive manufacturing firms in Texas. According to the Governor's Office of Economic Development and Tourism, Texas is home to more than 1,750 auto plants and ranks No. 7 in the U.S. for automotive jobs.
From 2009 to 2016, exports of automobiles and auto-related products doubled from $9.2 billion to over $18.5 billion, according to GOEDT. Since 2014, Texas has seen its total automotive manufacturing output rise by 17%.
Other major auto employers in the state include Peterbilt, Caterpillar, Navistar, General Truck Body, Lear, Tenneco and Toshiba.