S
tudy the power generation profile of the United States over the past 30 years and some things become abundantly clear: After the nation itself, Texas is the biggest generator of power. And to the surprise of many who are familiar with its oil-and-gas profile, the state is top tier in renewables too.
In 2020 the state generated more than 473.5 million megawatt-hours of overall electricity, No. 1 in the country just like it was for most of the other 29 years since 1990, according to the latest data releases from the U.S. Energy Information Administration. While plenty of that power came from coal, natural gas and nuclear, Texas was second only to California in the amount of solar thermal and photovoltaic power produced (more than 8.5 million megawatt-hours).
Where the Lone Star State really shines, however, is where the sunlight glances off wind turbines: The state is No. 1 by a long shot, with 92.4 million megawatt-hours of wind power generated in 2020. That's more than two-and-a-half times as much as No. 2 Iowa (with 34.2 million). Moreover, the Texas wind total comprises 27% of the entire wind generation portfolio of the United States.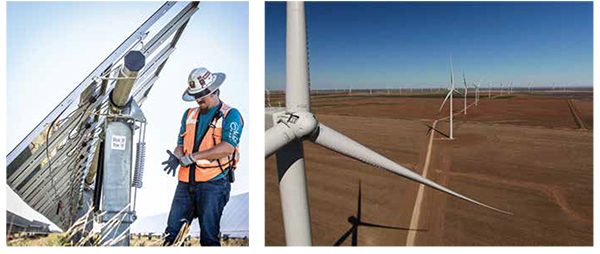 LEFT: An ACS apprentice works on a solar panel.
Photo courtesy of Lightsource bp
RIGHT: Ørsted's Willow Springs wind farm came first, but the Danish developer's 367-MW Western Trail Wind Farm located in Wilbarger and Baylor counties is the company's largest onshore wind farm to date in the world.
Photo courtesy of Ørsted
A report released by the American Clean Power Association in early 2022 said the 7,352 MW of wind installed in Texas in 2021 totaled more than the next four states combined: California (2,697MW), Oklahoma (1,543MW), Florida (1,382MW) and New Mexico (1,374MW). Texas also is No. 1 in terms of capacity in the pipeline with 19,918 MW, followed by California with 13,663 MW.
Overall, Texas now has 45,077 MW of clean power capacity online — nearly twice the total found in California.
One example came online in August 2021, when Ørsted completed the 367-MW Western Trail Wind Farm located in Wilbarger and Baylor counties, – the Danish company's largest onshore wind project to date. "The project has secured long-term power purchase agreements with PepsiCo, Hormel Foods, and Nucor for the majority of the power generated from the project," said Ørsted.
"Western Trail Wind is a well-sited greenfield development project that will provide low-cost, reliable power to the Texas grid," said Philip Moore, senior vice president of Ørsted Onshore. The project is situated on property owned by Stan Kroenke, the billionaire owner of the Los Angeles Rams whose holding company owns Arsenal FC. "The Waggoner Ranch has a rich history for developing energy resources," said Daniel Zyvoloski, land manager for Kroenke Ranches, alluding to the 550,000-acre ranch's oil history that unfolded alongside its livestock business. Now renewable energy will partner up too. Ørsted says Western Trail will provide long-term financial returns in the form of increased property tax to the counties and three independent school districts.
Meanwhile, the company is pursuing an intriguing project in the green fuels arena through a partnership with shipping giant Maersk, planning to develop what it calls a "Power-to-X" facility that will supply fuels to Maersk's newly ordered fleet of 12 methanol-fueled ships. The companies say the project "will become a landmark project in the green transformation of international deep-water shipping and set the standard for future large-scale production of green maritime fuels. While Ørsted has said it will develop the 675-MW facility on the Gulf Coast, it hasn't specified exactly where the complex with annual capacity of 300,000 tons of e-methanol will be located.
When it gets there, however, it will be powered by around 1.2 gigawatts of renewable energy from new onshore wind and solar PV farms, Ørsted said. A final investment decision is expected by late 2023, with commissioning of the facility slated for the second half of 2025. A second green fuels facility with 1,300 MW of capacity is slated for Copenhagen, Denmark.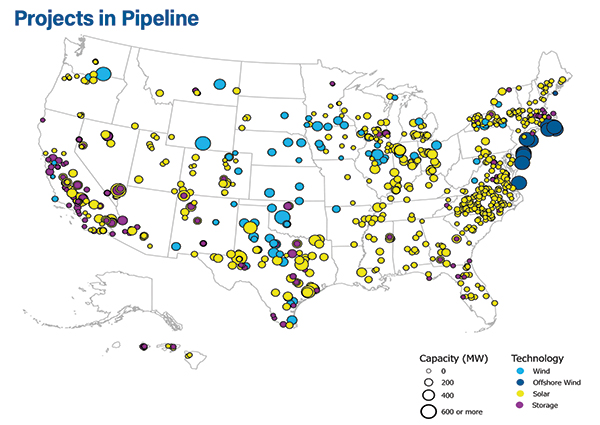 Chart courtesy of American Clean Power Assocation
"The Gulf states have an abundance of cheap renewable energy resources, both solar and wind, making the region a natural location for large-scale production of green fuels, which we expect there will be a very large demand for in the U.S. going forward," said Neil O'Donovan, CEO of Ørsted Onshore. "The Power-to-X project with Maersk will expectedly be powered by approx. 1.2 GW of new onshore wind and solar PV, which in itself represent a significant investment in the region, while also helping Ørsted reach its target of 17.5 GW of installed onshore capacity in 2030."
Wood Waste to Fuel
Biofuels are another offshoot from the state's oil and gas heritage. In February, Governor Greg Abbott announced that Arizona-based USA BioEnergy, through its subsidiary Texas Renewable Funds (TRF), will build a new $1.7 billion biorefinery in Bon Wier, Texas, located in Newton County just west of the Sabine River that forms the state line with Louisiana, in an area many know as Deep East Texas. "The biorefinery will convert 1 million green tons of wood waste into 34 million gallons annually of premium clean burning transportation fuel," said the state's announcement, with a planned future expansion to double that total.
Still the One
Is Texas oil and gas drying up? Not anytime soon. The top oil-producing state produced 1.7 billion barrels of oil in 2021, more than triple the total from No. 2 New Mexico. As Statista reported in April, the state's Permian Basin has routinely accounted for at least 50% of total U.S. onshore production.
It's no surprise that Texas is also home to the No. 1 oil and gas producting company by market capitalization: ExxonMobil as of October 2021 had a market cap of nearly $258 billion. The company is shifting its headquarters from Irving to Houston. But it's also shifting its focus toward innovations with lower emissions.
"We'll continue to innovate and provide solutions that meet the growing needs of society, including its net-zero emissions ambitions, by fully leveraging our competitive advantages of scale, integration, technology, functional excellence, and our highly skilled people," said Darren Woods, chairman and CEO, at a recent investor day. U.S. Permian Basin. The company will continue to invest in the Permian, and also in what it calls "competitively advantaged chemicals and downstream projects, including Gulf Coast Growth Ventures, to grow high-value product sales of performance products and lubricants." That 600-job JV with Saudi Arabia's SABIC started up full operations earlier this year in San Patricio County in the Corpus Christi area.
Now ExxonMobil is also pursuing a hydrogen production plant and one of the world's largest carbon capture and storage projects at its integrated refining and petrochemical site at Baytown, Texas. The company said the project "would form ExxonMobil's initial contribution to a broad, cross-industry effort to establish a Houston carbon capture and storage hub with an initial target of about 50 million metric tons of CO2 per year by 2030, and 100 million metric tons by 2040." A final investment decision is expected in two to three years.
The Texas Oil and Gas Association in March cited data from the Texas Workforce Commission showing 5,100 new upstream oil and natural gas jobs in the state in February 2022, the highest spike in over a decade and the second highest spike in at least 32 years, the association said.
"A year ago, many people were questioning the future of oil and natural gas and, today, people are questioning if they have a future without it," said Todd Staples, president of the Texas Oil and Gas Association. "Our nation has an opportunity to reshape American energy policy that recognizes oil and natural gas as an asset rather than a liability. News of this historic job growth in Texas' upstream sector is encouraging for all Americans, because Texas continues to lead the way in meeting our energy needs, fortifying our national security, and assuring continued environmental progress."
"USA BioEnergy performed an extensive site search and analysis to identify the best location for our project," said Nick Andrews, USA BioEnergy CEO. "State and local incentives then became the key component of our decision and we're excited to select Bon Wier. We've had tremendous assistance from Economic Development in Newton County, including leadership from Judge Kenneth Weeks; Nancy Windham, president & CEO of Texas Forest Country Partnership; Don Iles with Sabine River Authority of Texas; and Rob Hughes, executive director, Texas Forestry Association, among many others."
Among those welcoming the investment is the area school district.
"Newton ISD participated in a Chapter 313 incentive, which temporarily limits a property's appraised value to encourage business investments within school district borders," said Newton Independent School District Superintendent Michelle Barrow. "Texas Renewable Fuels has agreed to create 142 permanent, full-time jobs. The project will bring industry to the Newton area, an enhancement toward the education of our youth and the quality of life of our current and future workforce."
Sometimes the alternative energy projects come from traditional energy companies. That's what's happening in Caldwell County south of Austin, where petroleum trading firm Chem-Energy is set to invest $1 billion in solar and battery power plants that will provide 600 megawatt/1,200 megawatt-hours in battery storage and 1 gigawatt of solar power generation over a decade, primarily to ERCOT and the Texas power grid.